Why #MeToo Has a Charlotte Footprint, Too
Reassessing women in Charlotte means reassessing men—and history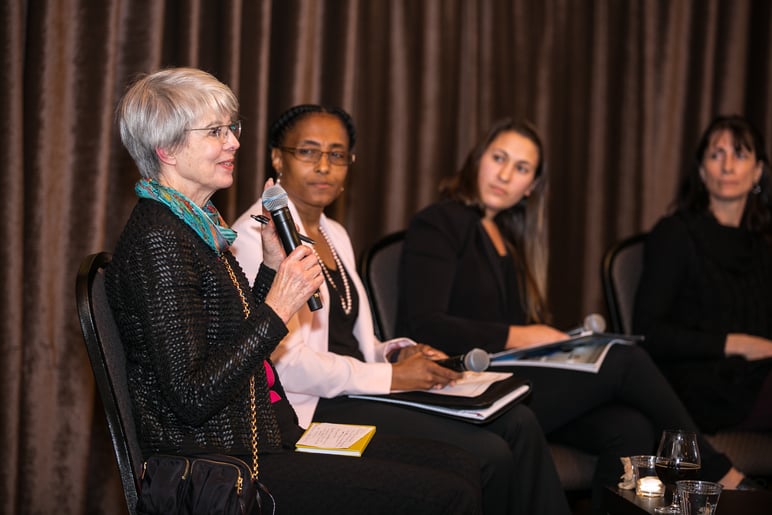 Jan Anderson, a retired traffic engineer and planner, rented a bus last January and led a group of 45 from Charlotte to Washington for the inaugural Women's March. That was the birth of the Charlotte Women's March, which has swelled since into a group of 1,600 in the Charlotte area dedicated to altering the way the city thinks and talks about women.
And changing the perception of women necessarily leads people to reassess the role of men. Anderson was one of four women who joined us last week for the first #discussCLT event of the year, a panel discussion of #MeToo, #TimesUp, sexual harassment in the workplace, and sex crimes everywhere.
After the discussion, Anderson began talking about the old guard of Charlotte leaders from a generation ago, the famous Group—Hugh McColl, Ed Crutchfield, Rolfe Neill, et al., an exclusive roster of older white men. Anderson, who's lived in Charlotte since 1994, accepted that they were older white men who genuinely wanted to do what they thought was best for the city.
"However, they had blinders, because they could see from only one perspective," she said.
"Look at our City Council now. We have our first African-American woman mayor, an openly gay African-American woman, an Asian-American woman. We have Julie Eiselt, a white woman. Smuggie's still on there, right?" Yes, James "Smuggie" Mitchell, one of four black male council members, is.
"What I see with council is that we have a variety of voices at the table, so that we're more likely to consider all aspects of an issue when it comes up. We don't see it just from one perspective," Anderson said. "That's what makes me proudest of Charlotte now, that we're moving in that direction. I once said to someone jokingly, 'Let's build a wall around Charlotte.' We seem to be doing it right."
Though not, panelists agreed, in all ways. The discussion covered bases scattered all over the field. But everyone spoke about how and where people still needed to progress. Jade Jackson, a transgender woman and veteran activist originally from Michigan, said activists of any kind should show discipline and persistence, qualities too often lacking in social justice movements. "I've been arrested three times in the last year," she said. "I'm still here."
Charlotte-Mecklenburg Police Sergeant Muriel Hughes, who leads the department's sexual assault unit, revealed that she'd been sexually harassed on the job over her 27-year career: "For a long time, to be honest with you, I kept that inside." When she was moved to another division, she was at first relieved, then thought, "I'm the one who's getting punished, and I really didn't do anything." How many women in any line of work can relate?
Karen Parker, the president and CEO of the sexual assault and domestic violence victims' advocacy organization Safe Alliance, highlighted the importance of services and assistance for women who depend financially on their abusers. A surprising number of women, Parker said, don't seek protective orders that could help them get settled in a new home and give them time to find jobs. "Those are the things," she said, "that keep people from spiraling into poverty." Parker also raised a critical point that isn't discussed enough: Men need to go out of their way to call out and prevent the abusive behavior of other men toward women. Merely doing no harm—and defensively tweeting #NotAllMen—doesn't cut it anymore.
But Anderson, who's fought sexist assumptions and behavior in the workplace since the 1960s, was able to talk most about the historical context of #MeToo. During the second-wave feminism of the late '60s and early '70s—the Gloria Steinem-in-aviator-glasses, "I Am Woman" era—banks were still denying women access to mortgage loans and credit in general without husbands as co-signers, and job postings were still segregated by gender. When she joined her first engineering firm, she said, she was the only professional woman (not counting receptionists and typists) in a company of 1,000 men. "There's a code of behavior when you're in mixed company," she said during the discussion. "Women have always been talking about it—who to avoid getting into an elevator with, who not to stand next to at a meeting."
So, I asked Anderson after the discussion, do you think the #MeToo movement would be as seismic a cultural shift if a certain woman had won the White House?
Anderson paused and thought for a few seconds. "Maybe we wouldn't be talking about it as openly," she replied, "because we would have that acknowledgment that women can make it all the way to the top." Then she seemed to realize something.
"Let me flip that question on you," she said. "The silver lining of this very dark cloud we're under right now is that it has energized us all to get off our butts and act. So we're talking about things like gender issues and inequalities with people of color, and the sexual issues and all of that. We can't let it go anymore and just be proud of ourselves for getting as far as we have. That to me is where we are now."
She kept going, at one point admitting to me that she didn't like the premise of my question.
Why?
"I think the women's movement is about more than Trump."
Of course it is, I responded; I didn't mean to suggest it wasn't. But it does seem that a movement that might have sprung from fertile ground anyway grew even taller because the first female presidential nominee in U.S. history not only lost but lost to that man; because "grab 'em by the p*ssy" wasn't just a nasty boast on a bus but perceived as a reaction to the prospect of a woman defeating a man for president.
"He woke us up," Anderson said. "If another Republican had been elected, let's say Mitt Romney, I would not be marching on Washington. I'll give him credit for that. He keeps us motivated."