Why Salud Cerveceria in NoDa Isn't Reopening Just Yet
Many Charlotte restaurants were eager to reopen for dine-in service on Friday night, but owner Jason Glunt explains why they're sticking to carry-out and delivery for now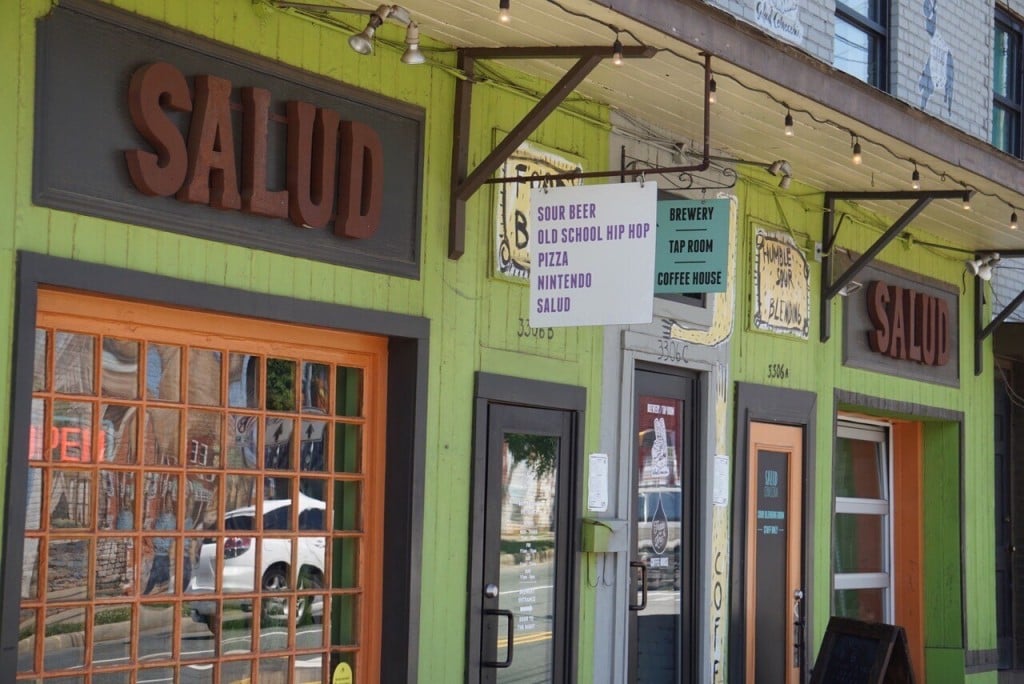 For the last two years, Salud Cerveceria has been a go-to spot for beer, wood-fired pizza, board games, and friends. Customers come back to this NoDa hangout for more than a good meal and craft beer selection—the Salud brand, which includes the Salud Beer Shop downstairs, is about the experience. So when Gov. Roy Cooper halted all dine-in service in March, Salud regulars lost an essential piece of their Friday night pizza fix.
Like many other Charlotte restaurants, Jason Glunt and his wife and co-owner, Dairelyn, switched to carry-out and delivery. "We closed the upstairs that morning," he says. "In 48 hours, we changed the whole business model downstairs." Customers could still order online for delivery in a 10-mile radius or pick up food at Salud Beer Shop. Glunt paused their breakfast and coffee service but started selling 32-ounce crowlers to go. Business was slower, but steady.
He still had to furlough 14 of his 20 employees.
Then, on May 22, when Phase 2 allowed restaurants to reopen with limited dine-in service, Glunt chose to remain closed to dine-in guests. He made this decision for a few reasons. "In no way do I judge anyone who's reopening," he says. "But for our situation, it makes sense for us to do what we're doing."
First, he faced logistical challenges. "Our patio is tiny," he says. "If we had a huge outdoor space, we might do it, but it would be really difficult." He's also found a business model that works—for now: "Having a full retail shop has been huge for us. We're selling more wine now than before. Now we're on a steady, predictable system."
He hopes to hire his furloughed employees back but realizes this might not be in their best interest. Right now he could only pay them a fraction of what they used to make, so many are better off collecting unemployment.
And he's determined to keep his staff and customers safe. "I don't know why people think this is over," he says. "There were 1,000 new cases in North Carolina on Friday. It only takes one person. If somebody gets sick and they trace it back to us, I could get shut down."
Then there's the most important reason: Dairelyn is due with their second baby next month, and he has to keep his family healthy.
Their goal is to reopen the upstairs space by late June or early July, and he'll keep the online store open indefinitely. After the first full weekend of Phase 2, though, he says he hasn't seen a dramatic shift. "Our sales haven't dropped since Friday," he says. "We've had maybe four people ask if they can drink inside."
Glunt also knows beer and wine are pandemic-proof, so his business will survive this economic setback. "This is what I'm good at, and this is the industry I should be in," he says. "Service industry people are really resilient; we're used to working with razor thin margins. It's mentally really hard, but it's worth it if my employees feel safe and happy."