Why We Need Charlotte's Tree Canopy
It's not just for looks.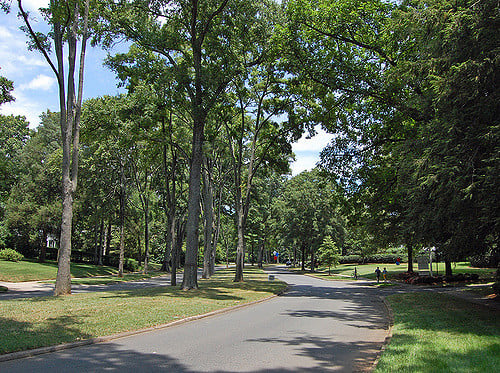 Charlotte is revered by many for its lush urban tree canopy. In fact, it's recognized as one of the best urban forests in the nation. As you stroll or drive through the majestic willow oak-lined Queens Road West in Myers Park, you're experiencing an important part of our city's towering canopy. Other neighborhoods boast similar tree-lined streets, contributing to conservation group American Forests' 2013 recognition of Charlotte as one of the top 10 cities based on the trees' health, the city government's strategies for dealing with trees, and civic engagement to help preserve the canopy.
We Charlotteans love our trees, and our trees seem to be happy here.
But our tree canopy does a lot more than simply sit there and look pretty (though their good looks have increased residential property values by more than $4 million). Having urban trees helps reduce air pollution, improve air quality, lower energy costs, and reduce storm water runoff. Some fast facts:
Breathe Easy: Charlotte officials estimate trees prevent at least 9,000 pounds of air pollution and reduce carbon dioxide by 35 million pounds.
The Price of Development: Trees intercept an estimated 2.7 millions of gallons of storm water generated by development
Stay Cool: Remember our tips yesterday on keeping your house cool? Here's proof: City residents save an estimated $1.04 million annually in heating and cooling costs, and the greatest savings are thanks to willow oaks.
In addition to making our lives healthier and better all-around, Charlotte's tree canopy also plays a large part in our food supply. We are in the middle of National Pollinator Week (June 19-25), so there couldn't be a better time to get you up to speed on the state of pollination in North Carolina. After all, you wouldn't have avocado toast without the help of our pollinators, and nobody wants a world without avo toast, now do we? Didn't think so.
District Manager Ray Betz of Charlotte's Davey Tree Expert Company tells us that North Carolina's $78 billion agriculture industry relies on pollinators such as bees for many crops we eat daily. Squash, apples, blueberries, and strawberries are among them. Pollinators actually account for a third of the fruits and vegetables we eat!
To keep our canopy thriving and beneficial to our city and state as a whole, Betz says you can plant pollinator-friendly plants and trees in your yard to help the circle of life continue. Below is a list of trees that do well in North Carolina:
Native Oaks
Magnolias
Redbud
Crepe Myrtle
Black Cherry
Not only are these trees fantastic for our economy, but they'll contribute to the many other urban canopy benefits mentioned above. At the very least, you'll boost your property value, and that's not so bad, is it?