Why You Should Incorporate Pantone's 2017 Color of the Year into Your Interior Decor
Tips on how to bring the color, "Greenery," into your home for the new year.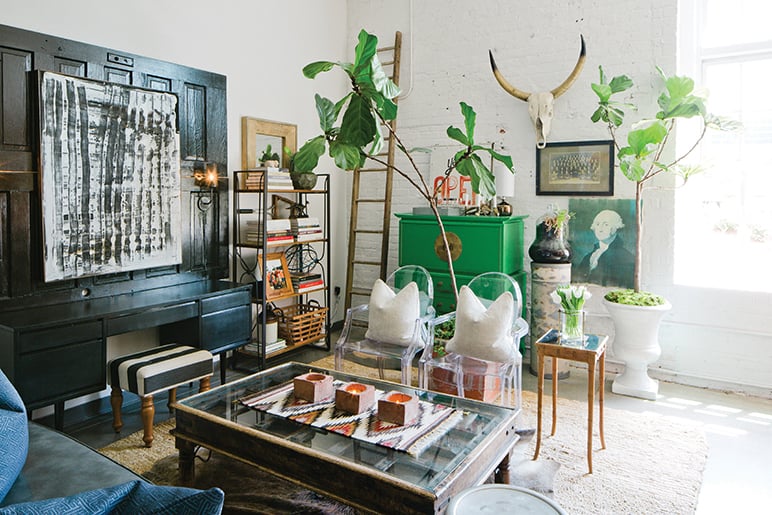 Pantone puts out a Color of the Year right before a new year unfolds. It's meant to symbolize and set the tone for the year ahead, taking cues from the current cultural landscape. Past Colors of the Year have included a somber wine-red "Marsala" for 2015 and a calming duo of "Rose Quartz" pink and "Serenity" blue for 2016.
For 2017, Pantone's Color of the Year is the vibrant and energetic "Greenery."
As Executive Director of the Pantone Color Institute Leatrice Eiseman explains, "Greenery bursts forth in 2017 to provide us with the reassurance we yearn for amid a tumultuous social and political environment. Satisfying our growing desire to rejuvenate and revitalize, Greenery symbolizes the reconnection we seek with nature, one another, and a larger purpose."
Though a springy green hue might not be on homeowners' (or renters') ideal color palettes, there is actually quite a strong case to be made for Greenery. Incorporating the shade into your home decor can have a lot more benefits beyond aesthetic. It's all about the symbolism the color carries. Greenery draws the eyes in, encouraging fresh thoughts and a renewed outlook. Once you give it a shot, you'll see that having Greenery in your life and home will help make your 2017 a bright one.
We talked with Jen Sypeck, design expert and Home Depot's director of merchandising, and she gave us plenty of useful insight when it comes to giving your home a touch of greenery.
How to incorporate Greenery into your decor
When asked what the color means for home decor, Sypeck says, "Greenery brings fresh life into a space, so whether you embrace the color literally or use it as a mantra to incorporate flora and tranquility into the home, it's a natural point to reset."
Instead of rushing to add the color into every aspect of your home, though, she advises homeowners choose the places where they feel most comfortable doing so.
Sypeck says a few of the ways to bring in the hue are as follows:
A pop of energy in the form of accent walls, green furniture, or a painted door where a room needs some revitalization.
Layer rugs to mix in the shade with your existing pieces.
Add live plants to your interiors like succulents, ficus trees, aloe vera, and ferns for breathable, renewed air.
Going Green
Live plants are one of the best ways to bring Greenery into the home without spending a ton of money and making semi-permanent changes. Plus, Sypeck says, houseplants improve air quality, are a minimal time investment, and can really elevate the style of a space. Remind yourself to appreciate and absorb nature by bringing the outside in for 2017. You'll thank yourself later.