Wicked Weed comes to Charlotte as part of anniversary celebration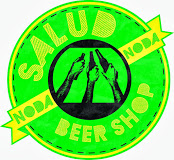 A few days after Santa Claus, one of the hottest breweries in North Carolina and the Southeast is coming to town.
As part of its first anniversary party, Wicked Weed Brewing will bring several of its beers as part of a tap takeover at Salud Beer Shop this Saturday (Dec. 28), beginning at 5 p.m.
For those not in the know, Wicked Weed burst onto the scene about a year ago and has garnered heavy accolades from almost the first day. It's arguably the must-visit brewery for craft beer fans making the trek to Asheville, thanks to a wide array of styles and a barrel-aged program unlike anything in this state has ever seen.
And at the 2013 Great American Beer Festival, Wicked Weed showed it's worthy of standing toe to toe with some of the top breweries in the country, as its Serenity (formerly known as Transcendence) beat out famed Russian River for the gold medal in the American-style Brett Beer category.
Serenity won't be on the menu this Saturday at Salud, but the lineup is still strong. They'll have Freak of Nature Double IPA, Devilwood (a Belgian ale aged in Kentucky Bourbon barrels), barrel-aged Barley Wine, Prancer (an imperial brown ale), Lupilin Lab 463 (part of Wicked Weed's single hop IPA series), Oblivion Sour Red and Milk and Cookies Stout.
(Regarding the last beer, if you didn't read it earlier, check out fellow Charlotte Magazine contributor Jeremy Markovich's guest blog for On Tap where he went to Wicked Weed and tried Milk and Cookies Stout. I haven't been able to try it yet, but something tells me we're going to disagree on the final verdict of this beer.)
And if you happen to be on the road for the holidays, Wicked Weed is also celebrating at three other bottle shops in the Research Triangle Saturday: Bottle Revolution in Raleigh, Sam's Quik Shop in Durham and Beer Study in Chapel Hill (all of those parties start at 5 p.m. as well). Asheville residents will get a two-day celebration, which you can find out more about at this link.