Will Breweries Break the Chain?
As craft beer expands into the 'burbs, shopping center developers are bagging chain restaurants and big box stores for locally owned breweries and taprooms.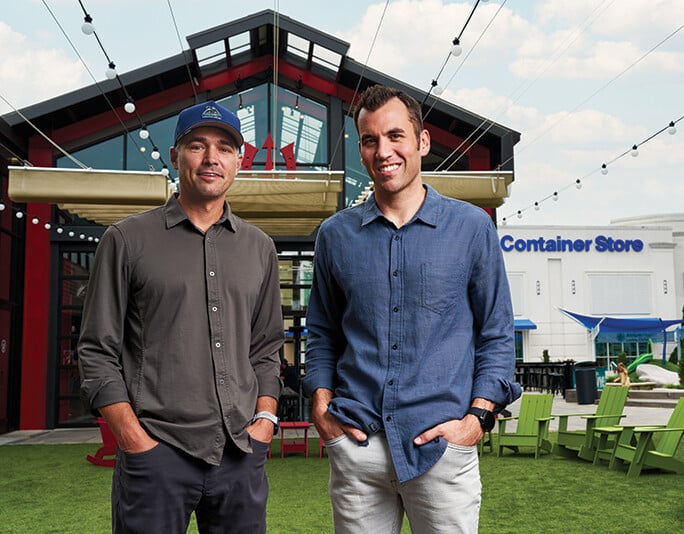 After California Pizza Kitchen closed its SouthPark location in late 2020, Simon Property Group, which owns SouthPark Mall, saw an opportunity to refresh its tenant roster. They reached out to Seth Stidham and Collin Ricks, two of the owners of Suffolk Punch Brewing. "They approached us as they planned the West Plaza expansion because they were looking for a brewery partner," Stidham says. "We had to scratch our heads because it's a mall, and there's not a lot of precedent for that. We had to give it some thought."
Stidham and Ricks liked the outdoor nature of the space, and they knew the heavily trafficked retail area would attract more families than their flagship location in South End. Construction began in early 2022, and the 11,000-square-foot brewery opened in May 2023 with indoor seating for more than 300, a stage for live music, a children's play area, and ample outdoor space.
"It's become almost cliché when another brewery opens in Charlotte," Stidham says. "But it's about bringing more than just beer to the table. You've got to bring an atmosphere that's unique. I think landlords are onto that and see that breweries unlock a lot of potential for keeping customers. The cat's out of the bag on that."
As the city keeps bleeding into the suburbs, brewery owners are following the people. Charlotte's oldest craft brewer, The Olde Mecklenburg Brewery, has broken ground on its second location, set to open in Ballantyne in 2024. The 14,000-square-foot brewery will be the anchor tenant at The Bowl at Ballantyne; like its original location, OMB will be a family-friendly venue with activity zones and a playground at one end of the biergarten.
"Having a brewery as our anchor brings a different level of interest, activating the location day and night," says Lauren Britt, leasing manager for The Bowl at Ballantyne and Northwood Retail. "Local concepts add character to a project. … Beyond that, extraordinary food and beverage concepts are significant drivers and change-makers for properties."
But smaller, lesser-known local breweries see opportunities in suburban settings as well. Edge City Brewery set up shop in MoRA's Meridian Place, a few doors down from a Great Clips and a T-Mobile store. Rock Hill Brewing Co. neighbors a guitar store and backs up to a church. Jolly Roger Brewery occupies a nondescript, one-story unit in an industrial park on Raceway Drive in Mooresville, where they draw customers from throughout the Lake Norman area.
It's a departure from the mid-1970s and early '80s, when chains like Chili's, Applebee's, and Olive Garden became default food anchors for suburban shopping centers. Two decades later, as the craft beer movement grew, restaurant owners and operators realized they could attract younger customers when they added craft beer to their menus. But eventually, brewery owners recognized and capitalized on an even bigger trend: When you serve food at a brewery and offer customers a distinct experience, you attract people of all ages.
Neoteric Brewing Co. opened last November in a former Thai restaurant in Huntersville's Rosedale Shopping Center. The space was a Friendly's in the early '90s and had several restaurant tenants afterward, but it had been empty for four years. Owners Mike Tessari and his wife, Alex, said it took almost a year of negotiations to secure the lease. (The property was sold that same year, so all negotiations had to go through both the current and prospective owners.)
Once a new property manager took ownership, though, the only request was that it not be another restaurant. "You can get a great deal when you're looking at places in shopping centers when landlords aren't sure what to put there," Mike says. "And with a brewery, people tend to seek them out rather than a restaurant that relies on customers driving by."
It took the Tessaris another year to renovate the space, but it already had the essential pieces: a restaurant layout with a kitchen, a large parking lot with room for food trucks, and space to build an outdoor patio. "Breweries will fit anywhere they need to," Mike says. "If the location's good and the price is right, and if you can work with the space, I don't see why not."
Rosedale's anchor tenants include CVS and Harris Teeter, and both have helped build Neoteric's customer base. "We have a couple of regulars who come here every Friday afternoon before they go to Harris Teeter to do their grocery shopping," Mike says. "Next week, we have a local retirement community doing their weekly outing here."
In May, just two weeks after Suffolk Punch opened in SouthPark, the brewery announced plans to open a third location in Birkdale Village. The owners have leased a spot in The Grove, an outdoor gathering space in the mixed-use development, and plan to open in early 2024. Suffolk Punch will join a mix of local and national chains coming to Birkdale Village in the next year, which include Bartaco, Foxcroft Wine Co., The Cheesecake Factory, and The Good Wurst Co. As in the SouthPark location, Stidham and Ricks anticipate a more family-focused clientele with plenty of stroller parking.
"SouthPark has got so much traffic, and it's a retail destination that draws from a farther footprint," Stidham says. "With Birkdale, we're right in the nexus of all sorts of different draws. We can expose ourselves to people who otherwise might have no clue about us."
TAYLOR BOWLER is the lifestyle editor.