Win a Pair of Tix to See Cobra Starship this Thursday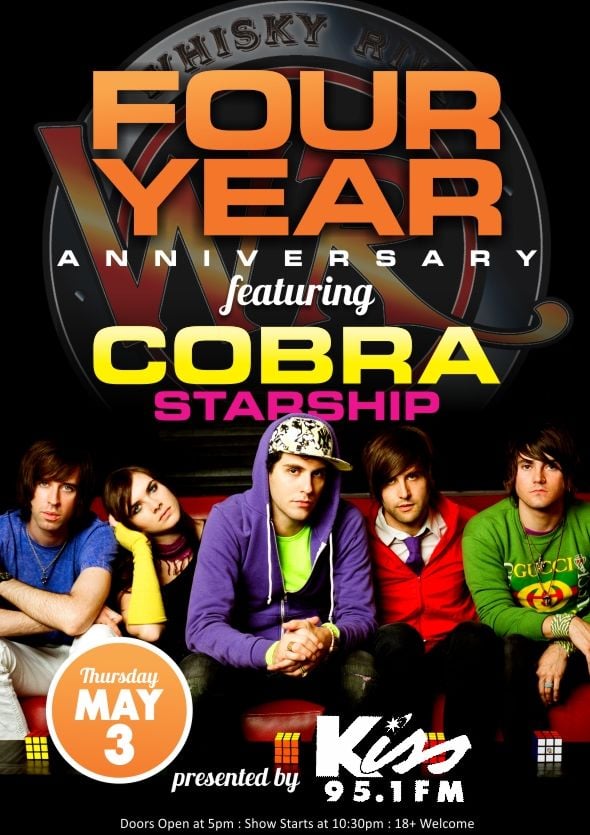 UPDATE: Congratulations to Shannon for being the first to email me the answer! Dale Jr. appeared on MTV Cribs in 2008. Shannon's won two tickets to Whisky River's anniversary party Thursday night.
* * *
Whisky River, the popular Dale Earnhardt Jr.-owned nightclub, is celebrating its four-year anniversary with a big bash this Thursday, May 3 featuring Cobra Starship. Time sure has flown by. I remember when Whisky River opened—it was one of the first venues to open at the EpiCentre.
WR's marketing firm has given me a pair of tickets to Thursday's event to give away to a lucky Dusk Till Dawn reader. The first person to email me the correct answer to the question below wins:
Name the popular television show Dale Jr. appeared on in 2008 in which he showed off his Mooresville home and surrounding property, which includes a mock country western town and bar. "We're down at the Western town at what I like to call Whisky River," he said. "This was inspired by Willie Nelson, who has something like this on his property." The Whisky River you've come to know in uptown stemmed from a bar Dale Jr. has at his home.
Email me the name of that TV show to jarvish@grownpeopletalking.com with the subject line "Whisky River Tix."