Wine and Cigar Tasting Thursday at Cutter's Cigar Bar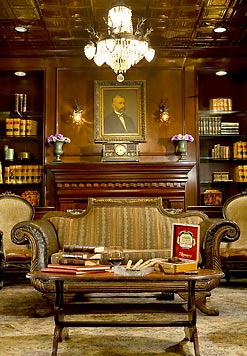 Wine tastings are popular around these parts, especially once spring rolls in, but not many of them are paired with cigars. This Thursday, April 21, Cutter's Cigar Bar at the Charlotte Marriott City Center hotel is hosting a Wine and Cigar Tasting, featuring wines from Renwood Winery with Jose Oliva Cigars.
The event will go from 6-8 p.m. and is a bargain at just $20 per person. You'll taste three red wines: Renwood Winery's Cranky Old Vine Zinfandel, Fiddletown Zinfandel, and Old Vine Zinfandel. And they'll be paired with two cigars from Oliva Cigar Company: the light and delicate Oliva Connecticut Robusto, and the rich, complex, and spicy Oliva V Double Robusto, which received 94 points from Cigar Aficionado magazine. Hors d'oeuvres from Cutter's menu will also be served.
If you're a novice to all of this, don't worry. Representatives from Oliva Cigars, Tinder Box, and Renwood Winery will be on hand to lead you through the wine and cigar pairings and answer your questions. To make a reservation for this event, call 704-333-9000.
If you've never been to Cutter's Cigar Bar, it has a charming lounge that evokes Old World sophistication through its antique furnishings. It's the kind of place Charlotte businessmen and executives frequent after work. Aside from its cigar selection, Cutter's also features a great menu of more than 35 scotches. And a few months ago, the bar added an absinthe fountain, which serves the anise-flavored, high-alcohol beverage, as part of several "retro cocktails" on the menu.
Cutter's Cigar Bar, inside Charlotte Marriott City Center hotel, 704-333-9000, marriottcitycenter.com