Wine Dinners at Fig Tree
Monthly wine dinners are booking up at the Elizabeth eatery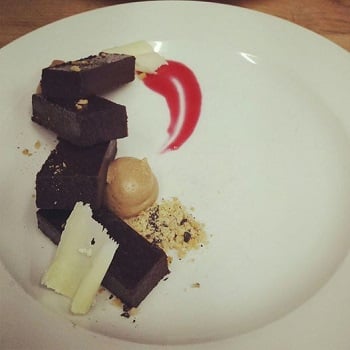 On an October evening, I trekked to The Fig Tree in Elizabeth to test out one of the restaurant's wine dinners. If you've not been and not heard, The Fig Tree hosts monthly wine dinners highlighting a specific winery – crafting dishes to complement everything from the whites to reds to roses. A spokesman is on hand during the dinner to discuss the wines and offer information to diners. At the end of the meal, the wines are available for purchase.
In October, the wine dinner featuring wine from Three Sticks Winery was intimate, delicious, and a wonderful way to spend an evening. My favorite dish was probably the Camembert, fig, and caramelized onion tartlet served with a Pinot Noir- a close second was the almond and apple stuffed quail over butternut squash puree, served with a Chardonnay.
This particular dinner consisted of five course plus a dessert course (so, technically six). Plates are relatively small tapas-like portions, but after six, well, they tend to add up. First course included an heirloom radish salad with lemon poppy seed dressing paired with a Chardonnay. The second was the lovely quail I mentioned above; third was the onion tart mentioned above.Then came a grilled pork tenderloin over sweet potato puree with pancetta and onion jam, served with a Red Blend. Next, we were treated to braised beef short rib with bone marrow dumplings and stilton mousse, served with Three Sticks' Cabernet Sauvignon. Lastly, for dessert we were given a seven layer pumpkin spice cake. We were all very, very full but very satisfied upon rolling ourselves out of the restaurant.
Lucky for all of us, Fig Tree does host the dinners monthly and sometimes twice in a month – depending on demand. Dinners are scheduled for:
December 2, 2014: Deutz Champagne Wine Dinner (currently sold out)
January 12, 2015: Tamber Bey Wine Dinner (currently sold out)
January 20, 2015: Barnett Vineyards Wine Dinner (tickets available!), David Tate, general manager of Barnett Vineyards, will be in attendance to pair and lead the dinner.
February 3, 2015: Reynolds Family Winery Wine Dinner featuring Steve Reynolds as a guest (tickets available)
Call 704-332-3322 to reserve seats for either one of the two (or both!) wine dinners above!