Winter on the Farm
Checking in on a couple of local farmers as they deal with the ice and freezing temperatures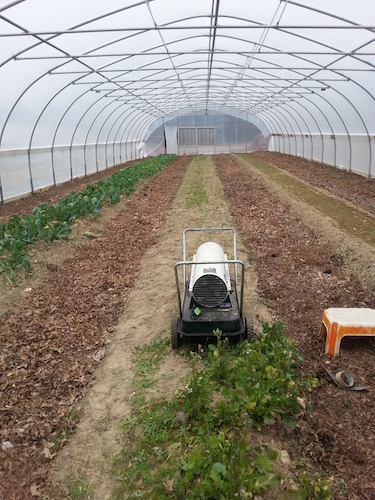 Mary Roberts didn't sleep much Monday night. While many worried about roads and power lines as freezing rain and sleet pounded the Charlotte area, Roberts fretted over her hoop houses at Windcrest Farm in Monroe. Last year, on Feb. 12, one of Roberts' grow tunnels collapsed under the weight of the snow.
"Yesterday was a grid pattern of generators and drop cords and waiting and watching," Roberts said on Tuesday afternoon. She and her husband, Ray Tarlton, spent the day rounding up propane heaters from family members, friends, and rental supply stores. They managed to get one for every grow house and a generator.
"We don't want to fire it up until we have to," Roberts says. "We dodged a bullet this time, but we looked at it as a good drill."
Powering all of the heating equipment is expensive. The plastic-covered houses build up heat during sunny days, but when temperatures drop below 20 degrees for multiple nights, the residual heat isn't enough. Roberts usually sets the thermostats for 40 or 45 degrees, depending on the type of house and crop that's inside. She has already started seedlings of early spring vegetables, such as cabbage, lettuce, cauliflower, and kohlrabi.
While she worries about the effects of the cold weather on those seedlings, Roberts' other concern is that the extreme cold temperatures delay her seeding schedule. She had planned to seed tomatoes, peppers, and eggplant this week, but she'll wait till the weather warms.
"A farmer is nothing if not flexible," Roberts says, "but it sure is nice when it all runs to plan."
The planning process is difficult for consumers to understand, but when customers purchase produce from Roberts at the farmers market, the sale of that tomato, carrot, or cucumber was a year in the making.
In nearby Matthews, Pressly Blackley Williams is entering her second full-time growing season at Renfrow Farms. An extension of the Renfrow Hardware brand, Renfrow Farms is located on about eight acres in downtown Matthews. Williams is the daughter of hardware store owner David Blackley.
A lonely row of kale is all that remains of the crops that overwintered from the fall. Another snow-and-ice-covered field is plowed under, awaiting spring planting. At the end of January, Williams planted collards, broccoli, and kale. She knew it was risky, but if they survive, her production will be a full month ahead. Her young farm doesn't have irrigation on that side yet, so she hasn't been able to install hoop houses. She used row covers to protect the vulnerable plants from this week's sleet and snow, but the colder temperatures later this week pose a bigger risk.
"When the temperature is below freezing, the plants can't take up water and become dehydrated," Williams says. "This damages or kills them far more easily than snow does."
After expressing their concerns and explaining their preparation efforts, both Roberts and Williams said they are thankful for times like these to catch up on indoor work. Roberts planned to tackle some paperwork and bake some homemade bread for the first time in a long while. Williams also had paperwork to do and updates to make to her farm's website.
In a month's time, the ice and snow will be a distant memory, and early spring duties will call them back outside.

Propane heaters are expensive options, but Roberts has them ready to run if cold temperatures demand.
---

Roberts uses hoop houses to extend her growing season.
---

Williams uses row covers (seen here blanketed in snow and ice) to protect her young plants.
---

The Renfrow Farms tractor does double duty on days like these. On Tuesday, it cleared snow from parking spots at Renfrow Hardware.