Winter Warmers
Four meaty main dishes for chilly nights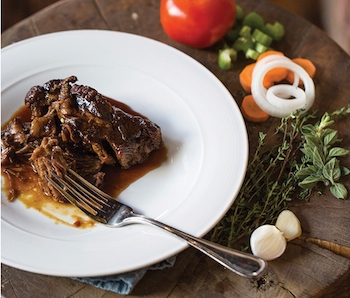 This rainy Monday may have you craving some comfort food for dinner tonight. We pulled some of our favorite hearty dishes from the pages of Charlotte Home + Garden. Prepare them with some seasonal sides, such as sweet potatoes or Brussels sprouts, or let them stand alone as a one-dish meal. (Click the photos for the recipes.)
Gumbo is a New Orleans staple. This version from e2 Emeril's Eatery is full of chicken and Andouille sausage. The recipe takes a little time, but those extra minutes show in the dish's deep flavor. For leftovers the next day, add some vegetable, seafood, or chicken stock to restore the gumbo's creamy consistency.
photo by logan cyrus
Braising is the key to these beef short ribs from Rooster's Wood-Fired Kitchen. Cooking the short ribs in the oven at a low temperature for four to six hours achieves the fork-tender texture that makes this dish special. And don't toss the braising liquid; reduce it on the stovetop to serve as a sauce with the meat.
photo by logan cyrus
If you're looking for a one-pot meal that works well on a weeknight, try this White Bean and Italian Sausage Cassoulet with Fennel and Onion Confit. The long name may sound intimidating, but personal chef Carrie Hegnauer promises that it's not as difficult as it sounds. The preparation is divided into two nights, and once it's complete, the only accompaniment required is a big spoon.
photo by taylor mathis
We've all had chili, with beans or without, with chicken or beef or no meat at all. This bacon and egg chili may sound like the oddest yet, but the combination of ancho chiles and bacon plus the richness of the egg works well. Topping each serving with a poached egg makes a pretty presentation and a satisfying supper.
photo by kyle dreier