Winthrop Incident Cited in Watchdog's Art Censorship Report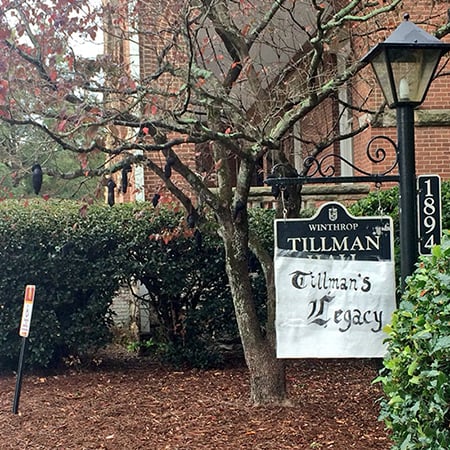 The Foundation for Individual Rights in Education, a national watchdog group focused on civil liberties, is releasing a new report about art censorship on college campuses this week. The Rock Hill, S.C.-based Winthrop University is cited in the report for an incident that happened in November 2016. Outside of Tillman Hall on the school's campus, student Samantha Valdez was one of the participants in an artist collective's installation, hanging miniature figures from trees and adorning an existing sign for the hall reading "Tillman's Legacy." Benjamin Tillman, the South Carolina governor for whom the hall is named, was known for anti-African-American rhetoric and being a supporter of lynch mobs.
The incident garnered media attention when university police officers investigated Valdez's involvement. Report author FIRE and the National Coalition Against Censorship lobbied on her behalf, and she was cleared of the charges. The purpose of this report is to identify similar incidents on campuses throughout the country. "The one thing they all have in common is not the message they send, but the censorship their messages provoked," the report says.
Other schools included in the report are University of Iowa, Salem State University, Gustavus Adolphus College, Gainesville State College, University of New Hampshire, Arcadia University, Polk State College, Pennsylvania State University, Brandeis University, Kennesaw State University, and several more. You can read the entire report here.