Without Warning, Panthers Remove Jerry Richardson Statue
Team cites public safety concerns after nearly two weeks of George Floyd protests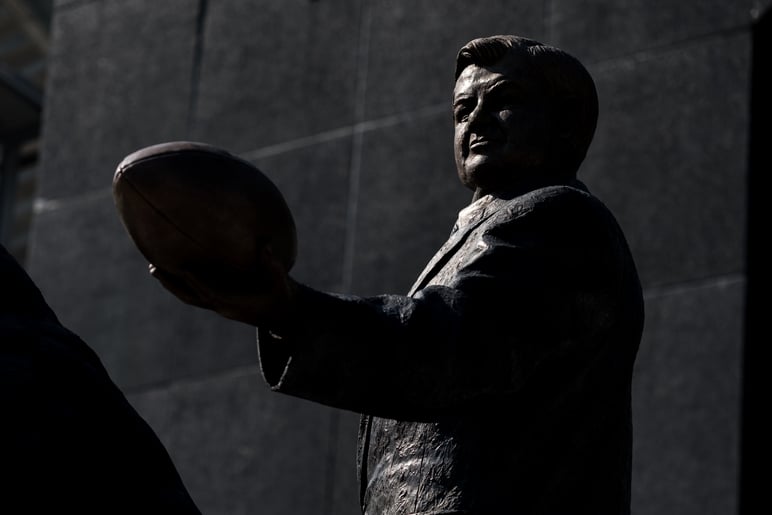 In July 2016, Jerry Richardson's minority partners in the ownership of the Carolina Panthers presented him with an 80th birthday present: a 13-foot statue of the team's founder, holding a football out with his left hand and flanked by a pair of panthers, one each for offense and defense and the two Carolinas.
At just before 2 p.m. on Wednesday afternoon, nearly two weeks after the beginning of nationwide protests over the Minneapolis police killing of George Floyd, a flatbed truck pulled up to the north end of Bank of America Stadium. The Charlotte Department of Transportation closed off South Graham Street. A crew began work to remove the statue, to be taken to an undisclosed location "in the interest of public safety," according to a team statement via Twitter at 2:37 p.m. "We were aware of the most recent conversation surrounding the Jerry Richardson statue and are concerned there may be attempts to take it down." The team did not say when or whether it would return to its spot outside the stadium.
Richardson abruptly announced he was selling the team on December 17, 2017, during the middle of a Panthers home game. That morning, Sports Illustrated had broken a story that detailed years of Richardson's sexual harassment of female team employees and a racial slur directed at a team scout. Pittsburgh hedge-fund manager David Tepper bought the team the next year but said he was "contractually obligated" to keep the Richardson statue in place, declining to elaborate.
The 83-year-old Richardson, a former NFL player, built the Hardee's brand of fast-food restaurants into a chain of 2,500 restaurants by his retirement in 1995, the Panthers' first year in the NFL. He used the money he'd made to pay for the franchise license the league granted him in 1993.
"Mr. Richardson has made no public comments about the Panthers or the NFL since the sale of the team and doesn't plan to do so now as a private citizen," Jim Gray, a spokesman for Richardson, said in a public statement Wednesday afternoon. "He has worked to treat all people fairly in his business and personal lives and, like many other Americans, is troubled by recent events in Minneapolis, Charlotte, and around the country."
In recent days, protesters around the world have targeted numerous statues of prominent figures. In the United States, statues and monuments that honor the Confederacy have been removed. Statues of Christopher Columbus have been toppled and thrown into a lake in Richmond, Virginia, and decapitated in Boston. A statue of King Leopold II was defaced, then removed from a public square in Antwerp, Belgium.
Read additional Charlotte magazine coverage related to the Jerry Richardson statue here.