Written in the Stars
Charlotte Stationery Shop Guide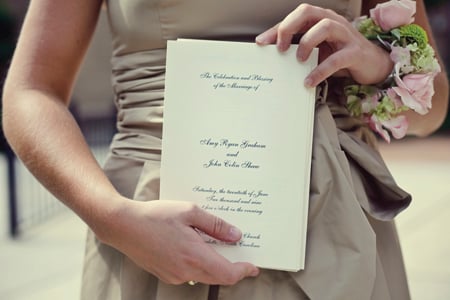 Now that you've learned the basics of printing techniques, you may be wondering where to go to have your graphic design dream made into reality. It's always best to go local when it comes to wedding invitations and save-the-dates. You'll have the advantage of being able to have a one-on-one conversation with the stationer and she will be able to cut corners, if necessary, to fit your budget. You'll also be able to view proofs in person and make sure the final product is precisely what you'd hoped for before you seal the envelopes and send them out. That said, we've compiled a guide to the Queen City's best stationery shops.
Arzberger Stationers
The Specs: From gold calligraphy to embossed family crests, this shop specializes in classic elegance for the traditional bride.
2518 Dunavant St. Charlotte, NC (704) 376-1151
Monday-Friday 8:30am-5pm
The Buttercup
The Specs: With brands like Lilly Pulitzer to Jonathan Adler, they carry all the preppy classics.
343 Providence Rd. Charlotte, NC (704) 332-5529
Tuesday-Saturday 9:30am-5:30pm
Chic Impressions
The Specs: This shop boasts hand-made silk invitations among their repertoire of elegant paper creations.
Lolipop Papers
The Specs: The shop offers a range of preppy designs such as damask and swirly monograms.
8206 Providence Rd. Charlotte, NC (704) 541-2545
Monday-Friday 9am-6pm, Saturday 10am-4pm
Olive Paper
The Specs: The sky is the limit for this shop which creates hand-crafted paper wedding suites in an assortment of printing techniques.
1505 Sylvia Court Charlotte, NC (704) 609-6302
Call for appointment
Papertwist
The Specs: An equal mix of chevron and elegant eyelet options.
6401 Morrison Blvd. Charlotte, NC (704) 366-3100
Monday-Wedneday 10am-6pm, Thursday-Friday 10am-7pm, Saturday 10am-6pm
Paper Source
The Specs: Lazer cuts and foil are just a few of the unique designs offered here.
6800 Phillips Place Ct. Charlotte, NC (704) 552-2220
Monday-Saturday 10am-6pm, Sunday 1-6pm
Papitre
The Specs: Papitre offers a mix of custom creations and classics such as Vera Wang and Crane & Co.
3908 Colony Rd. Charlotte, NC (704) 364-4567
Monday-Saturday 10am-6pm, Sunday 12-5pm
Salutations
The Specs: This custom and well-stocked design house offers every printing technique imaginable.
14825 Ballantyne Village Way Suite 130 (704) 369-5260
Monday-Saturday 10am-6pm
Southern Stationers
The Specs: Letterpress, engraving and thermograph are just a few options among a selection of classic labels offered here.
2935 Providence Rd. Charlotte, NC (704) 442-7428
Tuesday-Friday 10am-5pm
Three Little Birds
The Specs: Creativity rules in this shop which offers letterpress, foil and pocket designs.
2113 Southend Dr. Charlotte, NC (704) 379-7778
Tuesday-Friday 10am-7pm, Saturday 10am-4pm