Yiasou! Greek Festival Returns This Week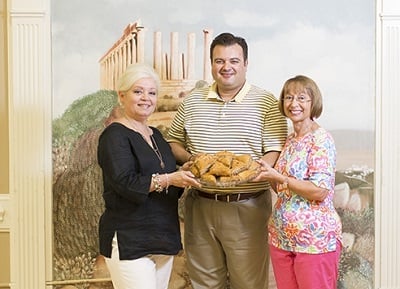 Though many of his adult years have been spent behind the scenes of Yiasou! Greek Festival, John Tsumas says his affiliation goes back even further.
"I'm 40 years old," Tsumas says, "which means I've been with this church for 40 years and the festival for 36 years."
In the August issue of Charlotte magazine, the festival was included in the 50 Things Every Charlottean Should Do feature. For the piece, we talked to Tsumas, a Charlotte native and president of the parish council at Holy Trinity Greek Orthodox Cathedral, the church behind one of the city's biggest annual cultural events. His duties with the festival include aiding production of meals and desserts. From September 4 through 7, tens of thousands of visitors will enjoy the live entertainment, games, vendors, and fresh food at Greek Fest. And even though you can get items like baklava in several places around town, it doesn't get more handmade than the hours-long baking sessions and preparation from church volunteers. "A group of many mothers and grandmothers are really the basis for everything happening," Tsumas says. "They have it down to a science."
The festival began in 1978 and has grown into one of the premier late-summer events in Charlotte. Tsumas estimates about 50,000 come through the gates each year, with hundreds of volunteers helping make this a must-do event in the city.
"We've been a part of Charlotte for a long time," Tsumas said, adding that while Holy Trinity Greek Orthodox Cathedral has been at the current location for 60 years, the church has been around for more than 90 years. "The goal is to offer the culture of our community so that people learn more about the church and the Greek tradition."
Read the rest of the piece here.