Yn and Dine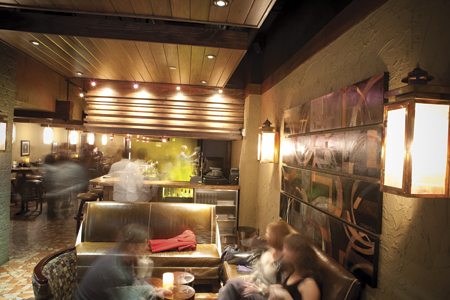 What: Yn, A Wine Cafe
The 411: The owners of 131 Main opened this wine bar adjacent to the Dilworth location in fall 2008. With its small sign and almost-hidden space, you'd probably miss it if you didn't know to look.
Vibe: Inside it's small, inviting, cozy, and warm — a perfect escape from winter's chill. A few small chairs and couches comprise a seating area in the corner, while the rest of the seating is at the long bar and the row of high tables and stools lining the wall. Choose from almost forty wines by the glass (2.5 or 5 ounces) or the bottle. And pair your vino of choice with one of the tasty small plates like smoked salmon nachos or ahi tuna, ranging in price from $5 to $13.
Who's There: Dilworth neighbors pop in for a drink, as do tenants from the 1315 East condos above. Plus, it's popular for diners who have just finished at 131 Main, which is why the restaurant opened it in the first place.
What Sets It Apart: The bartenders and servers here know their wine, making Yn a great place to try something new. They allow you to sample before ordering, so be adventurous.
Hours: Mon.-Thu., 5 p.m.-midnight; Fri.-Sat., 5 p.m.-1 a.m.; Sun., 5-9 p.m.
Where: 1315 East Blvd., 704-499-9824, yn-cafe.com.