'You Created Racism … Fix It!'
Passions run high at MeckMin's 'We Need to Listen' session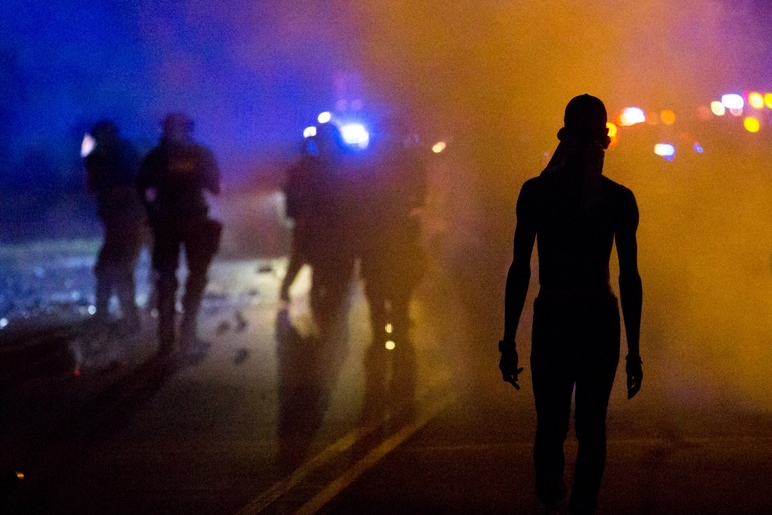 "This is not some sort of kumbaya moment. We are a long way from healing," said the Rev. Rodney Sadler of Union Presbyterian Seminary, setting the tone early. "This is not the end of the story. This is the first opportunity we have to begin to listen. Amen?"
"Amen," replied a crowd of about 50. It seemed small within the cavernous sanctuary at First United Methodist Church uptown on a Monday evening that threatened rain. The interfaith nonprofit Mecklenburg Ministries had organized a program to discuss the police shooting of Keith Scott on September 20 and the demonstrations—at times, riots—that flooded the University City area the night of the shooting and uptown a night later. MeckMin titled it "We Need to Listen: Voices from the Charlotte Uprising."
The program lined up seven speakers, most of them familiar to Charlotte's activist community. Danielle Hilton and Jade X. Jackson are well-known and vocal community organizers. The Rev. Amantha Barbee of Statesville Avenue Presbyterian Church is a clergy leader who regularly uses her pulpit, literal and figurative, to speak for Charlotte's minority and poor communities. Braxton Winston and Toussaint Romain emerged from the post-Keith Scott protests as community leaders. Meko McCarthy has advocated for police reform since her son, La-Reko, was Tased to death six years ago by a Charlotte-Mecklenburg police officer who remains on patrol. Vahisha Hasan is a Charlotte native who lives in Asheville but travels often to her hometown for community events and activism.
Their speeches were raw and often emotional; as befits a church, they were more testimony than presentation. If a common thread ran through all of them, it was that the Scott shooting and reaction to it marked the end of one kind of Charlotte and the birth of another—minority Charlotte's "Ain't Gonna Let Nobody Turn Me Around" moment. "Love can be ferocious. Love can scare people," said Hilton, clad in a black Charlotte Uprising t-shirt that read "Stop killing black people." "And my brothers and sisters in uniform, some of them were crying, but some of them were laughing. This. Is. Unacceptable."
The city says the protests cost taxpayers $4.6 million in overtime for police officers and damage to city buildings. "I am sick and tired of your care and nurturing of buildings that have insurance and re-insurance," said Hasan, "but you can so easily dismiss a black or brown body on the ground."
"You created racism. It's time for you to fix it!" Barbee declaimed. "If you want to honor me and my people, get off your behind and do something."
Afterward, Barbee posted a message to her Facebook page. "This was a powerful event that could press forward to real healing in our city," she wrote. "Take note, Al Austin, LaWana Mayfield, and Julie Jacobus Eiselt were your only elected officials present." All three City Council members responded. "This was a powerful evening and these voices need to be heard community-wide," wrote Eiselt, the only white person of the three. "Too many people in our community are not willing to give up all that they've ever known. We cannot make meaningful change unless we're all willing to give up a little."
There was another, less obvious thread, a presumption not only that the life of everyone matters, and that the taking of anyone's life is an outrage, but that everyone deserves to "feel safe." "I felt safe enough to come here," Hilton said at the beginning of her speech, adding that she hasn't always felt this way.
"I don't feel safe." We hear this all the time now. We hear it from residents of cities that have just been attacked by terrorists, and those that haven't. Citizens who live in poor minority neighborhoods say it in reference to threats from the police, and the police say it in reference to threats from citizens who live in poor minority neighborhoods. We hear it on college campuses. We hear it from gun peddlers, whose products make everyone even less safe than they were before. We hear it from the President.
The threat of violent crime is larger and more immediate to people in poor and minority communities, but it happens everywhere, even in the glittering heart of the city. Even so, crime rates in Charlotte and in general are nowhere near what they were a generation ago. So why so much anxiety? It's not just a rhetorical question. When a police officer and citizen cross paths, especially if the citizen is black, both parties bring to the encounter every preconception they might have of the likelihood of one doing harm to the other. It can lead to someone lying dead in a street, or an apartment complex parking lot.
The string of police shootings of young black men since Michael Brown in Ferguson, Missouri, in August 2014 has heightened the anxiety not just in minority neighborhoods but among potential police recruits. That's a distressing development, since police officers with backgrounds in minority neighborhoods would presumably identify more with citizens who live there. "It does not look good," CMPD Chief Kerr Putney told a Rotary Club luncheon crowd Tuesday. "If we're not careful about what we say, we won't get 200 to 300 people applying to do this job during open enrollment. We might get 50—and you're stuck with what you get."
It's all incredibly complicated and difficult, which heightens the responsibility of people of good faith to come together to discuss and act on it. Our next #discussCLT event is next week, and it'll tackle some of the underlying forces behind the Charlotte of the affluent and comfortable and the Charlotte of the marginalized, the one reflected with such passion Monday night at First United Methodist. (Toussaint Romain and LaWana Mayfield will be on the four-member panel.) We welcome your presence at Lenny Boy Brewing Co., plus your ideas and thoughts on how to try to fix what's broken in our city. There's no shortage of things to fix, or need to talk about how to fix them.