Your Incredibly Helpful Guide to Alive after Five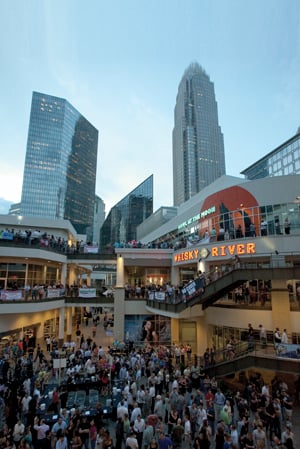 When its home was Wachovia Plaza, Alive after Five was already the uptown event par excellence. Each Thursday, the business class reapplied its hair gel, donned its finest young-urban-professional attire, and flocked to the outdoor atrium to flirt, network, and awkwardly bob their heads to free concerts, bottles of overpriced domestic beer in hand.
What could top this? Moving the event to EpiCentre, of course. Charlotte's beacon of yuppified goodness — a place with upscale takes on movie theaters, bowling alleys, and even NASCAR — began hosting Alive after Five last year and drew about 4,500 people a week. For those planning to partake for the first time — or who just need some pointers on the complex social scene (and trust us, you probably do) — here's a guide.
How to get inside: Show your ID (you gotta be twenty-one), get a wristband. It's free. It'll also get you into EpiCenter bars for discounted covers later on.
Where to get drinks: Most people buy them from event vendors throughout the premises, but you can also hang out in one of the bars if you like.
Mixed drinks? Head to the Penthouse Bar on the third level. It's open to everyone — and accepts credit cards.
Beer: Domestic bottles. $4 a pop. Available in select beer tent locations.
Wine: A new feature this year. Also available via tent vendors. Available in $6, $8, and $10 varieties. Classy.
The proper way to show you're down with the band's funky music: Every once in a while, nod your head, slightly, to what you have identified as "the beat."
VIP? There's a special, roving section for people connected with the event. Otherwise, you're on your own, sucker.
Most polite and effective way to blow off someone you know who catches your eye: A short, aggressive nod, coupled with a knowing furrowing of the eyebrows. Don't make eye contact for more than a three count.
When to get there: Go too early and you'll be socializing alone, but the later you arrive the longer the drink lines. Get there by 6 — and ensure your attire makes it clear you've come straight from your very important job.
After-party? Flock with the masses to the EpiCentre bars to continue basking in uptown's most exquisite young urban professional culture.
How to pass through a tight crowd (of mostly men, who have been drinking): Confidence is key. Clap your hand on the shoulder of the biggest guy in the group you need to get through and say, loud enough to be heard clearly over the music, "Excuse me." Stare straight ahead, through the group. Try this with the short guy and he'll think he's being picked on. The big guy has nothing to prove.
Dancing? Don't even think about it.
Alive after Five has two other Charlotte locations, at Ballantyne Commons and Piedmont Town Center. Go to aliveafterfives.com for more information.