Your One-Stop Area Rug Buying Guide
Get all the tips you need before buying your next area rug.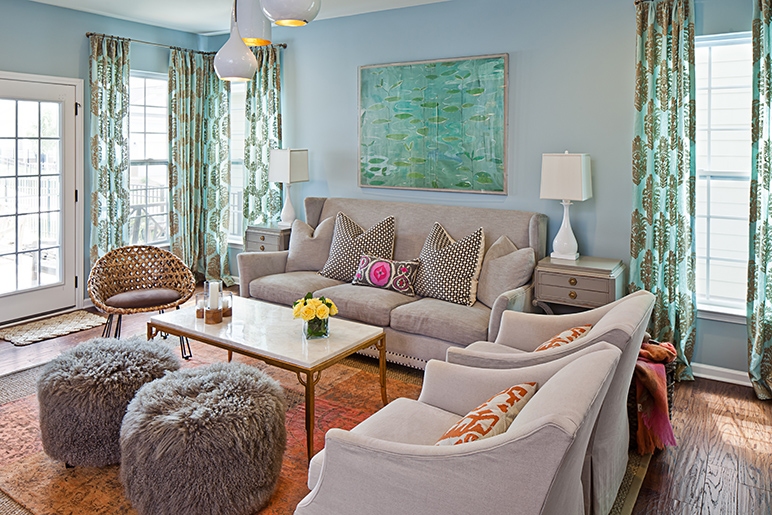 People buy area rugs for a roost of reasons – some seek cushion for hardwood floors, whereas others just need a pop of color in a bland room. Whatever your reason for scoping a new rug, we know that a lot of questions come to mind when scrolling through rows and rows of options online.
So we went straight to Charlotte's textile expert, Wesley Mancini, for the low-down on all things area rugs. The local designer (and recent winner of the inaugural International Textile Market Association's Lifetime Achievement Award) gave us tips on everything from price to size to fabric.
Splurge or Save?
Area rugs aren't cheap. But where do you draw the line on budget? Mancini suggests splurging on the rooms that receive the most traffic.
"If you need to budget," he says, "skimp on the bedrooms or the kid's room. Guests seldom go into these rooms, and children and pets have a tendency to cause mayhem and destruction regardless."
Selecting a Size
Depending on your space and the look you're going for, area rug sizes are subjective, but there are some good rules of thumb to get you started. For dining rooms, Mancini says that if the back legs of the chairs reach past the rug, the rug is too small.
For other rooms, if you want the majority of the area covered, measure so that the rug is an equal distance away from all sides of the room (i.e. six inches from every wall). Smaller rugs can be used underneath just the coffee table and sofa.
Finding the Right Fabric
Overall, Mancini advocates wool as the best fabric, followed by other natural materials. "Wool performs well either in high or low traffic areas," he says, and "wool cleans better than synthetics," which is ideal for people who reside with pets and children.
Mancini says he'd stay away from synthetic materials. Natural fibers like wool are green and recyclable, whereas synthetics (made of plastic and petroleum byproducts) harm the environment in the creation process and end up in landfills once their lives expire.
Production Consideration
If production is important to you, remember the many different types of processes. "Hand-knotted, hand-tufted, hand-loomed, or machine made" techniques are some to take into consideration, according to Mancini. You might also want to be cautious of the dye used, whether it's vegetable or chemical.
For the social-conscious folks, some questions to consider from Mancini: "Is the material sustainable? Is the process harming the planet or the craftsmen who made it?" Or perhaps you want to support single women in impoverished countries with your rug purchase.
Don't Panic
With many factors playing into your area rug buying decision, one of the most important things to remember is not to get in over your head. Mancini notes that while "it can seem to be a daunting task," you should "try to enjoy the process." Decorating is a privilege and an avenue of artistic expression. The details are just part of the journey!