10 Must-Try Taco Spots in Charlotte: 2021
From the traditional to the unconventional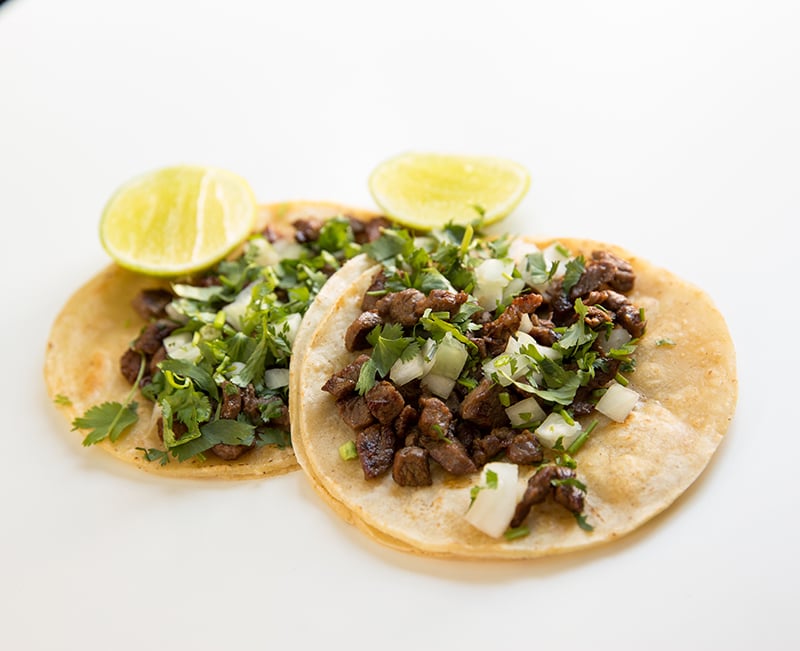 Tacos El Nevado
Multiple locations (Plaza Midwood and South End)
Tacos El Nevado doesn't have a proper Taco Tuesday special. But most of its tacos are just $2 every day, so it's always a solid deal. We recommend trying these four first: al pastor, asada, pollo, and lengua. (Vegetarians, fear not: Tacos El Nevado serves non-meat options.) The owners' native Oaxaca, the capital city of the Mexican state that shares the name, inspires much of the menu here.
---
Taqueria Mal Pan
4625 Piedmont Row Dr., Ste. 115 D, 980-298-6138
Taqueria Mal Pan quietly opened in SouthPark's Piedmont Row in November 2019 and gained steady momentum with the grab-and-go lunch crowd. Owner Andre Lomeli brings a Mexican and West Coast-inspired menu from his former restaurant in San Diego; his tacos, burritos, and enchiladas have the pizzazz of a food truck's and the flavors of his native Yucatan Peninsula. The blue corn tortillas loaded with shredded chicken punch up a typical Taco Tuesday.
---
RuRu's Tacos + Tequila
715 Providence Rd.
The "I'll Have What She's Having"  is one of the standouts here, with grilled mahi mahi, lettuce, avocado, cilantro, and pineapple salsa. But don't pass over the Long Duck Dong, with Korean sweet-and-spicy steak, pickled cabbage, sesame seeds, and cilantro. The spot offers select $2 tacos on Tuesdays.
---
El Pulgarcito de America
4816 Central Ave.
Felix Godward, owner of Felix's Empanadas, calls El Pulgarcito de America "the best Hispanic food I've had in Charlotte." Among the options here for tacos are asada, pollo, chicharron, and chorizo options.
---
Three Amigos
2917 Central Ave., Ste. A 
This loaded menu has many options, but you have to try the Tacos de Carne Asada: marinated steak with onion, cilantro, and lime, all on a corn tortilla. A family meal boxes right now offers 12 tacos (corn, flour, toastadas, or hard shell) with a slew of protein and filling options, all for $30.
---
Tin Kitchen
Food truck
There's a slew of eclectic tacos here, and here's one to put on your list of musts: Garam Masala, with stewed chick peas, tomatoes, coriander, and ginger and garlic over red cabbage-carrot slaw with a cucumber raita and grilled scallions.
---
Krazy Fish
2501 Central Ave.
There are fourteen tacos on the menu at Plaza Midwood dive Krazy Fish, including three vegetarian options. Don't miss the Spicy Potato Cake Tacos, which are thick flour tortillas stuffed with savory chunks of fried potato and ladled with Krazy Fish's signature—and addictive—blueberry tamarind chutney.
---
Paco's Tacos & Tequila
6401 Morrison Blvd., Ste. 8A
At this FS Food Group joint, you have to try the titular taco: a 10-hour slow roasted chili rubbed beef brisket with caramelized onions, queso fresco, and chipotle barbecue sauce. (They also own Midwood Smokehouse, so you know the barbecue will be on point.)
---
Cabo Fish Taco
3201 N. Davidson St.
Fans of fish tacos are already going to know about this NoDa favorite. A suggestion for newbies: Try the bearty chunks of fresh, flaky blackened tuna are rubbed with lemon, then drizzled with a kiwi-pineapple sauce and piled onto two grilled tortillas for the Tavarua Tuna Tacos at Cabo Fish Taco. The shells are then topped with chopped romaine lettuce, tomato, and a honey wasabi sauce for an extra little kick to this tangy treat.
---
Sabor Latin Street Grill
Multiple locations
The $1 Tacos Autenticos here are a Taco Tuesday favorite in Charlotte, in ground beef, shredded chicken, and veggie varieties. If you're looking for a more complex taco, they recently added a tasty Pork Belly Taco to the menu, with Ranchero mayo, spice rosada slaw, and cilantro.