100 Events That Shaped Charlotte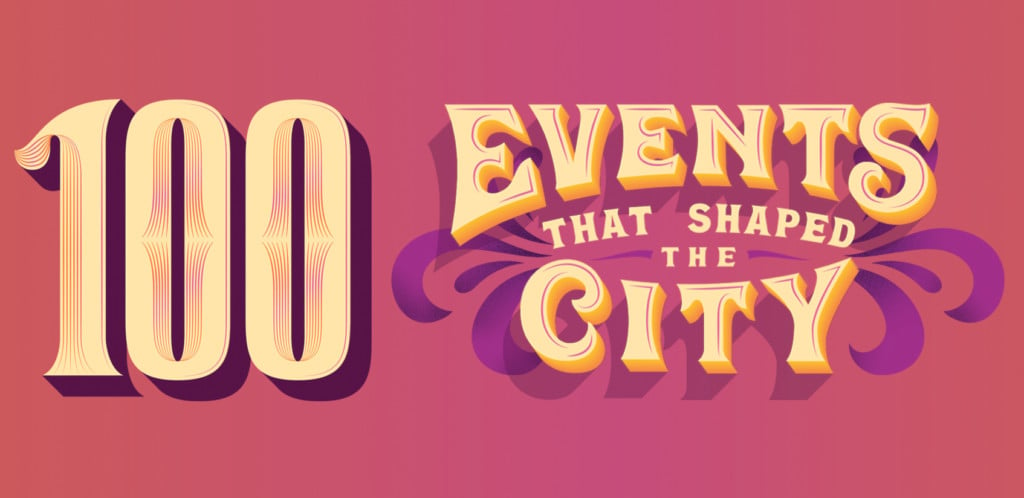 To celebrate our 50 years in print, we look back at the moments that changed the city we love 
1740s-1750s​: The Great Wagon Road leads settlers south
Pennsylvania was getting crowded and expensive. For the Scots-Irish farmers who settled there, paying taxes to the Anglican Church and constant fighting with the Native American tribes was getting old. So they followed the trading path along the Appalachian ridges to the Carolina backcountry, where they found space enough to be left alone, at least for a while.—Chuck McShane, writer
---
1760: Creation of the Catawba reservation
When an uneasy alliance between the Cherokee tribe and British soldiers fell apart in the late 1750s, the Catawba Nation—a group of trading tribes living along the Catawba and Yadkin Rivers—found themselves caught in the middle. Already decimated by smallpox and war, the remaining Catawba fended off raids from the Cherokee, protecting the new Scots-Irish settlers. In 1760, Catawba Chief King Haigler negotiated with both North and South Carolina governments for a reservation 15 square miles wide, around the border of both states near present-day Rock Hill. —C.M.
---
1765: War of the Sugar Creek 
On paper, the land around Sugar Creek belonged to Lord George Selwyn. So Selwyn sent Henry McCulloh, the 28-year-old son of his business partner, to survey the lands and collect rent from settlers there. The settlers tried negotiating a sale, but McCulloh balked. So a group of settlers attacked the surveyors with rifles and whips, leaving some with broken skulls and bleeding backs. McCulloh tried pressing charges, but no one would identify the attackers, forcing McCulloh to negotiate. —C.M.
---
1768: Charlotte becomes county seat
A courthouse with 10-foot pillars, built at what's now Trade and Tryon, was erected as a political move by Thomas Polk to cement the newly incorporated Charlotte's power as the county seat. —Emma Way,
associate editor
---
1775: Mecklenburg Declaration of Independence
One of the most debated aspects of our history is the Mecklenburg Declaration of Independence. Whether or not it was actually written before the nation's declaration, here's an excerpt. —Andy Smith, digital editor
Resolved, That we the citizens of Mecklenburg County, do hereby dissolve the political bands which have connected us to the Mother Country, and hereby absolve ourselves from all allegiance to the British Crown, and abjure all political connection, contract, or association, with that Nation, who have wantonly trampled on our rights and liberties and inhumanly shed the innocent blood of American patriots at Lexington.
---
1780-81: Revolutionary War hits home
There were only about 20 houses here when the American Revolution's "Battle of Charlotte" occurred at the Mecklenburg County Courthouse. Shortly after, General Nathanael Greene arrived and led troops to battle at the Guilford Courthouse, just 90 miles north. Today, an uptown tour shows where soldiers fought and fell for our country's independence. —A.S.
---
1790s​: Slavery expands in Mecklenburg
There weren't many large plantations near Charlotte early on, but slavery was still present. The scarce records note slaves as skilled blacksmiths and horse trainers. By the 1790s, cotton emerged as a cash crop, and Mecklenburg County land was good for growing cotton. As planters brought more slaves into the area, more restrictions on their movement began to appear. —C.M.
---
1791: George Washington visits
Shortly after becoming the first president of the United States, George Washington embarked on a tour of the new union. On May 28, 1791, Washington arrived in Charlotte and dined with Charlotte founding father Thomas Polk at his home on the corner of Trade and Tryon streets. Despite Polk's hospitality, Washington later wrote in his journal that Charlotte was "a trifling place." That perceived slight (Washington likely just meant the city was small) may be the motivation behind Charlotte's seemingly insatiable pursuit of becoming one of the country's great cities. —John Short, writer
---
1799: Conrad Reed discovers gold
A boy points his bow and arrow toward a school of fish in a stream in Cabarrus County. From the corner of his eye, he sees a flash of light. A rock shining. He takes it to his dad, who takes it to a jeweler in Fayetteville, who says, "Name your price, Mr. Reed." John Reed says, "$3.50." The gold rock is worth $3,600. There is plenty more to be had. In the 40 years after 12-year-old Conrad Reed's discovery, Charlotte goes to gold heaven. By 1833, mines here are pulling in 22,000 ounces a year. —Michael Graff, writer and former Charlotte magazine executive editor
---

Early 1800s​: Becoming the 'Rip Van Winkle' State
While the eastern side of the state boomed in the early 1800s, inland areas struggled. The eastern farmers who ran the state government saw no need to invest in education or infrastructure. While other states were building canals and roads, North Carolina seemed to stand still, and began losing population to Mississippi and Alabama. To contemporaries, the state seemed so backward they nicknamed it the "Rip Van Winkle" state after the Washington Irving novel of a Revolutionary War soldier who sleeps for 20 years. —C.M.
---
1828: Andrew Jackson elected president
Dirty politics are nothing new. In 1828, Waxhaw native Andrew Jackson and John Quincy Adams battled in a brutal campaign  for president. Adams' supporters learned that Jackson's wife Rachel lacked a finalized divorce when they married, and labeled her an "adulteress" unfit for the White House. Humiliated, she said she'd "rather be a doorkeeper in the house of God than live in that palace in Washington." It became prophetic. Rachel died from a stress-induced heart attack before her husband's inauguration, and Jackson blamed his opponents for her death. —Jen Tota McGivney, writer
---
1830s​: The golden years
In 1799, when 12-year-old Conrad Reed stumbled on that hunk of gold, a few farmers took notice. In 1825, when Matthias Barringer found a deep underground gold vein in Long Creek, the entire world did.
Local farmers started digging for gold instead of raising crops. A few struck it rich, but most wound up "poking about like snails," as a Washington journalist sneered. It took money and experience to operate a mine—which backcountry farmers didn't have.
So miners from around the world came to Charlotte by the hundreds, hoping for a windfall. Villages sprang up around newly established mines just south of the Charlotte town limits on Morehead Street. In 1834, the new overseer of the Rudisill and St. Catherine mines, Count Chevalier Vincent de Rivafinoli, arrived in town. He was like nothing the backcountry farmers and shopkeepers had seen. He dropped hints about his friendship with Napoleon and built a mansion on South Tryon Street, close enough to walk to the mines each morning wearing a cape and carrying a gold-tipped cane.
Like Rivafinoli, the gold rush in Charlotte was flashy, but short-lived. An economic depression in 1837 and the discovery of new gold in California left the Charlotte gold industry mostly depleted by 1850. —C.M.
---
1837: Opening of U.S. Mint
From this gold rush hotspot, it took weeks to reach the Philadelphia Mint by horse for currency conversion. President Jackson signed a bill authorizing an official branch in Charlotte. —A.S.
---
1845: James K. Polk becomes president 
He wasn't supposed to win. Pineville-born James Polk was such an unknown during his presidential campaign that his opponent, Henry Clay, ran on the slogan, "Who is James K. Polk?"
Polk did win, barely, and became the 11th U.S. president in 1845. It was the closest presidential election in American history, with only 38,367 votes separating him from Clay. It was also the election that, for the first time, saw more people voting for party than for candidate. Decades of factional fighting brought the emergence of two parties—Democrats and Whigs—leading America to its current partisan system. —J.T.M.
---
1852: Charlotte and South Carolina Railroad opens
For the 20,000 people gathered around the railroad tracks, October 28, 1852 was "the most brilliant and glorious day," according to the papers. The first train on the Charlotte and South Carolina Railroad made its trip through Columbia and Charlotte. Charlotte boosters had spent years raising money at church barbecues in the South Carolina farming communities along the line. The lack of a river had held Charlotte back in the past, but railroads became its future of transportation. By 1860, the city nearly doubled in size, from 1,065 to 2,265. More lines followed after the Civil War, and the city became a railroad hub. —C.M.
---
1857: Higher education opens to women
With a belief in an educated electorate, the Presbyterian Church and Rev. R. Burwell opened the Charlotte Female Institute on uptown's College Street, offering courses such as philosophy, oil painting, and chemistry for young women. In 1914 it relocated to Myers Park, and is now a coeducational college known as Queens University of Charlotte. —Adelaide Anderson Davis, class of 1961
---
1861: Charlotte supports secession
Sometimes referred to as a "young Charleston," Charlotte witnessed periodic and impassioned expressions of support for Southern secession in 1861, centered around the instructors and students at its North Carolina Military Institute. —Dr. Brian Madison Jones, Johnson C. Smith University
---
1862: Confederate Navy Yard opens
Ask a Saturday night patron at the Epicentre the location of the old Confederate Navy Yard and you're likely to get a blank stare. But the answer is right below their feet. After the April 1862 battle of the CSS Virginia and USS Monitor, the Confederacy determined that locating its naval works in Norfolk was too precarious. The search for a new site brought it to landlocked Charlotte, a hub of manufacturing as a result of its recent mining history and access to the railroad, which connected it to key coastal cities. Once established in May 1862, the Navy Yard produced heavy machinery, gun carriages, propellers, and the iron shot to use against the Union ironclad ships. The Navy Yard operated here until April 1865. —J.S.
---
1865: Jefferson Davis learns of Lincoln's assassination 
Confederate President Jefferson Davis was speaking near Tryon and 4th streets on April 19, 1865, following the evacuation of Virginia, when a courier notified him of the assassination of Abraham Lincoln. —B.M.J.
---
1865-1866: Civil War refugees move in
Limited war damage in Charlotte left a desirable southern location for refugees after the Civil War. Traveling northerners, newly freed slaves, Confederate veterans, and other displaced persons migrated here for access to the marketplace and the railroad, to reunite with families, or to escape the battlefields of Virginia and eastern North Carolina.  Nearly 5,000 occupying federal troops and a general lack of major racial violence meant the town was calm and attractive to migrants. —B.M.J.
---
1868: First black police officer appointed
Charlotte's first black elected official spent his boyhood reading books to someone he called master. John T. Schenck was born a slave in Cleveland County in 1823. When his master's eyesight went bad, Schenck had to learn to read, a skill that came in handy later.
He was a carpenter as a young adult and went to Wilmington to build temporary forts for the Confederacy, before deserting and joining the Union Army.
After the war, Schenck settled in Charlotte and put his hands and education to work. In 1867, he helped organize the state Republican Party. Republican Governor William W. Holden appointed Schenck to become Charlotte's first black police officer in 1868. Two years later, he was elected to represent Second Ward on the board of alderman. He served four non-consecutive terms between 1870 and 1889.
Schenck was 70 when he died in his home on Mint Street in March 1894, and his obituary read, "He was the most remarkable negro, probably, in the State."
He was known for straight talk and making backroom deals. As a farmer and part-owner of a saloon, he opposed Prohibition in the 1880s. During one heated debate about liquor, Schenck rose with the help of crutches and said, "When passion blows the breeze, let reason guide the helm." Schenck believed the Prohibition debate was a scheme to divide the black vote by splitting the "preachers from the common Negroes," and worried that the next step would be to prevent a poor black man from voting at all. —M.G.
---
1875: Sit-in for integration at the Opera House
After the Civil Rights Act passed, the first recorded protest for integration occurred at the Opera House after a black man was denied a seat near the front of an April show. —E.W.
---
1876: Board of Trade is born
A growing city, Charlotte organized a board of trade, otherwise known as a chamber of commerce. The Charlotte Chamber became a defining entity, forging a powerful network of businesses. —A.S.
---
1881: Charlotte Cotton Mill opens
The town had only about 7,000 residents when the first major cotton mill opened here at 5th and Graham streets in 1881. Previously, cotton had been grown in Mecklenburg County but was usually shipped to New England to spin or weave into yarn or cloth. Spinning it locally would save money and time, and Charlotte—with rail service connecting it to other cities—became an attractive option.
Charlotteans hoped the mill would usher in a new era for the city. They were right. Three more mills opened within the decade, and several more followed. Cotton-spinning remained a hot industry for the next four decades, and Charlotte grew from a country town to a thriving urban center.
The mill that brought prosperity to the city didn't bring prosperity to its workers, however. Hours were long, conditions were dangerous, and most of the employees were women and children. The average pay was $5 per week. —J.T.M.
---
1885: Annie Alexander graduates from medical school
The daughter of a prominent doctor, Annie Alexander became the first woman to practice medicine in the South—a breakthrough following the death of a female patient who refused medical attention from a male. —Virginia Brown, writer
---
1893: Introducing the streetcar 
Anthony Foxx, U.S. Secretary of Transportation under the Obama administration and mayor of Charlotte from 2009 to 2013:
Charlotte in the 1890s was a mill town, largely built around the textile industry. It supported the economies in other cities such as Winston-Salem, the tobacco processing/tobacco powerhouse.
Charlotte was still trying to find its place in a lot of ways, and electric streetcars came on line (in 1893) a little after other places in North Carolina, such as Asheville.
The streetcar systems began to mature as real estate developers began to recognize their value. You began to see "streetcar neighborhoods" emerge—such as Dilworth, which really came to life as a result of having that particular form of transportation nearby.
I remember, when I was a kid in the 1980s, there was talk about something called "light rail." I had no idea what they were talking about. I knew what a subway was, but they weren't calling it a subway.
It really took the better part of 15 to 20 years of conversations before we were able to begin building out a rail system.
As mayor, I inherited the Great Recession, yet we were able to get a billion dollar Blue Line extension done, and to get the streetcar moving forward. Ultimately, the only thing that's going to change the dynamics of traffic and longer travel times and congestion is action, and that's the challenge for leadership in the city right now. —As told to Rachel Jones
---
1898: Red Shirt Movement rallies
Seen first in Mississippi, the Red Shirt Movement united white supremacists in a paramilitary campaign designed to restore power to the state's Democratic party by preventing African-Americans and other non-Democrats from voting in statewide elections through intimidating words, actions, and violence. Unlike the secretive Ku Klux Klan, which had a similar mission, members of the Red Shirt Movement relished in revealing themselves to their neighbors and enemies by wearing noticeable red shirts. The Red Shirts staged large, boisterous, and inflammatory rallies across North Carolina, including one in Charlotte that culminated in Latta Park on July 31, 1900. —B.M.J.
---

1905: Prohibition begins 
Prohibition went into effect in Charlotte on January 1, 1905, years before it was adopted statewide. "It was a victory against the saloon system and the liquor habit, not against the saloon man," read a pamphlet published after the law was enacted.  —Kristen Wile, editor
---
1905: Southern Power Co. incorporates 
Southern Power Co. began building dams across the Piedmont for hydroelectric power to fuel the Carolinas' textile and tobacco mills. The company evolved into Duke Energy, the largest electric utility in the country today. —Adam Rhew, writer and former senior editor of Charlotte magazine
---
1910: Kokenes family introduces the city to Greek food
After moving from Greece in 1910, Constantine Kokenes opened the Star Lunch, giving uptown its first taste of Greek food. "The restaurant was a simple place," says Constantine's grandson, Dennis Kokenes. "They were famous for fish sandwiches and fish sticks." Constantine paved the way for many other local Greeks, from his own sons launching The Open Kitchen to the openings of other longstanding Greek-owned dining destinations like Green's Lunch and The Greystone Pub. "Restaurants like it have been a wonderful industry for many Greek families," says Kokenes. "My grandfather just happened to be one of the earliest in Charlotte to do it." —Sarah Crosland, writer and former associate editor of Charlotte magazine
---
1909-11: The first skyscrapers
Then: Skyline from North Church and 7th streets, 1916
Looking east from North Church and 7th streets, you can see the city's early skyscrapers. The above photograph was taken from the x-ray room of the D. A. Tompkins' Charlotte Sanitarium.
Now: Skyline from North Church and 7th streets, 2018
Today, the view nearby looks much different.
---
1916: The flood
The rivers were already rising in western North Carolina when the second hurricane in two weeks hit on July 14, 1916—this time in Charleston. The next day, as the hurricane jutted inland, more than a foot of rain fell on the already soaked ground. In Mount Holly, the Catawba River crested at more than 45 feet, its waters carrying cotton bales, telephone poles, and even rooftops in its currents. More than 80 people died in western North Carolina, and nearly every mile of railroad track was damaged. Mountain towns and communities bore the brunt of the damage, but the largest single disaster happened in Mount Holly, when the Southern Railway bridge snapped under the constant assault of water, wind, and debris. Nineteen workers plunged into the waters below; 13 were killed. —C.M.
---
1917: City rejects first master plan
The Charlotte Chamber of Commerce hired John Nolen, the first American who identified himself exclusively as a town and city planner, to study and map property in preparation for Charlotte's first-ever city plan. Six years before, Nolen had designed the then-suburb of Myers Park with winding, tree-lined streets, separated boulevards, and green areas along creek beds. Now Nolen began accumulating citywide data on land use, population density, and transportation corridors; the result was a 126-page civic survey meant as a precursor to a full plan.
It never happened. The Chamber chose not to pay for the civic survey's expansion. What Nolen saw as potential greenways and parks was diced into residential lots in the era's feverish growth. "There are examples in the city of errors that are costly and more or less irremediable," Nolen wrote a Chamber official in 1924. "Other errors will follow without a city plan." Nolen soon became an internationally known pioneer in the emerging practice of city planning. A century later, Charlotte is working on a new plan that, among other things, seeks to emphasize green spaces and logical connections among neighborhoods, features Nolen championed throughout his career. —Greg Lacour, contributing editor
---
1917: Camp Greene opens
In 1917, the U.S. government selected Charlotte as training camp of the 41st, 3rd, and 4th Infantry Divisions, to support the World War I effort. Named for Revolutionary War hero Nathanael Greene, the 6,000-acre site in west Charlotte hosted 60,000 soldiers at its peak, which more than doubled the 1910 census population of Charlotte of 34,000. —J.S.
---
1919: Streetcar strike
In August 1919, Charlotte was at the center of a region-wide campaign to organize transportation workers among growing textile towns. When streetcar workers at Southern Public Utilities Company went on strike, company owner James B. Duke brought in strikebreakers, who were protected by local police at the behest of Mayor Frank McNinch. Tensions flared, a riot ensued, five were left dead, and 15 wounded. The event came to be known as the "Battle of the Barn." —Dr. Willie J. Griffin, Levine Museum of the New South historian
---
1920: Cameron Morrison elected governor
The otherwise conservative Democrat earned the moniker "the Good Roads governor," helping to secure $65 million in bonds to pave roads throughout the state—and $20 million to improve universities. —A.S.
---
1920s​: Development of Myers Park/Eastover
The streetcar helped spur several neighborhoods, including the city's most coveted, Myers Park. The Queens Road entrance to Myers Park provided shelter for trolley passengers (above).
---
1921: WBT signs on
The amateur radio station that made its first broadcast from a Plaza Midwood dining room, with its receiver in the backyard chicken coop, would go on to become one of the dominant AM stations on the East Coast, with a nighttime signal that could be heard "from Maine to Miami." —A.R.
---
1926: Razor Girl gains notoriety 
Nellie Freeman nearly decapitated her husband, Alton, when she slashed him with a—yep—cutthroat razor after about five months of marriage. She claimed Alton ran around with other women and wouldn't find a job. They argued one spring night in 1926 at their home on Camp Greene Street. Nellie said she didn't intend to hurt Alton, but she unfolded the straight razor and swiped at him. When the police arrived, Alton had bled out on the floor. Nellie's summertime trial was a spectacle, with curious Charlotteans packing the courthouse to watch the proceedings. Her attorney claimed temporary insanity, that she had the mind of a child. As the trial progressed, leading up to Nellie's acquittal, the scene around the courthouse became more and more bizarre. Vendors eventually showed up to sell lapel pins that looked like tiny cut-throat razors. "The blade is movable," one description read, "as is appropriate with a Nellie Freeman razor, and swings loose." —A.R.
---
1927: Federal Reserve opens 
The Fed office was foundational for the city's reputation as a financial center. The branch meant that more deposits would be made in Charlotte, and subsequently, more lending. —A.S.
---
1933: Chicago gangsters take notice
It didn't take long for gangsters to follow the money. On November 15, 1933, four men in a brand-new Buick cut off a mail truck on 3rd Street. While one took a machine gun out of a violin case to hold up the driver, the rest cut open the locks and ran off with more than $100,000 in Federal Reserve notes. (That's $1.9 million in 2018 money.) Acting on a tip from a landlord on 10th Street, who had rented an apartment to four men who left in a hurry, detective Frank Littlejohn pieced together a rent receipt from Chicago that had been torn into 27 pieces. Roger "The Terrible" Touhy, Al Capone's main competition, had sent his men to Charlotte to raise money for his legal fees. Two weeks later, Basil "The Owl" Banghart, Ludwig "Dutch" Schmidt, and Isaac Costner were behind bars. —C.M.
---
1936-1940: The city becomes a recording hub
Charlotte was once part of a network of recording hotspots in the Southeast, before Nashville reigned. The Heavenly Gospel Singers and the Golden Gate Quartet were just two of the major gospel acts to record here. RCA Victor chose the city as a distribution spot for radios and records in the 1920s, injecting life into our cultural sector; mill workers from rural communities had a passion for country music. The WBT radio station broadcasted live performances, further popularizing the city as a country gateway.
Country staples such as The Carter Family, Luke Jordan, and Uncle Dave Macon all recorded here. And Bill Monroe, often called the "Father of Bluegrass," began his storied career here in 1936. "I was determined to carve out a music of my own," he later said. "I didn't want to copy anybody." Major shifts in the country industry took most business over to Nashville, but country music didn't fully leave. Mill worker-turned-star Arthur Smith recorded the highly influential "Guitar Boogie" a few years later, and his nationally syndicated TV show, The Arthur Smith Show, would run for three decades. —A.S.
---
1941: Wilbur J. Cash writes The Mind of the South
Wilbur Joseph Cash knocked around Southern newspapers, including the old Charlotte News, for most of the 1920s and '30s. But he craved something bigger. He wanted to write the truth about the white South—the sin of slavery, the love of violence, the resentment of "a society beset by the specters of defeat, of shame, of guilt."
He did it. The Mind of the South, published in February 1941, made W.J. Cash a literary star. But that July, he hanged himself in a hotel room in Mexico City. He had fought manic depression the whole time he wrote of a South that, in his view, was both manic and depressing. You wonder if he saw himself in the pages. He wrote the book, and then he closed it. —Tommy Tomlinson, writer
---
1941: Preparing for World War II 
Prior to the attack on Pearl Harbor, the U.S. was already gearing up for war, including the May 1941 opening of the Army Quartermasters Depot out of an old Ford Motors plant on Statesville Road, with 33 civilian employees and three army officers. The depot staff quickly grew to a thousand, giving women the opportunity to work and offering equal pay regardless of race. The building is now known as Camp North End. —E.W.
---
1947: Billy Graham's beginnings
Long before he became Charlotte's favorite son, evangelist Billy Graham held his first major crusade in 1947 at First Baptist Church (now Spirit Square uptown). He drew 60,000 worshippers over two weeks. —Ken Garfield, author of Billy Graham: A Life in Pictures
---
1949: Independence Boulevard reshapes the east side
Since its creation, Independence Boulevard has proved divisive. The proposed highway threatened to uproot homes and remap the east side. City Councilman John P. White pushed ahead, saying, "Somebody's toes are bound to be stepped on." Traffic and construction on the road continue to frustrate drivers today. —E.W. 
---
1950s-60s: The Carolina Israelite booms
Jewish-American writer and satirist Harry Golden loved exposing the absurdities of life in the South during the civil rights era.
Golden, a cigar-chomping, bourbon-loving Charlotte transplant, found his voice with the Carolina Israelite, a biting social commentary newspaper he published from 1944 to 1968 from his Elizabeth home. At its peak, the paper enjoyed more than 40,000 subscribers. Harry Truman, William Faulkner, Ernest Hemmingway, and lifelong friend Carl Sandburg were regular readers.
Liberals and moderates alike delighted in Golden's humorous disregard for political correctness. He mocked Jim Crow segregationists, proposing societal solutions such as the "Vertical Negro Plan," in which lunch counters without seats and schools with standing desks would end the "problem" of mixed races sitting together.
In 1958, Golden compiled his most storied essays into Only in America, a book that spent 66 weeks on national bestseller lists. Today, plaques on the CPCC main campus and at the Elizabeth neighborhood corner of 7th Street and Hawthorne Lane acknowledge his contributions. —Michael J. Solender, writer
---
1954: Municipal airport expands
Charlotte's 18-year-old municipal airport got a big boost with the opening of a new, 70,000-square-foot passenger terminal. It also got a new name: Douglas Municipal Airport, named after former mayor Benjamin Elbert Douglas Sr., who led the city between 1935 and 1941. —Jared Misner, writer
---
1956: Revolution Golf course integrates
"… to be used and enjoyed by persons of the white race only." In 1929, a family offered Charlotte land for a golf course, and those were the chilling terms. The city accepted. In 1956, five years after 16 black men sued, the N.C. Supreme Court ruled in their favor. Not long after that, a black 17-year-old named James Otis Williams shot a 37 at the nine-hole Bonnie Brae Golf Course (later renamed Revolution Park Golf Course). In 2011, the place was overhauled and renamed again, this time to Dr. Charles L. Sifford Golf Course, in honor of a Charlotte man who was the first African-American to earn a PGA Tour card. —Rick Thurmond, former editor and publisher of Charlotte magazine
---
1957: Dorothy Counts' historic walk
Mayor Vi Lyles, one of the first black students to enroll at Queens College (now University) in 1970:
It wasn't until I came to Charlotte in the early '70s when I learned the significance of what she (Counts) had done. Charlotte was actually much more advanced than my hometown of Columbia, South Carolina. I was in the first integrating class in South Carolina in 1967, so almost 10 years later.
Two of my classmates at Queens had gone to West Charlotte, and they recognized that significance. They knew that story. At Queens, you had to know that story, because it hadn't ended.
I've known Dot probably about 25 years now. We joined a club together, The Links, Incorporated, which is a traditional African-American service organization. We're social friends now.
I think about the trauma she suffered as a result of what she had to go through—she was spat on, garbage thrown at her. And I think about the trauma of racism and the way we've handled it in our country. That's what drives my thinking about race—we've got to keep talking about it. People say, 'Oh, I don't see color anymore.' I say, 'Well, if you don't see color, you're keeping your eyes shut to what's going on in our country today.' —As told to Greg Lacour
---
1959: Lake Norman breaks ground 
When Governor Luther Hodges ignited the first charge of dynamite at the Cowans Ford dam project in northwest Mecklenburg County on a muggy day in 1959, Duke Power employees had to keep the crowd of overall-clad dairy farmers from rushing too close to the blast. Over the next four years, the waters of Lake Norman slowly rose behind the dam, burying old farmhouses, churches, and mills. In their place emerged a lake large enough to cool three power plants, and 520 miles of jagged shoreline ripe for suburban development. —C.M.
---
1960: City Council votes to raze Brooklyn 
On January 18, City Council voted to clear an eight-block area in Second Ward, starting "urban renewal" in the Brooklyn neighborhood. By 1978, all 24 blocks were upended, displacing more than 1,000 black families. Here are four perspectives, collected over the years by writers and oral history projects:
"We call it black removal. We don't call it urban redevelopment." —Civil rights activist Reginald Hawkins, as told to the UNC Charlotte Brooklyn Oral History Project just before his death in 2007
"Directly in front of the Y on Morehead Street now, there is a house on the corner. My street was right in there. When Independence Boulevard went through, of course it took some of that land. … Because we were black, naturally, that was considered Brooklyn. Now they tell you that's all part of Dilworth. I chide my (friends) sometimes and say, 'Oh, now all of a sudden we're Dilworth.'"—Natalie Kennedy Beard, whose family moved to McCrorey Heights when she was a high school senior in 1966, as told to Michael Graff
"To us it didn't look like we were deprived of anything, because everyone knew each other. And then when urban renewal came, they took away everything that we had and lived for." —Rev. Barbara Davis Crawford, as told to the UNC Charlotte Brooklyn Oral History Project
---
1960: Racing begins at Charlotte Motor Speedway 
The speedway hosted its first NASCAR-sanctioned race, the World 600, on Sunday, June 19, 1960. Belmont native H.A. "Humpy" Wheeler, general manager of the facility from 1976-2008:
When Charlotte Motor Speedway opened in 1959, with all the publicity it had, both good and bad, it stirred quite a few people up. Quite a few people came down and really filled up the few rooms that were available at that time in Charlotte. And that's what got the folks (here) charged up—they saw the possibility of this thing bringing some money in.
At the same time, Charlotte, in the early '60s, was a very conservative town. Most everybody was of Scotch-Irish descent, Presbyterian, and pretty well connected to a fairly large textile business and a rising banking business.
The idea that this sport and this track could do anything was kind of not anything they thought a lot about. Then slowly, over a period of time, the two races (each year) put some money in the banks, and they began to notice that. It didn't take bankers long to get interested in something that's bringing money into town. And that's really what prompted the city to begin to notice the speedway.
NASCAR was the sport that they had to take a look at. They might not have liked it socially, but that money kept coming in, and there's one thing about bankers, they notice where the money comes from.
Over a period of time, Charlotte began to understand that this was a tremendous, tremendous economic boost and definitely the biggest thing sports-wise that the city had ever had. Then people really got behind it. —As told to Kenny Bruce 
---
1961: UNC Charlotte moves north, creates University City
A natural educator, Bonnie Cone went from high school teacher to founder of what is now UNC Charlotte, responding to rising educational needs following World War II. Fifteen years later, the evening college moved to its formal campus 10 miles northeast of uptown in 1961, with "Miss Bonnie" at the helm. —E.W.
---
1965: Terror for four civil rights figures
In November 1965, Myers Park High running back Jimmie Lee Kirkpatrick was the best football player around, but he was kept out of the annual all-star game between North and South Carolina because he was black. Young attorney Julius Chambers—who filed the landmark desegregation case Swann vs. Charlotte-Mecklenburg Board of Education 11 months earlier—sued on Kirkpatrick's behalf. On November 19, a judge ruled that year's game could go on without Kirkpatrick, but ordered the organizers to come up with a new selection policy for the future. The last part infuriated white supremacists.
Three nights later, on November 22 at 2:30 a.m., a stick of dynamite blew up on Chambers' lawn. Explosions also occurred at the homes of civil rights activist Reginald Hawkins, NAACP President Kelly Alexander Sr., and City Councilman Fred Alexander, Kelly's brother. All four were black, and all knew the issue was bigger than football.
"(They) understood something else as well," Frye Gaillard wrote in his book The Dream Long Deferred: The Landmark Struggle for Desegregation in Charlotte, North Carolina. "Many whites, many thousands in fact, who lacked the boldness, the commitment or the final edge of meanness to experiment with dynamite shared, nevertheless, a night rider's rage at the gathering black momentum. In that sense, the bombings of November 22 were merely a crude exaggeration, a murderous caricature of prevailing white opinion." —M.G.
---
1968: Reginald Hawkins' gubernatorial race
When Hawkins—a Charlotte dentist, Presbyterian minister, and charismatic civil rights activist—announced candidacy for the 1968 North Carolina governor's race, he made history as the first recorded African-American to run for the office. Hawkins sent shock waves through the state when he asserted, "Too long have black people sought a place at the bargaining table, only to receive the crumbs after dinner is over. We are seeking now to be in on the planning of the menu." Although he finished third in the three-man Democratic primary, he maintained that "North Carolina politics [would] never be the same." —W.J.G.
---
1970s: SouthPark, Eastland, and the growth of the suburbs
In post-World War II America, the car was king. Once purchasing a car became a possibility for most families, developers jumped at the economic potential shift from downtown retail to shopping hubs with convenient at-the-door parking. Shopping plazas, including today's Park Road Shopping Center and Providence Shopping Center (home of the Manor Theater), surfaced all over the city. But the true turn toward suburban sprawl came in the 1970s, when the Belk and Ivey families moved their uptown retail hubs to what today is SouthPark Mall. Eastland, just five year later, became the city's finest mall. —V.B.
---
1971: Swann v. Charlotte-Mecklenburg Board of Education
The landmark Supreme Court case affirmed that school districts may use busing to racially integrate schools, subsequently transforming public classrooms across the South. —A.R.
---
1973: Carowinds' first ride
"We built in the rain, we can open in the rain," the park told the Observer during the April showers that threatened its debut. It's called "Carowinds," referencing wind blowing across both Carolinas. —A.S. 
---
1973: Oakdale attempts to secede
There's a constant tension between cities and neighborhoods whose residents think they're paying a disproportionate share of taxes for city services. In 1973, the mostly rural Oakdale neighborhood, northwest of uptown off N.C. 16, collected more than 1,400 signatures—out of about 3,500 residents—on a petition to lobby the General Assembly to carve Oakdale out of Charlotte and incorporate as a separate town.
"I think it is time somebody listened to the people, damn it," said state Senator Herman Moore, who supported the secession. "[Oakdale] said very plainly that they don't like the proposals of the Chamber of Commerce and the City Council."
Despite Moore's entreaties, the legislature said, very plainly: no. Oakdale remains in Charlotte city limits. But the attempted breakaway presaged a similar attempt by the Ballantyne neighborhood in south Charlotte in 2012 to incorporate as a separate town. Residents' argument, then as before, centered on taxation and school board representation. That attempt failed, as well. But the friction persists between an ever-growing city and parts of town that would prefer to go it alone. —G.L.
---
1974: CMS students navigate busing plan
On July 9, 1974, the school board finally passed a full assignment plan that met the approval of a federal judge overseeing desegregation. One key component this time: White students from southeast Charlotte would be bused to the previously all-black West Charlotte High. It worked. That October, students from West Charlotte welcomed students from Boston to show them how integration can succeed. —M.G.
---
1975: Montagnard and Vietnamese refugees arrive
At the end of the Vietnam War, thousands of refugees fled the country, finding new lives across the United States, Australia, and southeast Asia—any country willing to open its borders to these war-torn survivors. Though the number of refugees arriving in Charlotte wasn't like San Jose or Houston, the city's new residents created an intimate community. I immigrated to Charlotte as a four-year-old in 1994, yet my parents' culture seeped into me through hubs such as the Vietnamese grocery stores, St. Joseph Catholic parish, language school, and the increasing number of restaurants that flourished amid the city's growing cosmopolitan tastes and immigration boom. The Vietnamese population has grown to 17,000 today. Whenever I encounter another Vietnamese person in the city, the connection is an acknowledgement that we can build new lives and a community together, adopting the best of Southern hospitality, while retaining the tenderness of a bucolic Vietnamese village. —Haiy Le, writer
---
1976: I-77 connects the region
The opening of I-77 was a matter of Charlotte stretching her arms, pulling in everything from Lake Norman to Fort Mill. Faster routes streamlined the city for distribution, while easier access to the airport opened her hands to the world. —David Joy, novelist
---
1977: City Council switches to district representation
For decades, the Charlotte City Council consisted of seven members elected at-large, or citywide. But southeast Charlotte, including Myers Park, was the city's wealthiest and most prominent quadrant. Its residents—chiefly its white, male ones—tended to dominate the board.
In the mid-'70s, newly elected City Councilwoman Betty Chafin began to argue for a system of district representation, guaranteeing that areas such as the mostly black west side of town would have at least some representation. Sam Smith, a white software developer, assembled a coalition of neighborhood associations and black voters in favor of a new plan to expand the City Council to seven district and four at-large members.
On April 19, 1977—over the objections of Mayor John Belk, the millionaire department store chairman—voters narrowly approved the plan, overturning 60 years of precedent and, the Charlotte Observer noted, "said goodbye to a long tradition in city government—the domination of City Hall by well-to-do business leaders from southeast Charlotte." The district system remains in place to this day. —G.L.
---
Late 1970s​: Fourth Ward is redeveloped
Hugh McColl, not yet the CEO of NationsBank, needed a nice, nearby neighborhood for the bankers he recruited from fabulous, faraway cities. But in the 1970s, Fourth Ward was far from that—a "crime-ridden eyesore," according to an Observer article. Banks began offering below-market-rate loans to anyone who moved there. Today, the charming Fourth Ward neighborhood, complete with historic Victorian homes and brick sidewalks, thrives. —J.M.
---
1978: Liquor by the drink passes
"Every day more and more Yankees keep coming to Charlotte," an anonymous writer told The Charlotte News in December 1968. "They complain about this and that and are causing all of this talk about liquor by the drink. We don't need that here!"
The anti-Yankee line was one of tamer arguments anti-liquor-by-the-drink campaigners used during the decade-plus struggle to let Charlotteans order a mixed drink in a restaurant instead of "brownbagging" their own bottles. From the mid-1960s through 1978, the sometimes vicious campaign pitted the Charlotte business community, tired of hearing from out-of-town visitors "what kind of a hick state we have," as the Charlotte Observer put it, against the Southern Baptist church and congregants on the working-class north and west sides of Charlotte, whose preachers told them to "win this battle for God" to keep Charlotte from becoming a "city of cheap bars and vice."
It took three referenda over 12 years for the measure to finally pass in 1978.
"I'm convinced people want Charlotte to be another Atlanta or New York," a dejected Coy Privette, Kannapolis preacher and leader of the anti-liquor Christian Action League, said after the results came in.
Forty years on, that's one thing he was right about. —C.M.
---
1978: IBM moves to Charlotte 
Rumors were rampant as to whether technology giant IBM's new plant would be in Charlotte. Roy Covington, an Observer business reporter, described it as "a well kept secret that really wasn't much of a secret." The plant opened in the University Research Park, preceding the move of other corporations to the northeast side of town. —E.W. 
---
1979: Outlaws biker massacre
It took police 36 years to solve Charlotte's worst mass killing, the 4th of July massacre in 1979 when five bikers were slaughtered in the Outlaw motorcycle gang clubhouse off North Graham Street. The rival Hell's Angels gang was first suspected, but after years of investigation, police placed the blame on two men with a grudge against one of the Outlaws. The case was officially closed in 2015—but both accused killers had died years earlier. —Joe Goodpasture, writer
---
1982: Airport expands and rebrands
When Piedmont Airlines chose Charlotte as its hub in 1979, the airport added a 325,000-square-foot terminal to accommodate the growth. The airport was later renamed Charlotte-Douglas International Airport. —J.M.
---
1983: Harvey Gantt becomes first black mayor
On November 8, 40-year-old architect Harvey Gantt became the city's first black mayor. "I fully expected to win," Gantt said that night. Hugh McColl, who'd just become chairman of North Carolina National Bank that fall:
I was young, so I was running into work. It's three miles from my house to the bank. And I would wear a 'Gantt for Mayor' T-shirt. Well, a local businessman of substance took great issue with that, and sold all of his stock in the bank. He had 50,000 shares. At the time, the stock was very low in price, maybe somewhere between eight and 10 dollars. And after that, after I ran the company, I flipped the stock 400 percent, or maybe 600 percent, I don't remember. But I figure over time it cost him nearly 20 million dollars, that gesture on his part. I always felt good about that.
That night, I was down celebrating Gantt's victory, and there was a picture in which Gantt and I were embracing with a lot of black people around us. The next morning, somebody put in my mailbox the sheet music for 'Darktown Strutters' Ball.' I was deeply angered by that, because of the cowardice of it.
Gantt was just terrific in everything. He was really, really smart, and he was tough. When people were critical, if it bothered him, it didn't show. He was and still is a remarkable force in the city. —As told to Michael Graff
---
1985: Interstate banking allowed, and NCNB expands
North Carolina was late to the banking game—it was the last of the colonies to charter banks—but quickly caught up. Following a U.S. Supreme Court decision that lifted regulations on interstate banking, Hugh McColl's North Carolina National Bank (NCNB) acquired banks from Florida, Texas, and Georgia—markets where banking was booming. From NCNB eventually came Bank of America, the nation's largest bank. —E.W.
---
1987: Jim Bakker's fall
PTL's Jim Bakker was the nation's most famous TV evangelist and a source of pride for a city lusting for attention. Bakker presided over Heritage USA in Fort Mill, S.C.—a poor man's Walt Disney World, featuring a water park, hotel, and Bible-based shops. In 1986, six million people reveled in the glory. But it was the TV show starring Jim and his bubbly wife, Tammy Faye, that drove the whole shebang—a variety-show mix of Christianity and celebrity guests that revolved around relieving followers of their money. PTL stood for "Praise the Lord." Bakker's tryst with church secretary Jessica Hahn led to hush money, which led to his conviction for fraud. PTL was now more commonly called "Pass the Loot," and Bakker went to federal prison. After his 1994 release, Jim cohosted a little-watched religious TV show with his second wife. Tammy Faye, whose plucky spirit turned her into a gay icon, died from cancer in 2007. Heritage USA fell into the hands of a little-known religious group.  —K.G.
---
1988: Charlotte Hornets' inaugural season 
Muggsy Bogues, one of the original and most beloved Hornets: 
Charlotte, you didn't have a lot of street lights then, city lights. The arena was all the way out. You felt like a collegiate town. So much enthusiasm. The NBA wasn't like that. Charlotte was rah-rah-rah, from the moment that we tipped off. Losing by 40 on the first night and then getting a standing ovation? That was unheard of. I remember having 24-screaming-thousand fans for the Hornets only, not for Michael Jordan coming to town or Larry Bird. Every restaurant we went in, we were treated like royalty—Harper's, Valentino's, you name it. We just came at the right time, and we grew together, the Hornets and Charlotte. —As told to Michael Graff
---
1989: Hurricane Hugo
One of the city's worst natural disasters, Hugo tore through Charlotte with wind gusts up to 100 miles an hour.
---
1990: Latino population explodes, reaching 15 percent in 2018
The typical story you hear about immigrants is that they are at the bottom of the economic ladder, but that isn't always true. There are many Latino leaders in Charlotte, including me, who are providing jobs and building the economy. We also bring new perspectives, flavors, and identity. I love Charlotte, and it warms my heart to know that Charlotte loves me and my community back. —Artist Rosalia Torres-Weiner, who was born in Mexico and immigrated to California in 1985, then moved to Charlotte in 1996
1990s-2000s​: Massive migration from Northeast and Midwest continues
For decades transplants have reshaped the city's culture—even influencing the food we eat. Kirk Weaver, owner of Lebowski's Neighborhood Grill and a native of Buffalo, is one of those transplants:
My claim to fame might be being the first to serve Buffalo wings in Charlotte in 1980. I think many newcomers are here for jobs or business opportunities. Others are simply following family and friends. —As told to Emma Way
---
1990s: The birth of 'NoDa' 
Artists Paul Sires and Ruth Ava Lyons arrived at the deteriorating former mill village and began to revitalize its structures. Their Center of the Earth gallery started a trend, and "NoDa," the arts district, was born. —A.S. 
---
1993: The Taco Bell Strangler
As the city's overworked homicide detectives scrambled to clear case after case in Charlotte's deadliest year on record, Henry Louis Wallace stalked, raped, and murdered young black women, many of whom he met at fast food restaurants. Wallace killed 10 women before police connected the cases. He confessed in chilling detail, was convicted, and is awaiting execution at Central Prison in Raleigh. —A.R.
---
1993: NFL comes to town
Supporters lit the windows in uptown office towers to read "NFL." The city launched fireworks over the skyline. And Hugh McColl wiped away tears as revelers popped bottles of bubbly at a party inside Founder's Hall. The decision to award a professional football team to the Carolinas—and to build the stadium in Third Ward—would be transformational for the city, and the celebration that kicked off hours after the league's decision hinted at the way Charlotte would embrace the Panthers. The following morning, fans lined up outside Belk stores to buy Panthers caps and T-shirts, secretly printed as the NFL owners voted on Jerry Richardson's bid and trucked in overnight. —A.R.
---
Mid-1990s: Ballantyne is built 
Johnny Harris proposed Ballantyne in 1991, to be built on nearly 2,000 acres of family land south of the city. It strutted on the scene five years later with a monogram and monoliths, giving Charlotte a new vision for luxury, insulation, and privilege.  —Laurie Prince, former Charlotte Home + Garden editor 
---
1996: Angels in America controversy goes national
Charlotte Repertory Theatre's 1996 production of Angels in America placed Charlotte at ground zero in a national debate around public funding of art.
At the time, the theater was one of six American companies granted rights to produce Tony Kushner's Pulitzer Prize-winning epic about gay life in the 1980s. The play's inclusion of full-frontal male nudity during a hospital scene sparked a controversy that led five county commissioners to defund the Arts & Science Council—which funded Charlotte Rep—in 1997. Voters rejected politicians being arbiters of art, sending four of the five commissioners packing in the 1998 election and restoring public funding for the arts. —Robert Bush, Arts & Science Council president
---
1997: The Redneck Robbery
Even if David Scott Ghantt had remembered to swipe all three surveillance tapes after he loaded $17.3 million in cash into a van behind the west Charlotte Loomis Fargo office where he worked, the spending habits of his co-conspirators still would have given the crooks away. While Ghantt hid out at a Mexican resort, accomplices Steve and Michelle Chambers moved from a trailer in Gaston County to a $635,000 house in Cramerton (they kept a velvet Elvis painting from the previous owners) and filled it with big-ticket items: A $10,000 pool table, $20,000 worth of cigars, a picture of a bulldog dressed as General George S. Patton. Michelle paid cash for breast implants, a BMW Z3 convertible, and a 3.5-carat diamond ring. When the plot unraveled—after an FBI wiretap, a murder-for-hire twist, and plenty of unwelcome national attention—juries convicted 24 people for their roles in the robbery. —A.R.
---
1998: Bank of America is born
NationsBank CEO Hugh McColl met with BankAmerica CEO Dick Rosenberg in the mid-1990s to discuss a merger. Rosenberg didn't want Bank of America's headquarters in Charlotte, and McColl did. As with most things in his life, McColl won. —M.G.
---
1999: The end of busing
In a case brought by suburban parents opposed to school busing, federal judge Robert Potter—who had publicly opposed desegregation as a private citizen decades earlier—ruled that Charlotte-Mecklenburg Schools could no longer use race in student assignment decisions. His ruling effectively ended race-based busing in the county, forcing CMS to adopt what became known as the "family choice plan," which assigned students to the schools closest to their homes, with the option of applying to magnet campuses elsewhere in the system if their parents wanted. A return to neighborhood schools began the district's slide toward resegregation; today, it is the most racially and socioeconomically segregated school system in North Carolina. —A.R.
---
1999: Rae Carruth's trial
Cherica Adams was 24 and eight months pregnant with the son of Carolina Panthers wide receiver Rae Carruth when she was shot while driving through south Charlotte. In a 911 call from the scene, Adams said she recognized Carruth's car. Before she died a month later, she wrote a note from her hospital bed, accusing Carruth of masterminding the attack. The football star's trial captivated Charlotte and the nation—it was broadcast live on CourtTV. When triggerman Van Brett Watkins coldly testified that Carruth ordered him to kill Adams and her unborn son, the judge was so shaken by Watkins' demeanor, he ordered deputies to surround the witness box. Carruth was convicted; he'll be released from a Raleigh prison this fall. Chancellor Lee Adams, the son Carruth wanted dead, was born with cerebral palsy and lives with his grandmother. —A.R.
---

2001: The uptown arena fight
Long before other cities faced ultimatums from teams about publicly financed stadiums, Charlotte squared off against George Shinn. The Hornets co-owner wanted a new uptown arena to replace the facility on Tyvola Road, built less than 15 years earlier. Boosters claimed the Hornets were losing $1 million a year and needed to be closer to center city; without it, the team would leave Charlotte. The $342 million referendum placed on that fall's ballot would have provided money for the arena and other uptown cultural projects, but it lost, much like the basketball team did: resoundingly. Voters, tired of the acrimony and put off by Shinn's demands, rejected the arena bid by a 57-43 split. —A.R.
---
2002: Goodbye, Hornets 
Shinn made good on the threat to leave Charlotte; the Hornets moved to New Orleans, and changed names to the Pelicans. Just a few months later, the city made progress on an uptown arena deal, and the NBA began to explore the idea of a new franchise for Charlotte. —A.R.
---
2003: The last of the textile plants closes
David Hollars, executive director of Centralina Workforce Development Board, which aided in the recovery process following Pillowtex's closure: 
It was April Fool's Day 2003 when I heard about the possibility that Pillowtex may be closing. There was talk of a potential buyer or just cutting back. On July 30, Pillowtex closed and 4,650 people lost their jobs.
Pillowtex was the largest single layoff in state history. More than half its workers did not have a high school education. In many cases, these individuals had never applied for a job, never done a résumé, never used a computer. They had no idea where to go.
You had mill towns owned by a patriarchal family, in this case the Cannons, and people lived and worked close. Some had never been on the interstate. Think about where Pillowtex's plants were located. At one time, it was all farmland. People were sad to see the cows and crops gone then, but they built a huge facility to process cotton. The reality is that the markets had changed. Pillowtex was the crescendo of textiles failing and our transformation towards newer industries since. —As told to Emma Way 
---
2004: Johnson & Wales University opens
The city hoped the opening of a premier culinary school would spark Charlotte's food scene. Today, there are restaurants opening at a rapid pace—yet kitchens are struggling more than ever to find staff. —K.W.
---
2007: Light rail opens 
The transit department took an enormous step forward with the opening of the Lynx Blue Line. Here are some important numbers surrounding the event. —A.S
15: Stations on the light rail, before 11 more were opened when the Blue Line expanded in 2018
462.7 million: The final cost of the line that opened in 2007, more than double the original estimate
60,000: Trips taken on the first day of service,  with 24,000 happening within the first four hours
$1.30: Cost of a one-way trip in 2007. Today, it's $2.20.
---
2003-2010: Big dreams overwhelm skepticism
What if the doubters won?
What if Charlotte in 2018 didn't have the Lynx Blue Line, Levine Center for the Arts, U.S. National Whitewater Center, or NASCAR Hall of Fame?
How many Firebird snapshots would have to be erased from memory cards? How many buildings on Stonewall Street would still be patches of dirt? How many season-pass stickers with a "W" on the front would be missing from car windows? How many South End buildings would still be warehouses?
Hindsight makes the questions seem funny. But each project almost didn't happen. Taxpayers were skeptical of funding the light rail after a sour experience with the uptown arena (now Spectrum Center). The Whitewater Center defaulted on construction loans. The racing museum's attendance estimates were far too high. And arts are always a tough sell to accounting-minded managers.
The years from 2003 to 2010 were among the city's most volatile. A building boom brought forth ideas, then the 2008 recession brought headaches and unfinished projects. Politicians and businesspeople argued. But city and county staff—notably former assistant city manager Ron Kimble—made the numbers work.
And now we're on the other side, and these institutions are ingrained in the city's personality as we face a new generation of questions over what to build and where. —M.G.
---
2008: Recession hits Charlotte; Wachovia is bought
The unemployment rate spiked, development stagnated, and Wells Fargo saved Wachovia. The latest recession was a huge economic blow, but Charlotte has been one of the fastest cities to recover. —E.W.
---
2009: Local craft beer scene emerges
Olde Mecklenburg was first, followed by Birdsong, NoDa, and Triple C. Sixteen other breweries in Charlotte proper have opened since (with more on the way) in a craft beer renaissance. —Matt McKenzie, writer
---
2012: The Democratic National Convention 
Barack Obama was chosen as the party's nominee for president at the DNC held uptown. Here's what folks had to say about the event's host city. —Gabriella Dionisio, editorial intern
"Vibrant, diverse, and full of opportunity, the Queen City is home to innovative, hardworking folks with big hearts and open minds." —Michelle Obama, former first lady
"This is a city that has enough of a spirit, enough of a heart and a soul to know how to meet its challenges and to build a better future." —Anthony Foxx, mayor
---
2012: McCrory becomes the first Charlotte mayor elected governor
Pat McCrory, North Carolina governor from 2013 to 2017:
My understanding of Charlotte greatly influenced legislation, which helped Charlotte in transportation, economic development, and education. Also, I put on my boards some leading Charlotte figures, and those major voices having influence over state policy had more meaning than anyone realized.
Coming from the mayor's office was historic. I came in as an outsider and was often treated as an outsider by both Republicans and Democrats, because I didn't have that résumé of earning my stripes in state government. But what it also did was change much of the good old boy system of state government. I stepped on a lot of toes of both Republicans and Democrats, to eliminate the budget deficit and reduce income taxes to rebuild the troubled economy.
What's ironic is that as Charlotte's first mayor who became governor, two issues impacted my reelection—and they both came from Charlotte. —As told to Kristen Wile 
---
2014: Patrick Cannon arrested for bribery
In March 2014, four months into his first term, Mayor Patrick Cannon was arrested after an FBI investigation revealed that he had accepted bribes from undercover agents posing as business developers. He pleaded guilty and was sentenced to 44 months in federal prison, ultimately serving a little more than half that. His prosecutor was then-U.S. Attorney Anne Tompkins, a Charlotte resident since age 10. Tompkins, now a partner in the law firm of Cadwalader, Wickersham & Taft, recalls the day of the arrest:
I worked for the city before I went to law school. I was a budget analyst. So I know how the city operates. I know the professionalism and how we've operated decade upon decade. When the FBI informed me they were looking at Patrick Cannon, I understood the gravity of the possibility that we had a corrupt public official in this city. It was immediately alarm bells going off with me.
The day of his arrest, it was sort of surreal just being over at the courthouse, a place where I'd worked in virtual silence and anonymity, and to have helicopters hovering overhead and dozens of reporters—it felt like I was in a different city.
The sad part was that he was willing to do this for a small amount of money, to risk his reputation and the city's reputation. It was sad to watch.
At the time, I had some—I don't know if 'fear' is the right word, but I had some concern that it would leave a very bad scar on the city and the way citizens viewed our elected officials and city government. And that didn't bear out, happily. We did spring back.—As told to Greg Lacour
---
2014: The city fails in economic mobility
The study that ranked Charlotte rock bottom in upward mobility was a wakeup call—and a challenge. It led to the Leading on Opportunity report and council, which are already having a significant impact on economic opportunity locally. Sometimes, you have to hit bottom to see the path upward. —Michael Marsicano, Foundation For The Carolinas president and CEO
---
2016: HB2, the state's "bathroom bill," takes aim at a city ordinance
As mayor, Jennifer Roberts came to symbolize a city ordinance that prompted a state "bathroom bill," which overturned the ordinance's provision that people can use public bathrooms that match their gender identities. Companies and sporting events pulled out of North Carolina and Charlotte in reaction to the law, which was repealed and replaced last year. Roberts, mayor from 2015 to 2017:
I knew even then that this would jeopardize the normal go-along, get-along mood of the political environment in Charlotte … Older politicians told me, 'If you don't do what it takes to stay in office, you're not going to continue to have the power to do the things you care about.' My feeling is, if you don't do the things you care about while you're in office, what good is staying in office? —As told to Greg Lacour
---
2016: Protests indicate unrest
The city could no longer ignore racial issues after protests took over the streets in uptown following the fatal police shooting of Keith Lamont Scott, a black man.
---
2017: Vi Lyles becomes first black female mayor
Does this mean that we accept her for who she is? Do we celebrate the fact that she is a female and, even more, an African-American female? That night, as I sat in front of my television and watched the returns come in, I hoped that this was a message to those who live in Charlotte, that we are now on a path of trust, that we believe this is the best individual—regardless of race or gender—to take our city to another place in history. I am proud to have lived to see this. It says to young black girls and women, "This could be you!" —Dot Counts-Scoggins, the civil rights icon who walked through a crowd of angry white people to integrate Charlotte's schools 61 years ago