Where to Eat in Charlotte's South End and Dilworth: 2020
With curbside and delivery options amid the COVID-19 pandemic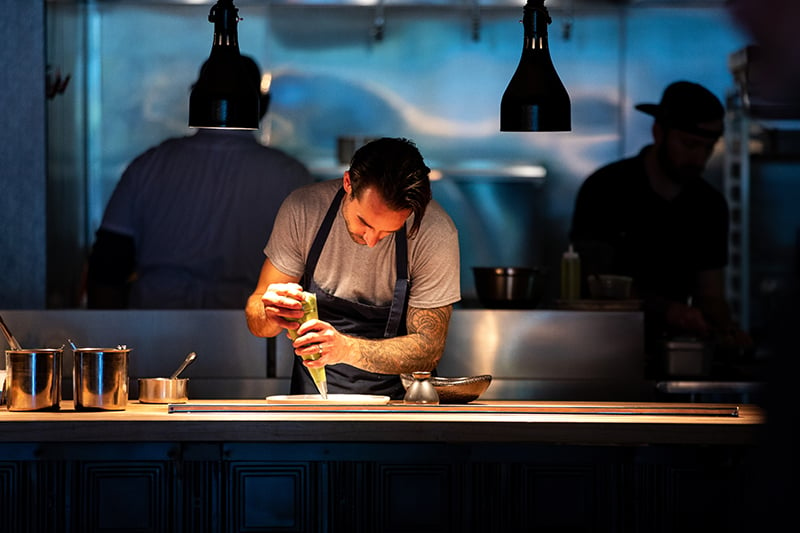 These picks are based on our 2020 Best of the Best Awards, the 2019 25 Best New Restaurants and 2020 50 Best Restaurants lists, and rolling editorial decisions.
---
Options: Takeout and dine-in, Monday through Thursday, 4 p.m.-9 p.m., and Saturday, 11 a.m.-9 p.m.
South End's new oyster bar has all of the essentials: lobster rolls, fried fish sandwiches, and oysters four ways. Start with the Waterman's Platter, which comes with crispy oysters, fried shrimp, crawdaddy dippers, fries, and a variety of dipping sauces such as tartar sauce, cocktail sauce, and aji verde. At sunset, head up to the rooftop terrace for a signature cocktail and views of uptown. 2729 South Blvd., 704-275-5558.
---
YUME
Options: Dine-in, takeout and delivery, with lunch and dinner hours
The flower-shaped Sakura sushi roll is the most beautiful dish on YUME's menu, but the Sora box sushi—a square-shaped roll with tuna, eel, and avocado—packs the most flavor. And if ramen noodles are more to your liking, the vegan ramen's spicy miso can be adjusted to suit your taste. The drink menu doesn't offer standard domestic beers, so instead ask your server to recommend a Japanese lager or cocktail. 1508 Mint St., Ste. A, 980-858-5678.
---
Barcelona Wine Bar
Options: "Take Home Hours" right now are Sunday through Thursday (12 p.m.-7 p.m.) and Friday-Saturday (12 p.m.-8 p.m.). All wine bottles and beer are available at 50-percent off.
This trendy wine and tapas bar has locations in Philadelphia, Boston, Atlanta, and other cities, but local chef Nicolas Daniels (formerly of Loft & Cellar) spearheads the menu here in Charlotte. Nosh on Spanish and Mediterranean-inspired tapas, or customize a charcuterie board with meats and cheese from different regions in Europe. Choose from more than 400 wines, and don't miss the olive oil cake for dessert. 101. W. Worthington Ave., Ste. 110, 704-741-0300
---
Dilworth Tasting Room
Options: Dine-in or takeout available Tuesday through Thursday (4 p.m- 10 p.m.), Friday (4 p.m.-11 p.m.), and Saturday (1 p.m.-11 p.m.)
Both the dishes and the ambience here are noteworthy. On a warm summer night, savor a glass of chardonnay on Dilworth Tasting Room's outdoor patio, a peaceful courtyard with a koi fish pond. A few of the favorites on the menu: the decadent truffled cheese melt, the roasted chicken breast, and the robust cheese and salumi lists. 300 E. Tremont Ave., 704-595-3337.
---
Bardo
Options: Dine-in and pick-up available (Tues-Fri, 5 p.m.-10 p.m.; Sat, 10 a.m.-2 p.m. and 4 p.m.-midnight; and Sun, 10 a.m.-3 p.m.)
Chef Michael Noll's small plates, such as the Spanish octopus and dry-aged rib eye, reflect the skills he honed while working in some of Chicago's most innovative kitchens. But Bardo is a risk for a city still crafting its food identity. Is Charlotte ready for Noll? We hope so. 1508 S. Mint St. Unit B. 980-585-2433.
---
Let's Meat KBBQ
Options: Takeout or delivery to South End, Wilmore, the Gold District, and Fourth Ward. Hours are currently 11 a.m.-9:30 p.m., with bento box options and meal kits for two.
Slices of bulgogi beef sizzle on the circular stove top while diners click their chopsticks together, waiting for the juicy meat to finish cooking. At Let's Meat, proteins are served raw—with plentiful Korean sides including kimchi and a steamed egg soufflé—and diners do the rest. Well, sort of. Since first-timers won't know how long to cook the meats, or even the names of most sides, a dining experience at this all-you-can-eat South End hangout relies on the helpful waiters. Or you can just mimic the Korean diners one table over. 1400 S. Church St., Ste. B, 910-299-4389.
---
O-Ku
Options: Dine-in and takeout hours are currently Mon-Thur, 4 p.m-9 p.m., and Fri and Sat, 4 p.m.-10:30 p.m.
Sushi is all about the sourcing, and you can taste it's done well at South End's O-Ku. Michael Chanthavong is the executive chef at this Charleston import, and his enthusiasm radiates from the people behind the sushi bar to the front-of-house staff, who will help you navigate the sushi and sake selections. Don't think that this spot is simply raw seafood, however—for the ocean-averse, dishes made with duck, pork belly, and wagyu beef are equally thoughtful. 2000 South Blvd., Ste. 510, 704-594-1922.
---
Futo Buta
Options: Takeout and curbside pick-up daily until 9 p.m., Sun-Thur, and until 10 p.m., Fri and Sat. (Patio is also open for self-service.)
Chef and owner Michael Shortino's ramen restaurant caused a buzz when it first opened in 2015, with a constant wait for no-reservations tables. His noodle soups are both traditional and interpreted, while dishes such as the Crispy Rice are memorable and craveable. The ramen rush hasn't slowed down since Futo Buta's customers slurped up their first bowls, and neither has Shortino—he recently opened Lincoln's Haberdashery, a grab-and-go market in South End. 222 E. Bland St., 704-376-8400.
---
Bonterra
Options: Dine-in and takeout available. Wine bar hours are Mon-Thur, 4:30 p.m.-10 p.m., and Fri-Sat, 4:30 p.m.-11 p.m.; restaurant hours are Mon-Sat, 5:30 p.m.-10 p.m., and Fri-Sat, 5:30 p.m.-11 p.m.
Going to this restaurant, housed in a former church, has long been a pilgrimage for Charlotte epicureans. The wine list is one of the best in town, and chef Blake Hartwick's menu celebrates Southern ingredients. 1829 Cleveland Ave., 704-333-9463.
---
Copper
Options: Dine-in and takeout, with lunch and dinner hours
Classic Indian dishes and creative specials are served in a homey dining room, with service that's nearly always on point. 311 East Blvd., 704-333-0063.
---
300 East 
Options: Limited dine-in and takeout service: Mon-Fri, 11 a.m.-9 p.m., and Sat-Sun, 10 a.m.-9 p.m.
There's always a lively crowd in this old home-turned-restaurant, enjoying hearty American fare or a salad to save room for some of the city's best desserts. 300 East Blvd., 704-332-6507.
---
Rai Lay
Takeout available Tues-Sun, 5 p.m.-9:50 p.m.
This small South End spot serves delicious Thai noodle dishes in a warm environment, as well as sushi and Asian comfort food classics. Friendly service only adds to the homey experience. 1520 South Blvd., Ste. 130, 980-207-0991.
---
Zeppelin
Dine-in and takeout available: Tues-Thur, 5 p.m-10 p.m., and Fri-Sat, 5 p.m.-11 p.m.
Ordering a cocktail can take some time at Zeppelin, but when a smoky old fashioned comes out on a platter, the hold-up makes sense. Don't overlook the food, though. We suggest the Notorious P.I.G. puppies, which put a barbecued spin on hush puppies. The sweets change periodically, but don't skip dessert if the Krispy Kreme and brioche bread pudding is on the menu. 235 Tremont Ave. 980-209-0008.