2018 Charlotteans of the Year: Brad Panovich
Fans admire the weatherman's expertise and honest reporting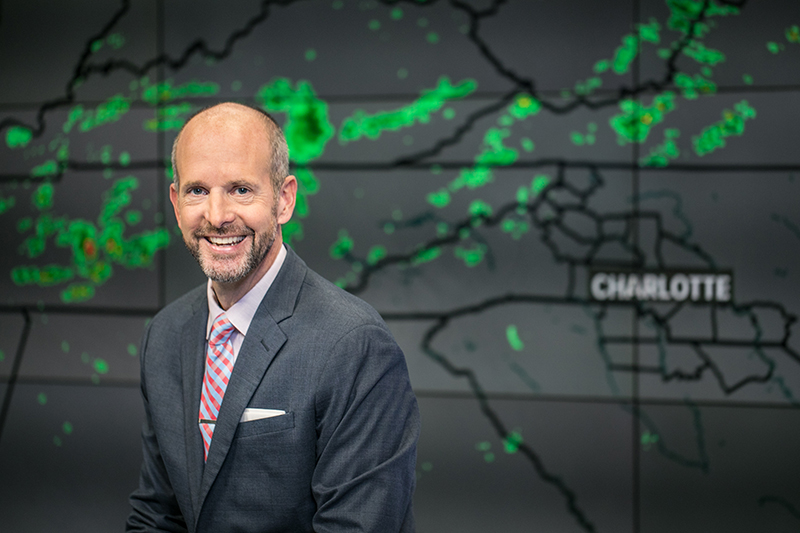 WHEN BRAD PANOVICH talks about the weather, his eyebrows shoot up and his eyes widen, crinkling his forehead in horizontal lines and smiling as he speaks. The thin wrinkles on his forehead aren't a result of stress; they're a permanent reminder of just how excited Panovich gets about weather, and evidence of how often he talks about it.
Panovich's favorite weather event is snow. But this year, WCNC's beloved weatherman became the area's most reliable resource during hurricane season, bringing us updates from his home and the TV station, bravely battling the fake news that's even seeped into meteorology.
During Hurricane Florence, Panovich says he worked 12- to 15-hour stretches for 12 days straight. He rarely saw his family, except for the days when his kids were home from school and one night when they brought dinner to the studio. Most nights, Panovich heads home for dinner with the family between the evening newscasts.
"When I don't come home, the first thing they ask me when I get home or the next day is like, 'Dad, was there a tornado? Or was there a flood?'" Panovich says. "Cause they know it meant there was probably bad weather."
The meteorologist looks out for everyone in his expanding viewing area; his Facebook audience stretches all the way to Florida and the Carolina coasts. But any time tornado activity pops up on the radar, Panovich keeps an especially close eye on his own home, telling his son to prepare the tornado room under the staircase with helmets and flashlights. When he is home during a storm event, the First Warn Storm Team's chief meteorologist still shares updated graphics and streams in-depth forecasts. It may not have the best lighting, but the sophistication of the graphics and sincerity of his weather nerd-ness, unrestricted by TV time, make these live streams a more valuable broadcast than his newscast segments. Panovich, who has a degree in atmospheric science, takes the time to explain the science and the resulting impact, instead of sensationalizing a storm's possibilities. "People have access to all of this information," he says. "It's all over the place. But not everybody is trained in how to use this information. I always relate it to, anybody can go to Home Depot and buy a saw and wood; not everybody can build a house. Just because you have access to the tools doesn't mean you're able to build."
As a six-year-old growing up outside of Cleveland, Ohio, Panovich knew he wanted to study the weather. He began reading books and shaking his head at the "phonies" on TV as weather presenters. He'd hoped to get a job with the National Weather Service, but when he graduated during a hiring freeze, he found himself on a path to TV meteorology.
"I was just a weather geek, and I thought there was no way this was going to last," Panovich says of his early on-air career. "And for some reason, it just worked."
His Facebook broadcasts during Florence received hundreds of thousands of views, and even though he doesn't profit from them in any way and is essentially doubling his workload, Panovich believes it's important to bring weather news to people on easily accessible platforms. His earnestness has gained him a following so loyal that fans created a T-shirt that says, "I'm a Brad Fanovich." Proceeds benefited hurricane relief, and the shirt's success shows there's a lot of hype in this town for a man who has built his reputation minimizing just that.
"If there are two things I want to be known for, it's really just caring about severe weather and giving back to this community," he says with that crinkle in his forehead. "Because that's really what's important to me."