2018 Charlotteans of the Year: David Tepper
He doesn't live here, but the new Panthers owner is poised to fundamentally alter this city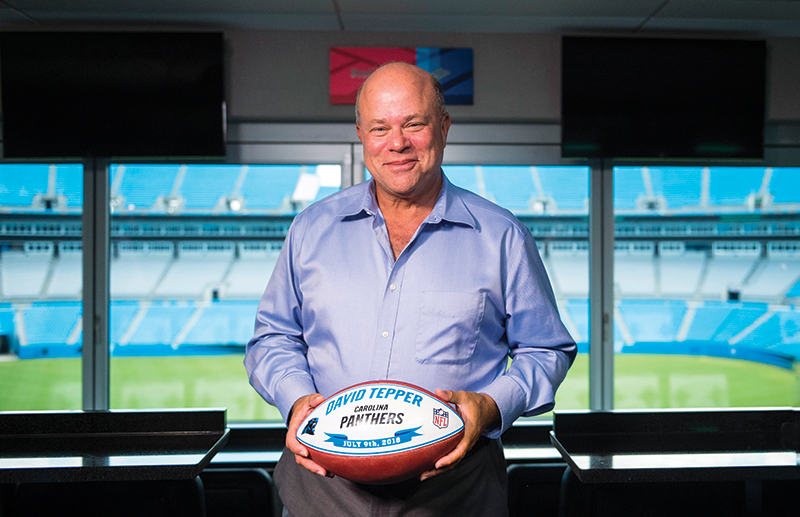 SOMETIME LATE in the Carolina Panthers' season opener, a 16-8 home win over the Dallas Cowboys, the stadium DJ played the Motown classic "Ain't Too Proud to Beg."
In the owner's suite, David Tepper, sporting a white polo shirt tucked into black shorts, bobbed his head to the Temptations' second verse, punctuating the air with his index finger in time with the lyrics.
Now I've heard a cryin' man
is half a man with no—finger wag!—sense of pride
But if I have to cry—finger wag!—to keep you
I don't mind weepin' if it'll keep you by my side.
And with that, the song hit its chorus and Tepper went full dad-mode, jiggling his hips in his chair, shimmying his shoulders, moving his neck like a chicken.
When video of Tepper's dance moves hit the internet, I passed my phone to my dad, who's owned Panthers tickets since the inaugural season and covered the team for nearly two decades as a reporter.
"I can tell you one thing," Dad said with a laugh. "You'd never see Jerry Richardson do that."
***
THE ENTIRE SCENE, really, was an exercise in contradiction, a silly example of the monstrous change Tepper ushered in when he bought the Carolina Panthers in May for an NFL record $2.3 billion. The contrast between Tepper's casual clothes and Richardson's typical suit and tie, between the new guy's goofy dance moves and the old guy's expressionless overseeing, was striking.
Tepper, whose team and personal spokesman did not respond to request for comment for this story, is set to have a sweeping effect on the city over the next decade. He will forge his own legacy here, altering the sports and business landscapes in ways that are only beginning to emerge. But Tepper has already made Panthers football fun again.
His honeymoon has been an extended one. Tepper impressed skeptical beat writers during his introductory press conference. He won praise from fans for roaming around the Roaring Riot tailgate—beer in hand—before a preseason game in August. He had the grounds crew paint the Panthers logo at the 50-yard line, moving the NFL shield from its midfield position of prominence. You'd never see Jerry Richardson do any of that.
Perhaps the biggest new-sheriff-in-town moment of Tepper's tenure came in late September, when the team signed safety Eric Reid to a one-year contract. Reid had been out of work since March when his contract with the 49ers expired. During his time with the 49ers, he joined Colin Kaepernick's racial injustice protest by kneeling during the national anthem, and although Panthers General Manager Marty Hurney said Reid's signing was "strictly a football decision," it's hard to imagine Richardson going along with it.
When Reid started against the New York Giants in October, he knelt during the national anthem, becoming the first Panthers player to do so.
That Reid felt comfortable to continue his protest in Charlotte is unsurprising; Tepper had weighed in on the criticism of player protests during a nationally televised interview on CNBC a few weeks earlier. "It's the biggest pile of bull-dinky ever," Tepper said, referring to claims that NFL players who protest are somehow unpatriotic. "These (players) are some of the most patriotic people and best people. These are great young men. So to say that … It just makes me so aggravated and angry … It's just dead wrong."
***
TEPPER ISN'T technically a Char­lottean—he still maintains a permanent residence in Florida—but his influence here is sure to stretch far beyond football. At his introductory press conference, he floated interest in bringing a Major League Soccer team to Charlotte. An MLS franchise would increase the number of revenue-generating days each year at Bank of America Stadium if the team played there. It would also likely deepen Tepper's eventual case for taxpayer investment in stadium upgrades, a pitch that is no doubt on the way.
Tepper is widely expected to relocate the Panthers' practice facility from Third Ward to a new location, possibly just across the state line in South Carolina. Doing so would free up the existing practice center land for future development—not far from the city's Gateway Station transit project—and Tepper has intimated his interest in "partnerships" on projects that could be created on the land.
His honeymoon isn't over, and the goodwill he's built with fans is bolstered by the fact that (at least as of this writing) the Panthers are winning on the field. How he handles the stadium reinvestment, the new practice center development, and the eventual personnel controversies that beset all sports franchises will determine his true ability to influence Charlotte's future.
But in the meantime, I'll take the dance moves and the tailgate beers and the midfield logo. I'll take a fresh approach to the business of professional football in Charlotte. I'll take enthusiasm over stoicism. Because when my home team is winning and the owner is busting a move in his seat, it's hard not to have fun.