2018 Charlotteans of the Year: Greg and Subrina Collier
Setting the table for what's to come for The Yolk owners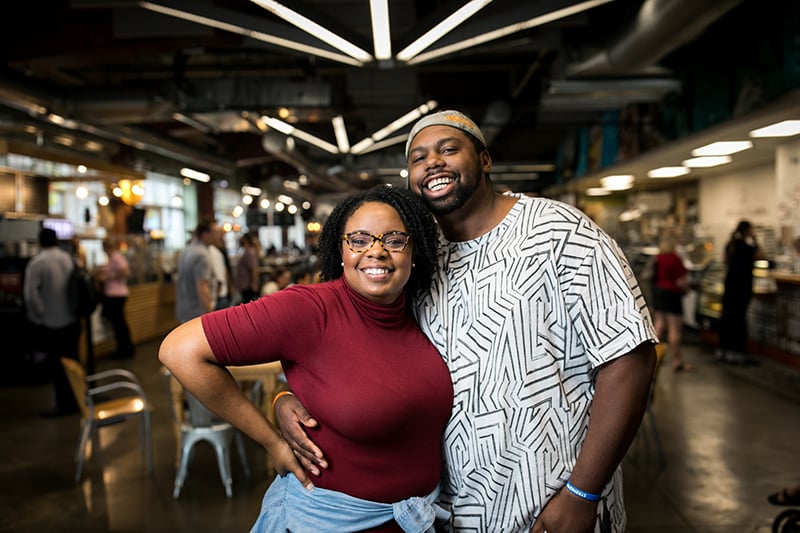 BEWILDERMENT replaces chef Greg Collier's signature smile. Usually, his voice rings out with laughter in the kitchen, no matter how busy it is. But not this time. He tosses the light red watermelon Italian ice into a trash can. He knew one of his diners had a gluten allergy, but he didn't realize the person also had a melon allergy.
He pours a plate full of peaches into a fancy blender to make a peach Italian ice.
"You gotta figure shit out on the fly," Greg says, as he tackles the next food order inside the kitchen of Loft & Cellar.
Tonight is especially busy at the uptown restaurant where he recently became executive chef. There's a high school reunion on the main level and a WNBA player's birthday party on the top floor of the three-story restaurant. The kitchen is low on biscuits and pancakes, but Greg doesn't worry.
Figuring stuff out is a specialty of Greg and Subrina Collier, the husband and wife partners who opened The Yolk restaurant in Rock Hill, South Carolina, and helped to start Soul Food Sessions, the popular pop-up dinner series that celebrates and supports people of color in the restaurant industry.
When they moved to the area in 2012, they wanted to open a farm-to-table restaurant in Charlotte. They couldn't afford it. They found a little space in a Rock Hill shopping center and opened a breakfast spot. They incorporated farm-to-table concepts into breakfast, and were named best breakfast in 2018 by Charlotte magazine. It was one of many successes this year, including the announcement that Coca-Cola Consolidated would sponsor a Soul Food Sessions tour titled "The Table is Set." Then, in October, the couple announced that they would open The Yolk in uptown's 7th Street Public Market.
"What we wanted, manifested. Our hard work is starting to pay off," Subrina says. "I knew we wanted to do more. I'm not a sit-in-one-location-for-30-years person."
Leaving Rock Hill is hard, she admits.
But The Yolk may remain even after the Colliers leave. "We are currently working on franchising The Yolk to a local group and are working on reopening in the current location," Greg says. "So essentially we are leaving Rock Hill (Subrina and I), but we are working to keep The Yolk in Rock Hill."
"It's not that you don't care anymore about where you're from," Subrina says. "Everyone has to make a move that's going to be good for their family and their future. We didn't do all this work to stay the same."
The Colliers will never be accused of staying the same. They already have ideas for The Yolk's new location. Greg Collier is working to make Loft & Cellar as well known for its food as it is for its cocktails, and the Soul Food Sessions' brand continues to grow.
The table is far from set for the Colliers.