2020 BOB Awards: Explore
The Best of Arts, Culture, and Entertainment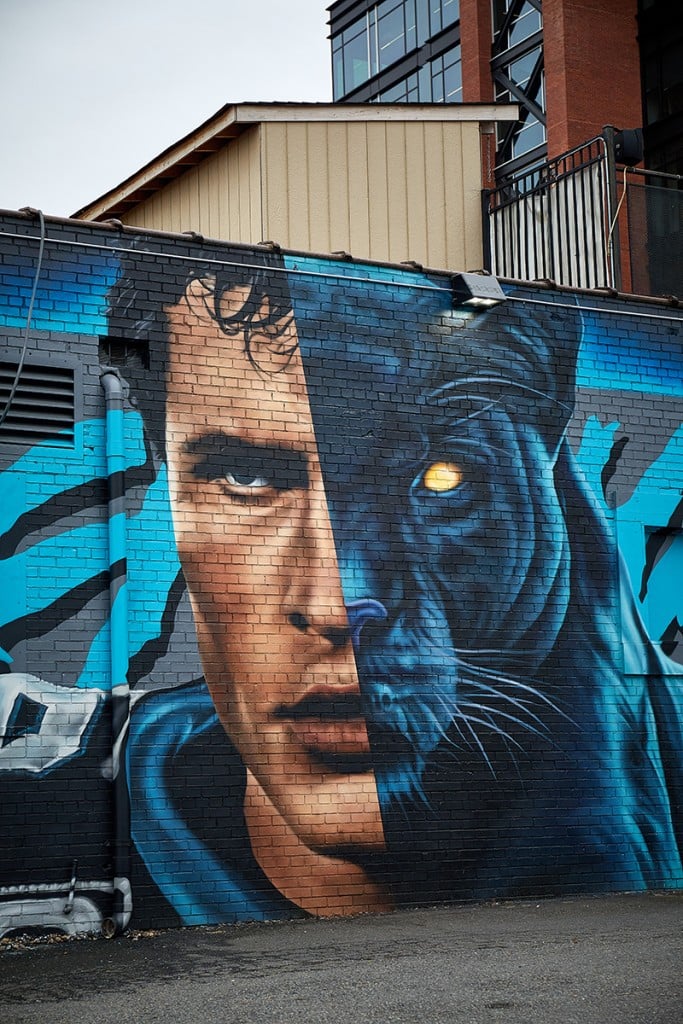 PUBLIC ART
"Luke Kuechly" by MattMoore and Matt Hooker
Luuukke! The retirement of the beloved Panthers linebacker garnered many tributes, but none stands taller (literally) than the South End mural by Matt Moore and Matt Hooker. The Matts are behind some of the city's most prominent murals; after Kuechly's announcement, they quickly got to work at The Brickyard to immortalize the player. 1411 S. Tryon St.
---
WEARABLE ART
Needles & Pins
Blaine Hurdle is the son of a jeweler and studied under masters of the craft. His business, Needles & Pins, takes equal influence from that experience and the history of fine art. His playful consideration of light and shadow recalls Modernist sculptors, while his broader sensibility echoes Bauhaus designers. The approach gives each of his handmade pieces a life of its own. needlesandpinsjewelry.com
---
OUTDOOR PLAYGROUND
U.S. National Whitewater Center
Going stir-crazy in your gray cubicle? Of course you are. Mix up the weekday monotony with an outdoor adventure at the best playground in Charlotte. Choose from over 30 activities that include whitewater rafting, flatwater kayaking, stand-up paddleboarding, ziplining, and mountain biking. Explore more than 35 miles of developed trails or grab a beer at the Pump House Biergarten or River's Edge and watch the paddlers go by. usnwc.org
---
THEATER COMPANY
Three Bone Theatre
Charlotteans seldom get to see respected theatrical productions outside the mainstream. For the past eight years, Three Bone Theatre has put on shows geared toward adults and stirring conversation as it navigates an arts scene that isn't exactly friendly toward such efforts. It's a vital role in any theater scene, and Three Bone plays it with excellence. threebonetheatre.com
---
PLACE TO SPEND A LAYOVER IN CHARLOTTE DOUGLAS AIRPORT
Centurion Lounge
The words "relaxing" and "airport" don't often go together, but that's not the case at the new 13,000-square-foot luxury American Express Centurion Lounge. Platinum cardholders can enjoy local art, comfy chairs, food from Kindred (they have the famous milk bread, in French toast form!), Bespoke cocktails, skyline views, and even shower suites. Find the lounge at CLT in the new "Plaza" section between Concourses D and E.
---
NEW MUSIC VENUE
Bank of America Stadium
Hear us out: When David Tepper purchased the Panthers in 2018, Bank of America Stadium had hosted only two concerts in its 22 years. Tepper has more than doubled that admittedly low bar with dates for Billy Joel, The Rolling Stones, and Motley Crue and Def Leppard, and says we can expect many more in the coming years. (Ed. note: Concerts have been postponed due to the COVID-19 pandemic.) Here's hoping part of the plan is to get big names outside of classic rock radio. 800 S Mint St., panthers.com/stadium
---
INVESTMENT IN LOCAL ART
Mint Museum
Over the past couple of years, the Mint Museum has increased efforts to highlight the work of Charlotte artists. The Constellation CLT project showcases visual art from locals at four locations in the Mint Museum Uptown, including the entrance and atrium. The museum has also teamed up with Southern Tiger Collective in its Battle Walls competitions of public art. And recently, exhibition designers invited local mural artist Owl to craft the backdrop for the exhibition, Classic Black: The Basalt Sculpture of Wedgwood and His Contemporaries, at Mint Museum Randolph. Multiple locations, mintmuseum.org
---
GALLERY CONCEPT
Wheeling Art Dealing
That Penske truck you saw parked at Free Range Brewing? There's a gallery inside. The project, headed by Rebecca Henderson and Grace Stott, displays the work of dozens of artists on a rotating basis. It's a reminder that all you need to showcase art are a few walls—even if one of them also functions as a roll-up door. wheelingartdealing.com
---
ARTIST TO WATCH
Seirin Nagano
Nagano's striking sculptures and mixed-media works recontextualize the space each inhabits. The one-time Goodyear Arts resident uses space in a way that is as much about the unseen as the forms she creates. seirinnagano.com
---
EMAIL TO LAND INSIDE YOUR INBOX
Charlotte Ledger
In a little more than a year, Tony Mecia, a former writer and editor at The Charlotte Observer, built a trusted e-newsletter that covers business news in Charlotte. Subscriptions are on the rise, and this one-man operation continues to scoop all of us. cltledger.com
---
INSTAGRAMMABLE BACKDROP
The Doughnut Wall
Last year, it was the Confetti Hearts Wall. Now another South End mural is blowing up Instagram feeds. On the side of Krispy Kreme's corporate office on Hawkins Street, artist Gina Elizabeth Franco has painted row upon row of multi-colored doughnuts on the white brick. Some have rainbow sprinkles or icing drizzle, while others have messages like "Good Vibes," "You're Dope," and "Treat Yo Self." It's sure to boost your mood—and guaranteed to give you a sugar craving. 2116 Hawkins St.
---
LOOK INTO THE PAST
Charlotte Museum of History's Diorama
Knowing that uptown's Revolutionary days were far more rustic isn't enough. You have to see Charlotte Museum of History's stirring diorama to appreciate the difference a couple of hundred years can make. Spoiler: Trade and Tryon had more horses than scooters. 3500 Shamrock Dr., charlottemuseum.org
---
TREND
Home Tours
Architectural voyeurism is a widespread obsession, particularly in the South, where homes are showpieces. We love to step inside the homes of friends and neighbors to admire their new renovations or holiday décor, and each year, Charlotte hosts a growing number of home tours so we can do just that. The Mad About Modern Home Tour, Dilworth Home Tour, Parade of Homes, Fourth Ward Holiday Home Tour, and many others allow us to step onto the manicured lawns of catalog-worthy homes and see their private gardens, art collections, and chef's kitchens. Think of it as a socially acceptable way to be nosy in other people's homes.
---
VOTERS' CHOICE
MEDIA + CULTURE + ENTERTAINMENT
Radio Show
Charlotte Talks with Mike Collins – WFAE
(Runner-Up)
Matt & Ramona – 107.9 The Link
---
Local Podcast
Shrink Tank Podcast
(Runner-Up)
Amplifier WFAE
---
Weather Forecaster
Brad Panovich
(Runner-Up)
Nick Kosir
---
Local TV News Team
WBTV
(Runner-Up)
WSOCTV
---
Reporter
Joe Bruno
(Runner-Up)
Molly Grantham
---
Athlete
Luke Kuechly
(Tie)
Cam Newton
(Runner-Up)
Christian McCaffrey
---
Twitter Feed
@charlotteagenda
(Runner-Up)
@CLTFashionPlate
---
Charlotte Influencer on Instagram
@hullosam
(Runner-Up)
@katie_levans
---
Author
Grazia Walker
(Runner-Up)
Tommy Tomlinson
---
Art Gallery
Elder Gallery
(Runner-Up)
Goodyear Arts
---
Museum
Mint Museum Uptown
(Runner-Up)
Levine Museum of the New South
---
Local Artist
MyLoan Dinh
(Runner-Up)
David French
---
Public Art
Firebird
(Runner-Up)
Embrace Sculpture
---
Local Band/Musician
George Banda
(Runner-Up)
Casey Clark
---
Charity Event/Fundraiser
Queen City Brewers Festival – Benefitting ACEing Autism-Charlotte
(Runner-Up)
Beers & Burpees Charity Event
---
DIY Studio/Class/Workshop
AR Workshop
(Runner-Up)
Chef Alyssa's Kitchen
---
Company to Work for
Wells Fargo
(Runner-Up)
Duke Energy
---
Festival
South End Wine Festival
(Runner-Up)
Charlotte Shout
---
Pop Up Event
Girl Tribe
(Runner-Up)
Front Porch Sundays
---
Holiday Event
Charlotte Christmas Village Uptown
(Runner-Up)
The Olde Mecklenburg Brewery Weihnachtsmarkt
---
Live Performance Venue
The Evening Muse
(Runner-Up)
Middle C Jazz
---
Performing Theatre Group
Moving Poets
(Runner-Up)
Children's Theater
---
Sporting Event
Carolina Panthers
(Runner-Up)
Charlotte Checkers
---
Family Attraction
US National Whitewater Center
(Runner-Up)
Carowinds