2020 Charlottean of the Year: Dr. Katie Passaretti
As COVID loomed, the doctor in charge of Atrium Health's infection response answered the call, within the hospital and outside it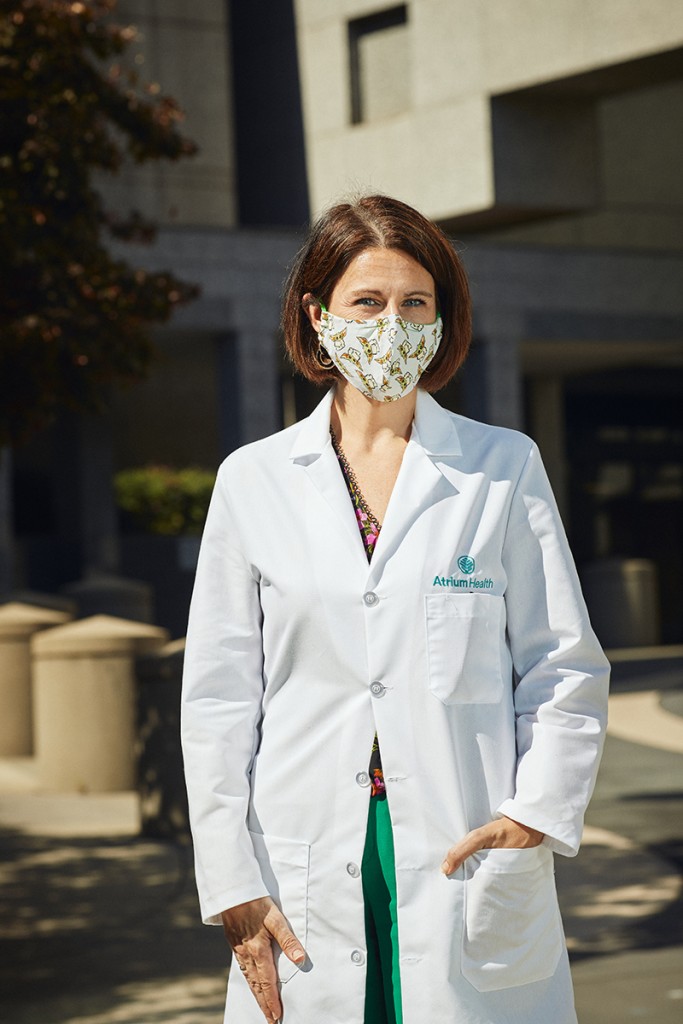 SIX YEARS AGO, Dr. Katie Passaretti answered a 3 a.m. call in July from Carolinas Medical Center. A patient in the emergency department had recently traveled to Liberia and, the ER doctor thought, might have contracted a contagious virus with a high mortality rate. Carolinas HealthCare System, since renamed Atrium Health, potentially had the first case of Ebola  in the U.S. amid a pandemic in 2014. Passaretti, medical director of infection prevention for Atrium Health, is the person you call in this scenario. She immediately told the doctor how to isolate the patient, then headed in for the first of many stressful days.
The patient turned out to have malaria. It was the first national "rule-out" for Ebola, two months before the first U.S. case. Passaretti's team used the false alarm to prepare dozens of facilities and tens of thousands of employees. She supplemented that work inside the hospitals with TV appearances, locally and nationally, to share clear information on what Ebola is and how to prevent it. Ebola caused just two deaths in the United States that year, but the lessons and preparation remained relevant.
"These diseases are going to change. They're going to keep coming, and they're going to impact us to a variable extent," she tells me in September. "But the basic principles are all the same: We have to figure out how these patients present and their risk factors, how to implement the right isolation, (and) have the right personal protective equipment. It's about continuing education." 
Passaretti tells me this over Zoom because, as of September, more than a million people worldwide had died of COVID-19. One-fifth of those have been American. This year, the 44-year-old Ballantyne resident once again became a much-needed source of knowledge locally and nationally, penetrating rampant misinformation on platforms that are now exponentially noisier than six years ago. (In that time, Facebook has gone from 890 million active users to 1.69 billion.) Aside from her appearances on MSNBC, CNN, and FOX, Atrium uses social platforms like Facebook and Twitter for Passaretti to answer frequently asked questions, of which there are plenty. 
There have been several epidemics in the U.S. since Passaretti arrived in Charlotte in 2011. She had spent the previous 17 years at Johns Hopkins University, where she obtained her B.A. and M.D., and completed a residency. One of her greatest gifts, her peers say, is her ability to explain the most complicated aspects of illnesses with clarity to patients and the general public. 
These days, she works not only against social media but the dissonance—and political pressure—surrounding the Center for Disease Control. Days before our conversation, multiple news organizations reported that political appointments at the U.S. Health and Human Services Department had attempted to shape the CDC's weekly reports on the pandemic to benefit President Trump's reelection campaign. The CDC, "for better or worse, is the guiding body for infectious diseases," Passaretti says. "So any discrediting of them makes people question the recommendation that I as an infectious disease provider put out there. As soon as a recommendation comes out from them and I'm still trying to process it, I get 1,000 emails asking, 'Is this right?' … But when most people listen to reasons why guidance changes, they understand. There are physicians within the CDC that have a very, very difficult job and are trying to do it."
Passaretti's strategy involves respectful dialogue, working against the reputation of condescending medical professionals. "I try to acknowledge whatever someone is telling me, and then say, 'Well, this is the data I have. Where is your information coming from?'" she says. "I try to make it a conversation. I have a good sense of what people's kind of pushback is, and I try to address that out front when I do education on Facebook or elsewhere. I know it's never going to be successful with everyone, but you have to meet people where they are."
Like her national counterpart, Dr. Anthony Fauci of the White House Coronavirus Task Force, Passaretti is constantly barraged with questions about what we should and shouldn't do: Should my kids be in school? Which holiday traditions can we keep this year? Is it safe to fly? The answer isn't always clear.
"On a micro level, these are things doctors deal with all the time," Passaretti says, "like when you're trying to get an individual to take their diabetes medication. They might say, 'Well, but I don't have anywhere to store my insulin because I have no refrigerator.' So we have to figure out what we can do considering the data and variables; medicine can never really be cut and dried. That's what you always hear about the art and the science of this." Modifications have to be nuanced and "actually doable" for both individuals and the general population if you want to see results, she says.
Passaretti says her days vary widely. She sees patients with infectious diseases, both COVID and non-COVID; other days are "meeting-heavy, working on practice changes, how to implement different testing strategies in different settings." You might see her dispelling myths about the virus on Atrium's YouTube channel. When we talk in September, Atrium is preparing for flu season. Scientists may develop a COVID vaccine in 2021, she says, but people shouldn't forget about the readily available flu vaccine.
Otherwise, Passaretti and her team prepare for potential viruses that we haven't even heard of yet—all while remaining vigilant against this recent arrival that won't be leaving us any time soon. 
"Unfortunately, this is much more of a marathon than anyone thought it would be," she says, "and that means it comes down to really circling back to the same stuff: You've got to wear the mask, you've got to stay home when you're sick, you've got to wash your hands, and you've got to try to limit those bigger get-togethers. And that's not going to change for a while longer, and we just need to get into this 'new normal' to protect our communities—and each other."
Andy Smith is executive editor of this magazine.