24 Must-Try Fried Foods in Charlotte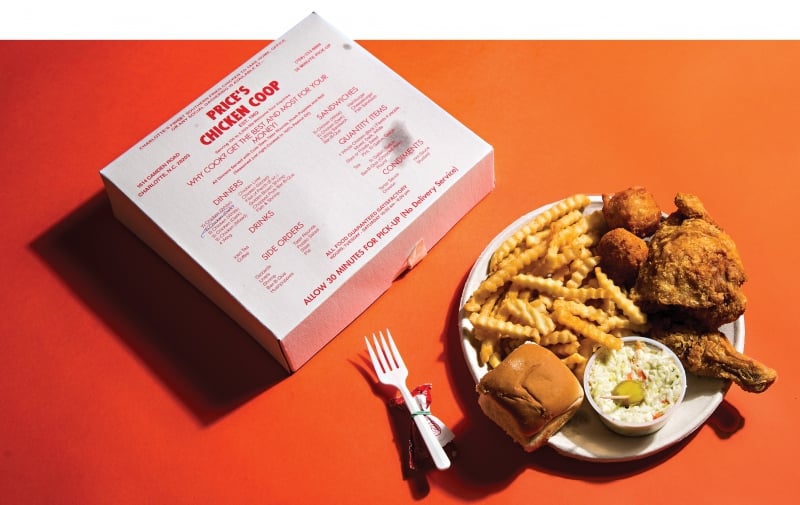 This list was updated in October 2020.
FRIED. We do it best here in the South, a lingering hangover from a community's desire to make something tasty out of something, well, not. Mushy chicken livers. Dirty catfish. Tough okra. Fry it, and people will eat it. Since those days, we've turned frying into a rite of passage: Some say you can't call yourself a Charlottean if you haven't eaten at Price's Chicken Coop. Below, you'll find 25 of the best fried foods you'll find in this city. Grab a handful of napkins, and step away from the scale.
---
Fried Pickles
Alexander Michael's
A basket of fried pickles is an opening expression, a howdy. It's a time-honored Charlotte dish, and it's best at a time-honored Charlotte restaurant. The fried pickle chips at 34-year-old Al Mike's—served only at dinner—are crisp but not stiff, breaded but not loaded, and always a good way to start. 401 W. 9th St., 704-332-6789.
---
Onion Rings
Zack's Hamburgers
The Demopoulos family has made these rings the same way since 1975—with tender onion and a crispy exterior that doesn't fall apart. 4009 South Blvd., 704-525-1720.
---
Dirty South Nachos
Soul Gastrolounge
Fried chicken skins, crunchy and dense, are topped with pimento cheese and pickled okra. They're so rich, you won't want to eat more than one or two, but so delicious, you can't pass them up. 1500-B Central Ave., 704-348-1848.
---
¼ Chicken Dark
Price's Chicken Coop
Our undisputed champion of chicken in Charlotte comes in a grease-speckled cardboard box. Biting into a juicy drumstick starts a rhythm on your palate: salt, crunch, crunch, then a crescendo of juicy dark meat. Repeat. 1614 Camden Rd., 704-333-9866.
---
Hush Puppies
​Midwood Smokehouse
You don't want to fill up on fried bread before a plate of 'cue, but these golden beauties are tough to resist. They're not dry and chalky afterthoughts like many hush puppies around town. Multiple locations.
---
Plantains
​Finga Lickin' Caribbean Eatery
For $2, you can get a heaping pile of sweet-and-salty plantains, a member of the banana family. Order them alongside a traditional Caribbean dish, such as oxtail, for a full meal. 2838 The Plaza, 980-430-5120.
---
Fried Lobster Trail
Bonterra
This lobster, lightly coated and fried, unites comfort food and high-dollar dining. Topped with delicate flavors of a mustard aioli and Asian-inspired honey soy reduction, the lobster tail meat still stands out. 1829 Cleveland Ave., 704-333-9463.
---
Puppydawgs
JJ's Red Hots
Like a cross between a corndog and a fritter, these bite-sized, battered pieces of hot dogs—without the wooden sticks—are a crowd pleaser. Multiple locations.
---
Fried Green Tomatoes
Dish
Since 2002, this Plaza Midwood mainstay has served Southern comfort classics, including thick slices of green tomatoes, cooked in oil and served with a horseradish dill sauce. 1220 Thomas Ave., 704-344-0343.
---
Chicken Tenders 
Leroy Fox
Kids and grownups appreciate these juicy strips of breast meat. Spend the extra buck on a ramekin of white pepper gravy to dip 'em in. 705 S. Sharon Amity Rd., 704-366-3232.
---
Fried Pork Chops
The Diamond
The meat is tender, the breading is crisp, and the two bone-in, center-cut chops are only $9.95. 1901 Commonwealth Ave., 704-375-8959.
---
Duck Fat Fries
Kindred
Fries are fries, but these, hand-cut and given extra seasoning with reserved duck fat, are a cut above the rest. 131 N. Main St., Davidson, 980-231-5000.
---
Tots
The Brass Tap
Don't expect Lincoln Log-shaped tots at this South End spot, which delivers puffs of shredded potato and onion in a miniature fryer basket. 1440 S. Tryon St., Ste. 105, 704-817-7010.
---
Chicken & Waffles
Midnight Diner
Sweet waffles, savory chicken, any time of the day or night. 115 E. Carson Blvd., 980-207-3641.
---
Tennessee Fries
The Yolk
Move over, soft and bland breakfast potatoes. These home fries are fluffy in the middle and their extra-crispy exteriors come dusted with Chef Greg Collier's own seasoning salt blend. 224 E 7th St.
---
Fried Chicken Livers
Bar-B-Q King
Take any less-than-tasty food, bread it, throw it in a deep fryer, and you'll make it edible. That's how some folks see chicken livers, but this place serves them up tender on the inside and bursting with flavor throughout. 2900 Wilkinson Blvd., 704-399-8344.
---
Chicken Wings
Seoul Food Meat Co.
They stay crunchy long after they come out of the fryer, even after sitting sauced on your tray. Cooked with rice bran oil, these wings are among the healthiest options on this list, too. 1400 S. Church St., Ste. A, 980-299-5143.
---
One-Pound Doughnut
Stoke
Stoke's fryers can only handle two of these massive doughnuts at a time, and diners can only handle eating about an eighth of one. That shouldn't stop you from ordering it, though: The cinnamon-sugar coated dessert with diplomat cream and a Heath crumble is almost as good for breakfast the next day. 100 W. Trade St., 704-353-6005.
---
Rice Crispy Squares
​Futo Buta
Deep-fried squares of rice make the otherwise-ubiquitous pieces of raw tuna stand out. The contrasts of raw and crunchy, grease and spice are capable of converting those who fear raw fish to tartare enthusiasts. 222 E. Bland St., 704-376-8400.
---
Fried Squash
Pinky's Westside Grill
Thinly sliced pieces of squash are breaded so lightly, you can still see the seeds. They're fried until tender on the inside and crispy on the outside, and taste even better dipped in ranch dressing. Multiple locations.
---
Midwest Cheese Curds
Moo & Brew
Cheese curds have a special way of melting—they're like string cheese, but warm and gooey. Fry that ooey, gooey, creamy, salty curd, and you have something special. 1300 Central Ave., 980-585-4148.
---
Cauliflower
​Haberdish
This place is known for bird, but the cauliflower—cut from the head into steak-size pieces, brined, then battered and fried—might be the better order. Finished with a chimichurri drizzle, this dish is the word. 3106 N. Davidson St., 704-817-1084.
---
Oysters
Cajun Queen
Oysters are a mushy mess to some folks, but these are deep-fried with cajun seasoning. The result is a spicy, rich flavor layer that pairs well with the oyster's moisture. 1800 E. 7th St., 704-377-9017.
---
Fried Okra
The Workman's Friend
Who would've thought an Irish pub could turn out a Southern classic this well? Nuggets of pickled okra are tossed in cornmeal and paired with a tangy chive-buttermilk dressing. 1531 Central Ave., 980-224-8234.