3 Places to Get Your Chicken Pot-Pie Fix
Skip the soup and warm up with a good pie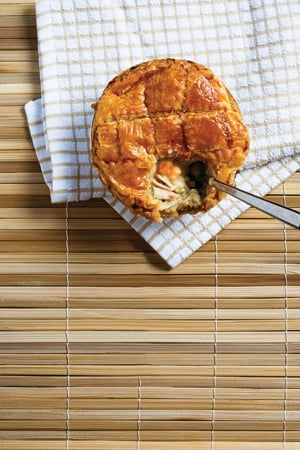 Cool fall days bring cravings for savory dishes like chicken potpie. The baked pies at these three Charlotte restaurants are all house-made:
The pies at The Roasting Company ($9) (1601 Montford Dr., 704-521-8188), which are only available on Wednesdays, have a devoted following of diners who show up midday to purchase the peppery dish, filled with finely shredded meat, onions, peas, and potatoes.
Devotees to The Diamond (1901 Commonwealth Ave., 704-375-8959) must wait for the days when the restaurant offers the juicy dish ($7.95) as its Blue Plate Special.
At Cluck -n- Cup, (2135 Southend Dr., 980-207-2536) those in the mood for comfort food can stop by any time for one of the flaky-crusted pies, pictured, ($5.99) made fresh each morning. Served with a side (try the broccoli casserole), these pies are brimming with chunks of white meat, corn, carrots, peas, and beans. If you prefer to indulge in this down-home dish in the comfort of your own home, Cluck -n- Cup offers take-and-bake family-sized pies ($16), perfect for heating up to enjoy on a chilly autumn night.