4 Honeymoon Spots in the U.S. (For Couples of Any Type)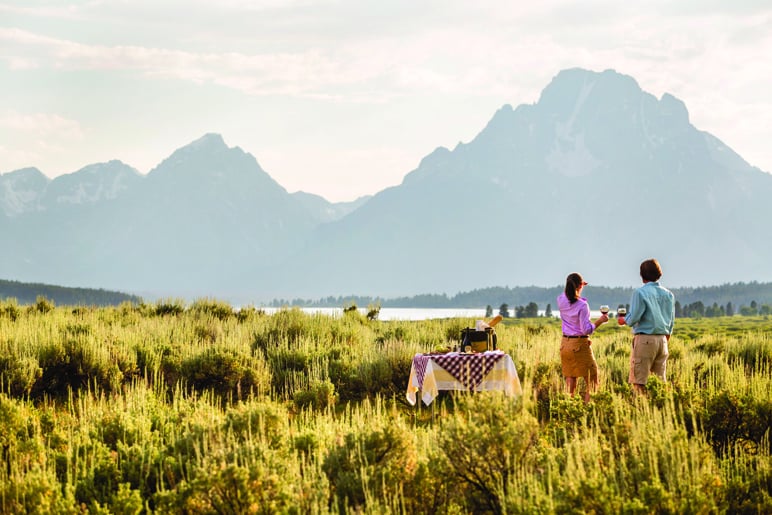 PACK YOUR bags! It's time to talk about honeymoons. One of the best parts about getting married (besides a lifetime of love and happiness, of course) is getting to relax for a week after the hustle and bustle of saying "I do." Skip the marathon European vacation and opt for staying in the states. Whether you're looking for a little R & R or want an adventure with your husband, this great country has a little bit of everything, for every type of couple.
For the active couple:
Sedona, Arizona
Where to stay: Enchantment Resort
Enchantment Resort is nestled on 70 acres in the majestic Boynton Canyon among Sedona's red rock formations, 120 miles north of Phoenix and 114 miles south of the Grand Canyon. With more than 100 weekly activities from mountain biking to Native American solstice celebrations, you and your spouse won't be lacking for adventure. Remember, no trip to Enchantment is complete without a spa day at the celebrated Mii amo spa.
Where to eat: L'Auberge Restaurant on Oak Creek
The award-winning L'Auberge features seasonal cuisine with French influences, and there's a reason why it's one of the most popular restaurants in the state. Dishes rotate seasonally, but the restaurant always seeks out local produce while supporting sustainable farmers and fishermen.
What to do: Pack a picnic at Crescent Moon Ranch
Load up the rental car and head 20 minutes south to Crescent Moon—the backdrop of Red Rock Crossing—to enjoy a picnic in Arizona's natural beauty. Wade in the creek, watch for wildlife, and stop by The Chapel of the Holy Cross on your way in—an architectural masterpiece jutting out of the red rocks.
---
For the preppy couple:
Nantucket, Massachusetts
Where to stay: White Elephant
There's a certain prestige that comes with staying at the White Elephant, where generations have enjoyed the luxurious waterfront property since the 1920s. Located 40 miles off the coast of Cape Cod and within a stone's throw from Nantucket's quaint downtown, the White Elephant offers just about everything that makes the New England coast so appealing—biking, sailing, beach chairs on the Harborside Lawn, and famous ocean breezes.
Where to eat: Straight Wharf
There are two reasons Straight Wharf is popular among the locals: killer seafood and unparalleled views. Begin your meal with the restaurant's chilled watermelon gazpacho and enjoy a hearty, buttery clam bake afterward.
What to do: Take a whale-watching excursion
Set aside one day for a six-hour whale-watching boat ride with Shearwater Excursions. Keep your eyes open for humpback and finback whales, as well as sea turtles, seals, sharks, dolphins, and more.
---
For the sand and sun couple:
Little Torch Key, Florida
Where to stay: Little Palm Island Resort & Spa
It's no wonder Conde Nast named Little Palm Island Resort one of the best hotels in the world. This pristine paradise resort is accessible only by boat or seaplane and is so off the grid that guests don't have television or phone access. Spanning less than six acres, this island oasis features 30 oceanfront suites and endless opportunities to relax.
Where to eat: The Dining Room at Little Palm Island
The resort's only dining option offers breakfast, lunch, and dinner with a menu of modern tropical cuisine, such as seared ahi tuna and shrimp quesadillas. Sip cocktails before dinner on the terrace, and you'll soon understand why The Dining Room is named one of Travel + Leisure's world's best restaurants.
What to do: Go diving
Little Torch Key is encompassed by the world's third largest barrier reef. Hop aboard the resort's Island Girl and take a trip underwater to explore all the creatures that call the Florida Keys home. Trips cost $185 per person.
---
For the outdoorsy couple:
Jackson Hole, Wyoming
Where to stay: Four Seasons Jackson Hole
Unspoiled wilderness, exceptional mountain views, abundant wildlife—Jackson Hole has it all, and the Four Seasons combines the town's rustic, Old West romance with state-of-the-art accommodations and luxurious amenities. Breathe in the mountain air on one of the resort's many hiking trails, or put on your cowboy hat and ride a horse through the wilderness.
Where to eat: Café Genevieve
Just 12 miles south of Four Seasons is Café Genevieve, a favorite among locals and visitors alike. This popular eatery boasts the best of Southern-inspired cuisine mixed with Cajun influences. Stop in for brunch and enjoy chicken and waffles, or a Wyoming bison burger, but come prepared to wait for a table.
What to do: Get outside at Yellowstone National Park
A trip to Wyoming isn't complete without a trip to Yellowstone—America's most famous national park. Spanning more than 3,400 square miles, Yellowstone boasts 67 species of mammals, 330 species of birds, and more than a dozen historic landmarks. The drive to the park's south entrance is a beautiful but long one. Consider staying overnight at Mammoth Hot Springs Hotel and Cabins, located 140 miles north of Jackson Hole.