44 Best Charlotte Meals Under $20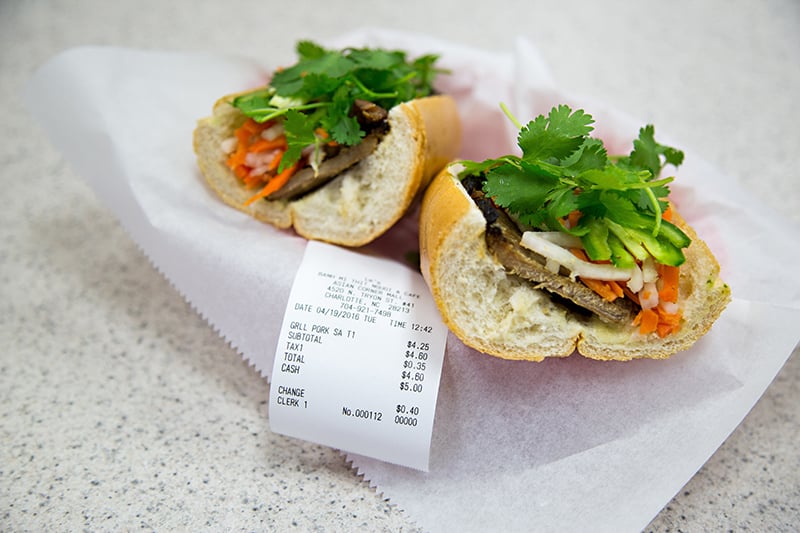 5 Under $5
1. Le's Sandwiches & Cafe
Bahn Mi
Navigate the potholed parking lot at Asian Corner Mall, cash in hand, to reach your handsome reward: a sandwich at Le's. Order the #6: juicy slices of grilled, marinated pork, layered with pickled daikon and carrots, mouth-numbing slices of fresh jalapeño, and herbaceous wisps of cilantro inside a near-perfect French baguette. 4520 N. Tryon St., 704-921-7498
$4.25 (+tax, cash only)
---
2. Mr. K's Soft Ice Cream & Drive In
Fried Chicken Sandwich
Known mostly for its sugary treats, Mr. K's also serves up a mean fried chicken sandwich—hot out of the fryer and complete with lettuce, tomato, and mayo. Order at the counter, get called by name, and take a seat inside or out on the patio at this mom-and-pop shop in South End. 2107 South Blvd., 704-375-4318
$4.15 (+tax)
---
3. Zack's Hamburgers
Cheeseburger
Lending "fast food" a level of charm not often associated with the term, Zack's is a cherished lunch spot off South Boulevard and Scaleybark Road. Topping many patrons' personal lists for "Best Burger in Town," you'd never suspect that this retro joint's cheeseburger rings in at just $2.65: special sauce, fixin's, and throwback music included. 4009 South Blvd., 704-525-1720
$2.65 (+tax)
---
4. Sabor Latin Street Grill
Arepa
The standard logic at Sabor would be to order the tacos. That is, until you order the arepa. Less than $5 will give you almost more than you can handle. The steaming-hot maize cake bursts with shredded chicken, tomato, onion, and rosada sauce (the love child of ketchup and mayonnaise), all topped with shredded mozzarella cheese. Multiple locations.
$4.95 (+tax)
---
5. Art's BBQ and Deli
BLT
The staff here knows the regulars by name—and becoming a regular is affordable, with most sandwiches (deli and barbecue) priced around $5. The crisp bacon, crunchy lettuce, and tomato that give the BLT its name are sandwiched between your choice of bread, tinged golden-brown by the toaster and served still warm. A dill pickle completes the classic lunchtime dish. 900 E. Morehead St., 704-334-9424
$4.75 (+tax)
---
10 Under $10
1. Price's Chicken Coop
Quarter-Chicken Dark
We could talk about the chicken, fried and surrounded by tater tots, hush puppies, a roll, and a cup of white coleslaw. We could talk about how to order: "Quarter-chicken dark," and then, "Yes," when they ask if you want tea. We could talk about how it's an essential Charlotte experience, born in 1962, some 30 years before anybody even called this neighborhood South End. We could even say the quarter-chicken dark is the Original Charlotte Cheap Eat. Or, if none of that convinces you, we could just say that about a year ago, in late May 2015, Jay Leno swung through Charlotte, and with all the money he needs to eat anything he wants in our city, he came here, took a few pictures, sat on the grassy hill across the street, and got his hands greasy. 1614 Camden Rd., 704-333-9866
$6.70 (+tax)
---
2. Diamond Restaurant
Gyros Pita
This retro Plaza Midwood diner, which opened in 1945, started out serving Southern food. In 1984, it passed into the hands of Greek immigrant Gerry Pistiolis, who infused the menu with European flair. The Gyros Pita gives visitors a taste of the owner's homeland—and tzatziki-induced satisfaction. 1901 Commonwealth Ave., 704-375-8959
$6.95 (+tax)
---
3. JackBeagle's
Philly Cheesesteak
This NoDa dive bar is for the locals. Serving unconventional bar bites such as mac-and-blue-cheese with bacon, JackBeagle's also makes a seven-inch Philly doused in Cheez Whiz. Add a side of waffle fries for a buck, and you've got a heaping helping for less than a Hamilton. 3213 N. Davidson St., 704-334-5140
$6.99 (+tax)
---
4. JJ's Red Hots
Southern Girl
The Southern Girl at JJ's Red Hots is rather coy. You won't find her by looking on the menu. If you want her to make an appearance, ask for her by name, and a char-grilled hot dog will appear, topped with pimento cheese, coleslaw, bacon, and hot blond mustard. And what's better than one Southern girl? Two. 1514 East Blvd., 980-225-8880
$8.98 (+tax for two)
---
5. Lola's on Brevard
Chicken-Fried Steak with Two Sides
Grab a tray and get in line. With a rotation of daily specials that includes chicken and dumplings and jerk chicken, Lola's draws a hungry crowd for its cafeteria-style lunch. Pick a day when you have the energy to digest a lot of grease, and order a chicken-fried steak with collards and mac-and-cheese. Watch the crispy piece of meat disappear to the sound of your teeth crunch, crunch, crunching each bite. 300 S. Brevard St., Ste. 100, 704-353-3545
$8.75 (+tax)
---
6. Fud at Salud
Jason Gi-Ham-Brie
This shop along a colorful stretch of North Davidson Street began serving food adjacent to its tiny craft beer store last spring. Fud at Salud is known for naming sandwiches after neighborhood personalities—and for delighting hungry imbibers with the Waffle-wich. The Jason Gi-ham-brie combines shaved deli ham with melted brie and a cider-reduced peach jam sandwiched in an airy, made-to-order Belgian waffle. One bite will help you understand Fud's unofficial mantra: "Do you even waffle, bro?" 3306-B N. Davidson St., 704-900-7767
$7 (+tax)
---
7. Grand Asia Market
Dim Sum
Find the palm-sized delicacies of dim sum inside this sprawling, family-owned international market that was once an old Winn-Dixie. This isn't the rolling cart experience, but you will find plenty of made-from-scratch items worth the trip to Stallings. And you won't have the hefty bill. Try the turnip cakes ($2.99 for 3), studded with Chinese black mushrooms and Chinese sausage, for a savory first course. Then go for the golden fried dumpling ($1.29), sweet and glutinous fried dough filled with ginger-spiked pork and preserved turnips. Finish with the egg custard-filled steam bun ($1.49) for dessert. 4400 Potters Rd., Stallings, 704-821-0899
$5.87 (+tax)
---
8. Benny Pennello's
Pepperoni Slice and a Coke
If you didn't know better, this gigantic pizza might seem to embody what's wrong with food in America, playing on the equation that the bigger the portions, the better the meal. A full Benny P's pie is 28 inches in diameter, almost double what you'd usually see. But what the owners of this expanding franchise figured out is that if you divide that 28-inch pizza into eight slices, you get the ideal sized meal for one person—not too little, not too much. At $4 a slice for cheese, and $5 for a slice of pepperoni, sliced sausage, or garlic mushroom, there'll even be room in your wallet for a bottle of Coke. Or, sure, water. 2909 N. Davidson St., Ste. 100, 980-949-8398
$6 (+tax)
---
9. Cluck 'N Cup
Chicken Pot Pie
A buttery, golden, flaky crust hides a filling of thick gravy, vegetables, and pulled pieces of chicken. But they're not really hiding anything at Cluck 'N Cup—the restaurant's website lists the pot pie ingredients, and the first ones are vegetables and chicken breast. As if the steaming, salty, creamy concoction isn't filling enough, the dish comes with a side. Multiple locations.
$7 (+tax)
---
10. Pinky's Westside Grill
Westside Burger (single patty) with Greg's Pickles
Charlotte's west side is changing, and at the center of that change is a neighborhood called FreeMoreWest, and at the center of FreeMoreWest is an evolving food scene, and at the center of that evolving food scene is this place with a VW bug on the roof. And at the center of this place with the VW bug on the roof is chef and owner Greg Auten, who started the place in 2011 after helping build the infamous and former Penguin into a nationally renowned burger joint. And at the center of Greg Auten's menu are the burgers. And at the center of the burger menu is the Westside—which, even with all the changes swirling around it, is still just a patty topped with mustard, slaw, chili, and onions. Classic Carolina style, solid, focused, and steady. 1600 W. Morehead St., 704-332-0402
$8.20 (+tax)
---
20 Under $20
1. Carolinas Dish
Medium Plate with Banana Pudding
Find Southern comfort—complete with sweet tea and cornbread—in owner Edna Roberson's family recipes. Try a ketchup-covered slice of meat loaf with a side of black-eyed peas, which are tender, full of flavor, and some of the best around. Portions here are generous, so you'll have to make several trips to try it all, from the coarsely chopped collard greens to the fluffy banana pudding finish. 9624 Monroe Rd., 704-847-3474
$13.04 (+tax)
---
2. Savor Café & Catering
Chicken Cutlets
You'll have a view of the city skyline and Southern comfort cuisine with a twist when you sit down at Savor Café in FreeMoreWest. The Pan-Fried Chicken Cutlet entrée comes with two sides—roasted root vegetable hash and drunken collard greens—to complement the two crispy cutlets smothered in pimento cheese and bacon bits. This meal goes a long, long way. 1404 W. Morehead St., 704-334-0098
$14 (+tax)
---
3. Mert's Heart & Soul
Low Country Combo with BBQ Beef Rib and Fried Chicken Leg Quarter
The shifting landscape of uptown Charlotte hasn't diminished diners' affection for Mert's Heart & Soul, with its checkered floors and two decades' worth of mementos from celebrity visits. Music from Sam Cooke and Smokey Robinson blares through the speakers while servers drop hearty plates of fried chicken and twice-cooked barbecue short ribs on tables. A combo plate with two sides and Mert's famous cornbread leaves you with enough cash to spring for the towering homemade cakes on the countertop display. 214 N. College St., 704-342-4222
$14.25 (+tax)
---
4. Vietnam Grille
Meatball Spring Roll and Bun Thit Nuong
Start with the grilled meatball spring roll (Nem Nuong Cuon)—savory, caramelized, ground pork meatballs wrapped in rice paper with lettuce, rice noodles, and fresh herbs. Then, go for the bun with char-grilled pork (Bun Thit Nuong)—vermicelli noodles topped with thin slices of grilled pork, a colorful array of herbs, bean sprouts, lettuce, and cucumbers. Douse with Nuoc Mam sauce and eat every last bite. 5615 South Blvd., 704-525-2408
$14.80 (+tax)
---
5. Bill Spoon's Barbecue
Large BBQ Plate
Bill Spoon's feels like home. Its dark wood walls are decorated with tchotchkes reminiscent of your grandmother's house, and, since 1963, the whole hog barbecue has been cooked over hickory wood. A large barbecue plate comes with tender barbecued pork, mustard slaw, plenty of hush puppies, and a side. We recommend the macaroni and cheese. And when Stephen Spoon Jr., grandson of Bill Spoon, bids you to come back, we recommend you listen. 5524 South Blvd., 704-525-8865
$10.75 (+tax)
---
6. The Mad Greek
Chicken Souvlaki Dinner
This is the kind of Greek diner you want in a Southern neighborhood: upholstered booths, a giant poster of Greece on the wall, a waitress who asks if you want lemon in your tea. The souvlaki dinner is just as comforting. Well-charred chicken rests on a bed of rice and sautéed green peppers and onions. It comes with crispy, peppery fries, yogurt-cucumber sauce for dipping—heavy on the garlic, as it should be—and a generous portion of Greek salad. It's a complete meal made by a real "mad" Greek—chef and owner Chris Limberakis. 5011 South Blvd., 704-523-8296
$12.95 (+tax)
---
7. Passage to India
Special Dinner for One
Make the decision to make fewer decisions with this four-course tasting menu that includes a soft drink. Order the vegetarian options to keep cheap eating healthy, but don't think that means you'll have a less flavorful meal. The vindaloo is hearty, with plenty of vegetables and potatoes, seasoned with a light kick of heat. Finish the meal with rice kheer, a thinner version of rice pudding. 9510 University City Blvd., Ste. 101, 704-549-1886
$17.99 (+tax)
---
8. Taste of Europe
Polish Sampler Platter
It's easy to be tempted by the pierogi here (they do have six varieties), but there's much more to eastern European cuisine. Order the sampler platter. It comes with pierogi—you can pick the filling—but also has a juicy piece of grilled kielbasa and a classic preparation of stuffed cabbage. A heap of sour cream sits in the middle for dipping. 10915 Monroe Rd., Matthews, 704-708-8495
$14.50 (+tax)
---
9. Zeitouni Mediterranean Grill
Mezza Plate
Served on a wooden board, this plate is an easy introduction to classic Mediterranean dishes. The hummus is smooth and topped with fresh herbs, and the grape leaves are as tender as slow-cooked collards. The crispy falafel—flavored with spices unfamiliar to the American palate, such as coriander and cumin—adds a crunch to the plate. The spicy-and-sour potatoes finish out the dish for a hearty sampling. 3419 Toringdon Way, Ste. A-124, 704-752-4245
$10.99 (+tax)
---
10. The Open Kitchen Restaurant
Chicken Parmigiana
Many people who come to this restaurant, open since 1952, have been doing so for a long time, as evidenced by the servers' familiarity with their guests. The classic Italian menu is well-priced—no dish is more than $20—and the portions are large, with pasta and meat often requiring separate plates. Order the chicken parm for a juicy cut of chicken breast, unbreaded, cooked in tomatoes, mushrooms, and wine, then smothered in sauce and Parmigiana and mozzarella cheeses. It's served with a side of spaghetti, and you probably won't finish it all—especially if you snacked on the bread basket. 1318 W. Morehead St., 704-375-7449
$15.75 (+tax)
---
11. Ajbani Moroccan Cuisine
Spicy Lamb
Despite its name, the spicy lamb entree isn't going to burn your mouth. Instead, it's a dish seasoned with Moroccan spices, including cumin and turmeric. The delectable pieces of lamb, vegetables, and potatoes soak in the spices while they cook, and for an additional $2, you can add couscous for a well-balanced cheap eat. Celebrate your success with a slice of baklava, thin pastry sheets layered with pistachio, honey, clove, and cinnamon. 2903 Central Ave., Ste. C, 980-349-4015
$11.50 (+tax)
---
12. Finga Lickin'
Caribbean Eatery Large Oxtail Plate
This little green and yellow house on The Plaza is home to flavors as bright as the building's exterior. The oxtail is slow-cooked and falling apart, and tasty enough to pick off the bones. Choose two sides to go with it, but don't miss the plantains. When the oxtail is sold out (as it often is), the curry goat is an excellent alternative. 2838 The Plaza, 980-430-5120
$15 (+tax)
---
13. Doan's
Crispy Yellow Pancake
Even after the rest of the Archdale Marketplace shopping center grows quiet, you'll find a lively group of diners at this family-owned restaurant. If you're craving pho, know that the brisket here is slow-cooked to a fall-apart tenderness and the broth is made from scratch. To try something different, go for the crispy yellow pancake, which comes stuffed with chicken or pork, sprouts, and shrimp. The whole pancake—with fillings—is served with mint and lettuce leaves, to wrap each bite in. 5937 South Blvd., 704-733-9077
$11.95 (+tax)
---
14. Letty's On Shamrock
Bayou Smoky Pasta with Shrimp
The menu here is a collection of comforting favorites with a surprising selection of vegetarian options, including the "neatloaf," a meat-free version of meat loaf. The Bayou pasta, though, has a creamy, tomato-based sauce that coats each rigatoni, complemented by heat from juicy Andouille sausage pieces. Grated cheese on top helps add a salty component. This hearty, homey dish is simple and flavorful. 2121 Shamrock Dr., 704-817-8702
$13 (+tax)
---
15. New Zealand Café
Bento Box with Beef Teriyaki
This big plate of goodies is certainly more than one dish, including a main item, such as hibachi chicken, alongside tempura shrimp and vegetables, white rice, sushi, and a salad. The beef teriyaki option comes heaped with broccoli, zucchini, and onions, all slathered in teriyaki sauce and sesame seeds. Eat the tempura first—fried food shouldn't sit—as an appetizer with your salad. Then, let the rice soak up the sauce and take a bite with the beef for a meaty, salty, sweet combo. Finally, dip your California roll in soy sauce. 1717 N. Sardis Rd., Ste. 6A, 704-708-9888
$13.95 (+tax)
---
16. The Chef: Heaven's Kitchen
Meat Molcajete
Salvadoran chef Roberto Mendoza's menu is as diverse as his background. He's cooked for such dignitaries as President George W. Bush and the prince of Saudi Arabia. The molcajete—which can come with meat, seafood, or both—is one of the few dishes on the menu outside of the $8-$15 range, but it's also large enough for several diners to enjoy. Carne asada, chorizo, grilled chicken, and salty panela cheese come in the hot stone bowl, and are accompanied by plenty of tortillas, guacamole, lettuce, and rice. 6023 Albemarle Rd., 704-566-6454
$16.50 (+tax)
---
17. Monsoon Thai Cuisine
Gaeng Keow Wan
Order the vegetarian version of this green curry dish, and you'll receive large pieces of bright purple eggplant, broccoli, crisp carrots, and snap peas, along with fried tofu. The light, creamy coconut milk curry sauce is seasoned with kaffir lime leaves and Thai sweet basil—mild enough for the uninitiated, but still full of flavor. The warm, surprisingly complex dish won't induce a post-lunch stupor. 2801 South Blvd., 704-523-6778
$10.95 (+tax)
---
18. Dish
Chicken and Dumplings with Sweet Tea
It's easy to see why Guy Fieri devoured this dish on Diners, Drive-Ins, and Dives. The peppery, buttery roux mixed with chicken stock creates a rich base for light, chewy dumplings. Served with a honey-basted biscuit, half a deviled egg, and a side item of your choice (go for the collards), this meal would make any Southern grandma proud. 1220 Thomas Ave., 704-344-0343
$10.28 (+tax)
---
19. Kabab-je Rotisserie and Grille
Lamb Kabab
Set in a plaza packed with chain retail and restaurants, Kabab-je can be tough to find. Once you walk in the restaurant's doors once, though, cravings will lead you back. Order the lamb kabab entrée for two skewers of tender meat and charred onions, served with basmati rice and vegetables. Homemade bread from the restaurant's pita machine adds another touch of authenticity to the plate. 2233 Matthews Township Pkwy., Ste. E, Matthews, 704-845-0707
$15.95 (+tax)
---
20. Lebowski's Neighborhood Grill
Buffalo Trifecta
The Lebowski's menu includes a specialty list of "The Dude's" favorite beverage, the White Russian, as well as an impressive sandwich selection. For a full food experience, try The Buffalo Trifecta, which consists of a large, fried haddock filet, six buffalo wings, and a Beef on Weck slider, all atop a pile of fries (we recommend garlic fries for extra flavor). 1524 East Blvd., 704-370-1177
$15.95 (+tax)
---
Cheap Eats: 4 Tacos
This small dish often brings together meat, herbs, and vegetables—a whole meal bundled into a flavorful tortilla—and they're almost always affordable. Here are four of our favorite tacos around town.
RuRu's Tacos + Tequila
"I'll Have What She's Having"
715 Providence Rd.
704-332-7933
$4.25 each (+tax)
---
Tamaleria Laurita
Tacos de Pollo
809 E. Arrowood Rd.,
Ste. 2100
704-595-7306
$1.99 each (+tax)
---
Tacos el Nevado
Tacos al Pastor
4640 South Blvd.
704-529-4477
$2 each (+tax)
---
Three Amigos
Tacos de Carne Asada
2917 Central Ave., Ste. A
704-536-1851
$2.49 each (+tax)
---
Cheap Eats: 5 Bites for Breakfast
Inexpensive plates cooked on sizzling flat tops at time-worn greasy spoons are becoming a rarity in Charlotte (RIP Tic-Toc and John's Country Kitchen). Yet you can still find affordable breakfasts around town. Here are five places to start the day off with less than $10.
Brooks' Sandwich House
Livermush, Egg, and Cheese Breakfast Sandwich
2710 N. Brevard St., 704-375-7808
Breakfast 7 a.m.-10:30 a.m.
Three dollars and fifty cents will get you a burger "all the way" at this tiny Charlotte institution, but did you know it can also buy you breakfast? Twin brothers David and Scott Brooks serve simple breakfast sandwiches (on burger buns, of course) before the daily lunch rush. Neese's livermush is seared and topped with American cheese and scrambled eggs. Say yes to mayo, yellow mustard, and diced white onions.
$3.50 (+tax, cash only)
---
Amelie's
Bacon, Egg, and Cheese on Baguette
Multiple locations
Pass the alluring pastry case inside this 24-hour bakery and café and order a savory breakfast sandwich instead. Layer a crispy baguette with melted cheddar cheese, egg, and strips of bacon. The audible crunch will make you want this 24/7/365—which is totally possible, because Amelie's in NoDa never closes.
$4.58 (+tax)
---
Hazelnuts Creperie
The Maple Dream
Multiple locations
The Maple Dream solves the common breakfast dilemma of savory or sweet. A giant, paper-thin crêpe filled with scrambled eggs, cheddar, and bacon is folded together and topped with maple syrup, powdered sugar, and just-melting butter. A delicious way to not have to choose.
$7.50 (+tax)
---
The King's Bakery
The Swissie
129 W. Trade St., 704-375-1990
The food at The King's Kitchen is Southern, but breakfast from its sister bakery churns out fine French pastries for its "European Grab-n-Go." Pastry chef Mike Pappas is the master behind these divine pastries, with mesmerizing layers that rival some of the best in the city. Try the Swissie, a devastatingly flaky croissant filled with button mushrooms and Swiss cheese.
$5 (+tax)
---
Poppy's Bagels & More
Lox & All the Fixin's
2921 Providence Rd., 704-366-8146
This New Yorker-owned bagel shop is just as serious about making a proper bagel sandwich as it is about the bagels themselves. Cream cheese gets smeared on both sides of your chosen bagel (we recommend the "everything" bagel); then it's stacked with plenty of lox and "all the fixin's"­­—tomato, red onions, and capers.
$6.99 (+tax)