5 reception appetizers that are anything but overdone
Skip the barbecue sliders and mini quiche and opt for these unique apps instead.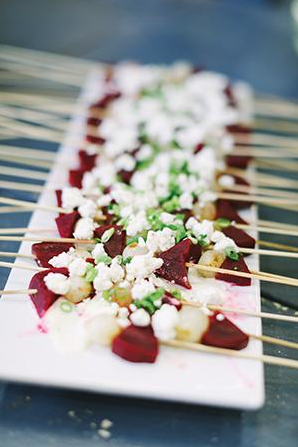 We've all been to our fair share of wedding receptions that begin with hand passed crabcakes and bruschetta before dinner is served. Don't get me wrong, I love a nice crabcake with remoulade sauce but don't be afraid to get creative and think outside of the box when it comes to selecting your hor devours. Your guests will love trying something unique and innovative.
Check out these five fabulous picks below. See one you like? Have your caterer try out their own version.
Brie, apricot and almond tartlet – This app is so transitional; the smooth tartness of the apricot makes it appropriate for summer weddings, while the heavier brie and almond flavors work well in fall and winter. Whatever the season, these will be a hit with your guests.
Ahi tuna with fresh guacamole – Fresh guacamole is all the rage these days and perfectly fitting for an outdoor summer wedding. Combine this with a mild and meaty tuna and you'll have an appetizer that's not only delicious but healthy, light and flavorful.
Mini BLT – Who doesn't love this American classic? Mini BLT sandwiches on sourdough with applewood smoked bacon and cherry tomatoes work best in summer when tomatoes are in season. The freshness of tomatoes and saltiness of the bacon make it a hit with guests, especially in the warmer months.
Goat echees and watermelon bites – There's a good chance your guests will have never tasted something so fresh and inventive at a wedding before. The crisp juiciness of the watermelon works well with the goat cheese and is a hit during the summer's heat.
Pimento cheese scones – It doesn't get more southern than this. The traditional buttery scone becomes even more delicious after the addition of pimento cheese. Prepare for guests to take two at a time!