5 Steps to a Stunning DIY Thanksgiving Centerpiece
You don't even need to be very crafty to create jaw-dropping table decorations.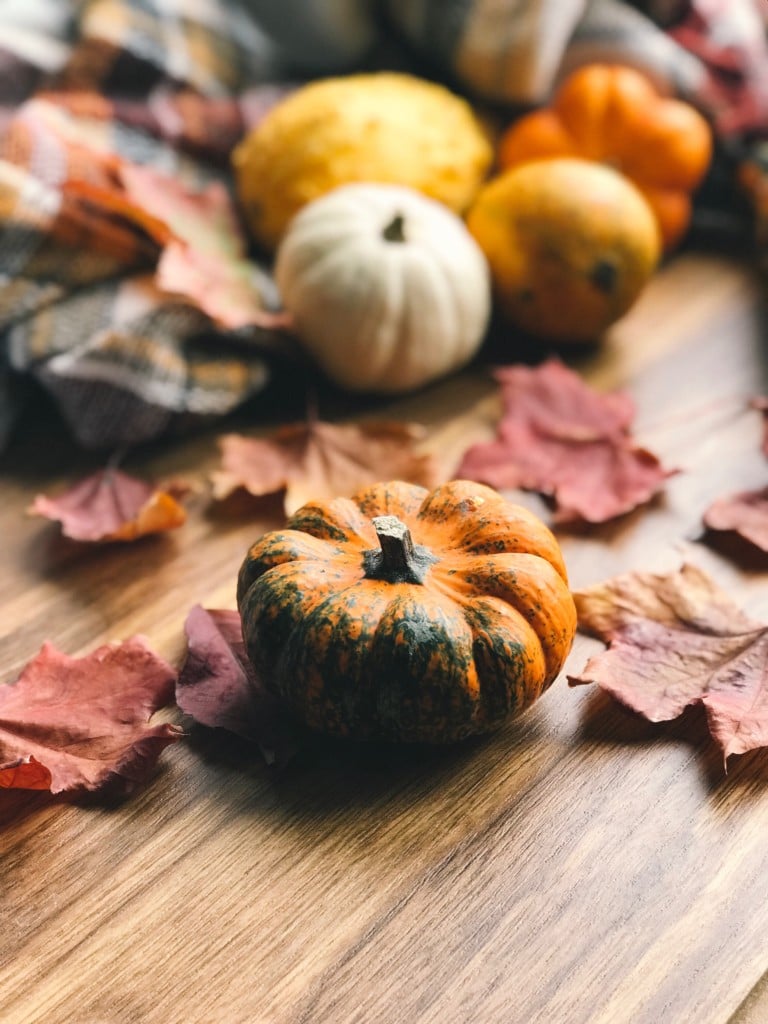 As Thanksgiving inches closer on the calendar, those hosting the festive feast may be thinking about how to decorate the table this year. Since most of the holiday is spent sitting around the dinner table, you'd be remiss not to add some special flair to the surface. Maybe you've got some old-but-good candle holders you've been setting out year after year, or perhaps this is your first time hosting Thanksgiving dinner for friends or family. Either way, there's always room for improvement, and luckily, you can spruce up your Thanksgiving tablescape quite easily—especially if you've got a garden or other fall decorations lingering around the home.
Even if you don't classify yourself as a crafty type, you can still create your own beautiful Thanksgiving centerpiece. All you need is a few items, a little bit of inspiration, and the tips below.
How to Make Your Own Thanksgiving Centerpiece – DIY Table Decorations
Step 1: Get Inspiration
Creating your own Thanksgiving table decorations can seem like a tall task, especially if you have no idea what you want it to look like. Before starting your centerpiece project, it's a good idea to browse Pinterest for some ideas. You'll quickly find that there aren't really any rules to Thanksgiving table centerpieces, leaving you tons of room to get creative and add in your own flair. But it does help to already have some sort of vision in mind before you start chopping stems and spend time arranging.
Step 2: Pick your plants
Now that you've got an idea of what you want to make, you need your flowers and fillers! If you have a garden, consider picking some fresh autumn blooms to incorporate into your centerpiece. Fresh flowers are always a good idea. But even if you don't have a garden, you can still gather a few faux blooms from your local craft store (think Michael's or Hobby Lobby) and they will work just as well. Remember to not only get beautiful blossoms but colorful grasses and greenery as well. A variety of plant shapes and sizes will make your centerpiece unique. A few popular Thanksgiving centerpiece flowers are listed below; just remember that reds, oranges, and yellows are key unless you plan on a neutral palette.
Sunflowers
Mums
Dahlias
Lilies
Asters
Step 3: Choose your container
A centerpiece would just a be a pile of plants if not for an eye-catching container to bring them all together. The container you choose depends on your own decorating style—no matter if you prefer rustic, modern, neutral, whimsical, or traditional design, there's a Thanksgiving centerpiece container that will fit right in. Try one of the below container ideas.
Faux pumpkin
Vase (clear or ceramic)
Mason jars
Pitcher
Watering can
Decorative bowl
Rectangular wooden box
Galvanized metal box
Cake stand
Step 4: Arrange!
It's now time to assemble your masterpiece. If it makes sense for the container you're using, it's recommended to use florist's foam and cut it to fit the container. The foam will not only help your arranged flowers stay perfectly in place, but it will also help with water absorption if you're using real plants. As far as arranging your flowers go, check out our tips for arranging according to vase shape. Also, keep in mind these primary steps:
Cut fresh flower stems to help them absorb water better; cut all stems to desired, varied heights
Start with the biggest, fullest flowers and disperse them evenly
Fill in with additional grasses as you see fit
Step 5: Add fun, extra elements
You've got most of your Thanksgiving centerpiece complete at this point, and you can stop here if you'd like. However, there are so many more fun pieces you can add! To create dimension and interest, it's common to bring in seasonal elements that help set the mood. Place the below extras in or around your centerpiece, and you'll have a Pinterest-worthy project in seconds.
Candles
Pumpkins or gourds
Ribbon or twine
Pinecones
Fruits
Berry stems
Wood
Antlers