5 Unexpected Ice Cream Treats Across Charlotte
Ditch your traditional cup or cone for these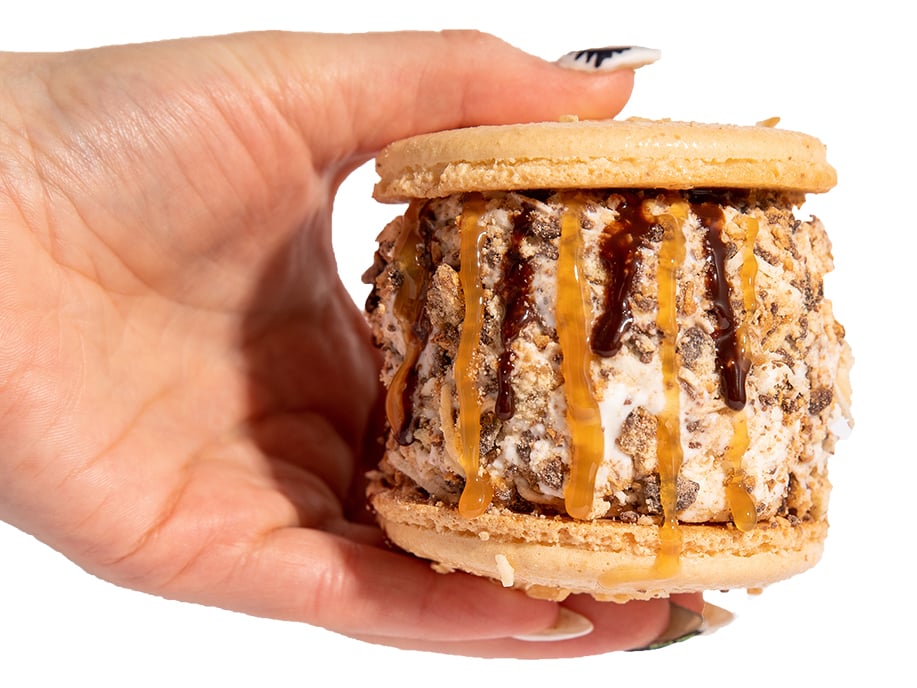 Ice Cream Sandwiches
Ninety's Ice Cream & Sandwiches
With its name, Ninety's Ice Cream promises familiar snacks for '90s kids—namely sugary cereal like Cinnamon Toast Crunch and Reese's Puffs—but there's plenty for ice cream fans of all generations.
Try one of its sandwiches made of macarons, brownies, or what they call "yum-ee buns"—hot, glazed doughnuts with a scoop of ice cream in the middle. The University City shop recently launched a food truck, too. Follow its social media pages to find the truck's location for the day. 9009 J. M. Keynes Dr., Ste. 4; 704-547-1856.
---
Ice Cream Panini
The Local Scoop
"It's a little gooey," Ralph Parkman says as he hands me a panini with a scoop of salted caramel ice cream in the middle, "but it's awesome."
With his wife, Janel, Parkman owns The Local Scoop, an ice cream shop in Promenade on Providence in Ballantyne. The parlor has garnered attention for its use of North Carolina-sourced ingredients (cream from Jackson Dairy in Dunn, for example) and for its name-of-the-day giveaways. Every day, the shop gives a free scoop to customers with certain names—for example, customers named Ava and Andrew on Monday, customers named Billy and Brianna on Tuesday, and so on.
The shop is also known for its ice cream panini. Parkman slices a Hawaiian roll in half, fills it with ice cream, and toasts the sandwich on a panini press. Then he adds whipped cream, chocolate or caramel sauce, and a topping of your choice. "Gooey" is an understatement … but it's awesome. 5355 Ballantyne Commons Pkwy., Ste. 100; 704-443-7812.
---
Mexican Ice Cream
Cocos Locos
Walls painted in bright pink, purple, and lime green give this strip mall heladería a tropical vibe—and the ice cream offerings don't hurt. Located on the edge of the Hidden Valley neighborhood, Cocos Locos has a menu of traditional Mexican desserts, including piña loca, a pineapple stuffed with your choice of toppings (fresh fruit, coconut, chili powder, lime juice, and a sweet-and-spicy chili sauce called chamoy); bionico, a fruit cocktail with sweet cream; and paleta, a popsicle.
Be sure to try Cocos Locos' unique ice cream flavors, too, like tequila, nuez (vanilla ice cream with pecans), and limón (lemon). The shop's menu is in Spanish, but pictures of the dessert items on the wall will help guide you in the right direction. 4801 N. Tryon St., 980-318-0310.
---
Rolled Ice Cream
Nom Nom Hibachi Ice Cream
Every order at the Nom Nom kiosk in SouthPark Mall starts the same way. An employee pours cream over the frost top—basically a skillet, but the surface freezes the cream instead of cooking it. While the cream is still runny, it's topped with sauce and toppings like Oreos and hazelnuts.
To mix the ingredients and create the smooth consistency of ice cream, an employee grabs two spatula scrapers and whacks them on the cream, just like at a hibachi grill. The scrapers clang together and draw a crowd for the big reveal. Very slowly, an employee pushes the flattened ice cream up into rolls about the width of a ping pong ball. The result is fluffier than your traditional scoop of ice cream. 4400 Sharon Rd., 704-981-1197.
---
Unique Flavors
Golden Cow Creamery
At Golden Cow's South End location, a blackboard message asks guests to suggest new ice cream flavors. Ideas are scribbled in chalk: passion fruit, key lime pie, s'mores, blueberry cheesecake. Then the suggestions start getting weird: A1 steak sauce, shrimp taco, beer.
Owners and husband-and-wife team Alex and Liz Hannah aren't intimidated by unusual flavors. The small-batch ice cream shop opened in 2016 and quickly earned a reputation for its creativity. Six classic flavors are always available at both locations (Golden Cow also opened in SouthPark in 2018), plus at least three new flavors based on guests' suggestions.
In April, for North Carolina Craft Beer month, Golden Cow collaborated with local breweries to create a series of beer ice cream: Sycamore Brewing's Rainbow Dust IPA inspired a tropical ice cream with a hint of jalapeño. NoDa Brewing's Coco Loco, a chocolate coconut ice cream topped with toasted coconut. The beer flavor suggestion may have landed, but I'm still not too sure about shrimp taco ice cream. Various locations.