5Church Chef Jamie Lynch Arrested in Charleston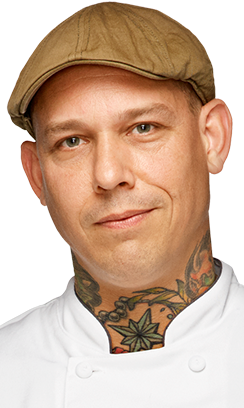 Executive Chef Jamie Lynch of the 5Church Restaurant Group, which has restaurants here in Charlotte, Charleston, and Atlanta, was arrested Wednesday night in Charleston for public intoxication.
The incident happened around 10:20 p.m., against the backdrop of Charleston Wine and Food Festival's opening festivities and on the night before this season's Top Chef finale. The Charleston Post & Courier reported the story first Friday morning, and Charleston's ABC affiliate reported it a few hours later. Lynch had been a contestant on the popular Bravo TV network show before volunteering to give up immunity he'd won in a previous challenge after a poor performance in the episode's main competition.
Lynch was not attending or participating in any events associated with the festival that night, and was instead out with friends at A.C. Bar and Grill on King Street. According to the Charleston Police Incident Report, Lynch was found by an officer on patrol "in front of a closed business swaying back and forth in an apparent intoxicated state."
The report further explains that Lynch had gotten into an argument with the bar's security staff after previously being escorted out for being too intoxicated. Lynch spent the night in Charleston County jail and has a court date scheduled for March 16. Lynch is scheduled to appear in Charlotte two days later with fellow Top Chef contestant Katsuji Tanabe, as part of a benefit at 5Church.
"I made a mistake and I'm sorry for it," Lynch said in a statement Friday.
Lynch, who is a partner in the restaurant group, was back in the kitchen cooking for a fundraising event on Thursday at the 5Church in Charleston to benefit the Medical University of South Carolina's new children's hospital. He is still scheduled to participate in a dinner for the Wine and Food festival on Saturday and participated in another Friday afternoon, a Top Chef-inspired Quickfire Challenge that reunited Lynch with other participants from the show.