A 2015 Guide to Symphony Etiquette
Lose the suit. The symphony's more welcoming than it's ever been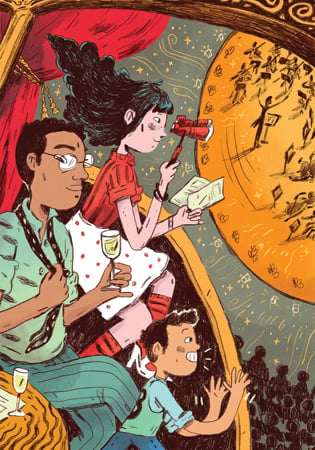 ATTENDING THE SYMPHONY was once a formal affair. Particularly in the 19th century, both the opera and the symphony enforced strict etiquette rules. Romantic composer Gustav Mahler demanded dimmed lights and allowed late seating only during intermission. Operatic legend Richard Wagner advised against applause outside of restricted times. Evening dress became the norm, with men in suits and ties and women in gowns and gaudy jewelry. If you clapped enthusiastically after a solo, you could expect to be shushed.
But things have changed in the past 30 years. Orchestras are more concerned about attracting audiences than chastising them. For the Charlotte Symphony Orchestra's Pops series, it's OK to cheer while a modern rock band plays with the orchestra. (Sometimes, you're even prompted to dance.) You can take a beer into a KnightSounds concert or a lunch into the symphony's Brown Bag Matinees. And although you may want to keep things more traditional for the Classics concerts, "hearty cheers" are welcome between pieces.
Still, the symphony's musical director, Christopher WarrenGreen, has a few pet peeves. He gets "very, very upset" when cell phones ring during performances.
He doesn't care what you wear, though. "Audiences still tend to be tied—as in wearing ties, not tied up," he says. "But for the music, there's nothing that grand. It was written for everybody, and it should be enjoyed by everybody."
---
THE NEW SYMPHONY RULES
Do
Applaud at the end of a piece for the symphony's Classics shows. Use your program to keep track of the movements, and wait until the entire piece has ended to express your appreciation. Everyone is still encouraged to clap when the concertmaster—that's the principal violinist, who plays the note to which the orchestra tunes its instruments—walks onstage. And, of course, your conductor should receive a proper ovation upon entering. But, hey, if you're at Super Diamond: The Neil Diamond Experience (a Pops show in October), how can you not cheer during "Sweet Caroline"?
Wear
​KnightSounds: Business attire is usually seen here. Khakis and button-downs or polo shirts for men; casual dresses or skirts for women.
Pops: This is where you'll see T-shirts and shorts the most, but for many, it depends on which act is featured with the symphony. When Ben Folds performed with the symphony last year, patrons broke out T-shirts and casual skirts and shorts. Pink Martini inspired tieless button-downs and cocktail dresses at the Belk Theater
Classics: You don't have to do the full suit or gown, but you'll still see much of that here.
Lollipops: Whatever your kids want to wear. And yes, that includes the princess dress.
Don't
To make sure your cell phone stays silent, turn it off before the show begins. Don't clap between movements of a classic piece. And if you are fighting a cold, don't spend the night rustling cough drop wrappers or blowing your nose loudly.
---
This article appears in the September 2015 issue of Charlotte Magazine
Did you like what you read here? Subscribe to Charlotte Magazine »
---