A Hospitality Love Story in Charlotte
Brian and Tiffany Lombard's tale merges food, hospitality—and learning to expect the unexpected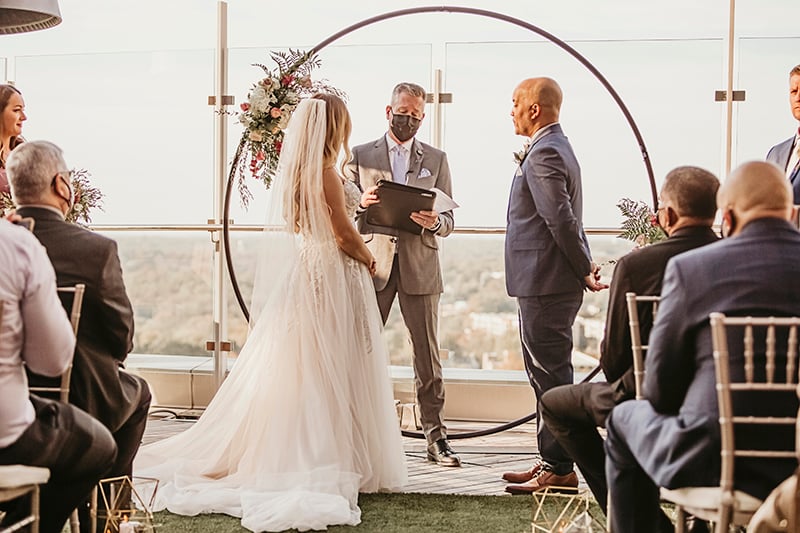 As executive chef at Foxcroft Wine Co. in Dilworth, Brian Lombard slings truffle fries, grilled octopus, and gourmet flatbreads five nights a week. Across town at Canopy by Hilton Charlotte in SouthPark, wife Tiffany oversees all day-to-day operations at the hotel. Before COVID, they hosted frequent dinner parties and drop-bys from friends at their SouthPark apartment. Hosting people, even when they haven't made plans and guests haven't made reservations, is what they do.
"Whatever beverage you need or love, we'll have because we took note the last time we hung out," Brian says. "If you're a gin or vodka person, we'll have that. It's in our nature to take care of folks."
The ability to adapt is mandatory when you work in hospitality, and it's shaped the Lombards' relationship, too. They met in 2014 at the Phelps Hotel in Cincinnati, where Brian, now 40, was a chef and Tiffany, 30, was food and beverage manager. "It was a rocky working relationship," Tiffany says with a laugh.
"We're both Scorpios, so it was clashing personalities," Brian adds. "But once we learned the way the other works, we got along a little better, then became good friends."
They zigzagged across the country for the next few years before they settled in Charlotte. Tiffany's career took her to Marriott and Hilton properties in Clearwater, Florida, and New York City while Brian accepted a chef position in Austin, Texas. But they kept in touch and visited when they could. In late 2018, Tiffany moved to Portland, Oregon, to open another Hilton property and offered Brian a role as chef consultant. "So I moved out there and thought, 'We'll see what happens,'" Brian says. "And we moved in together."
Six months later, Canopy by Hilton Charlotte offered Tiffany the general manager position, so they packed up and moved again. Brian worked in the kitchen at Hawkers Asian Street Food for a few months before he landed the executive chef position at Foxcroft Wine Co.
Their lives seemed somewhat settled, finally. In November 2019, they went to Puerto Rico to celebrate their birthdays—hers is the 20th, his the 22nd—and came home engaged. They planned a wedding for Nov. 21, 2020, at Playa del Carmen in Mexico and invited 100 guests. So much for plans: By June, it was clear they'd have to cancel.
They always knew they wanted kids and decided to try for a baby as long as their wedding was on hold. They assumed it would take a while. But in September, they learned Tiffany was pregnant. They wanted to be married before their baby was born, so they kept their original date of November 21, the day between their birthdays, and scaled it down to 24 guests.
Tiffany found a strapless white dress off the rack at Savvy Brides and through her connections in the industry booked Merchant & Trade for a rooftop ceremony. She found face masks on Etsy that read, "spread love, not germs," for each guest and hired Kacie Amann of Honey Belle Events to handle the rest. "I didn't want to be doing what I do for work on my wedding day," Tiffany says. "It was actually really nice having a small, intimate wedding where you really got to visit and talk to everyone."
To stay within the indoor mass gathering limit of 10 people that had taken effect just days before, they rented both of the hotel's ballrooms for the reception and arranged 6-foot spaces between the four-top tables. Guests enjoyed passed hors d'oeuvres and a steak dinner followed by a Celestial Cakery raspberry lemon wedding cake, which doubled as their gender reveal. The cake topper, which Brian found on Etsy, was a silhouette of a kneeling man kissing his wife's pregnant belly.
Their honeymoon remains on hold. But the Lombards are content coming home to each other at the end of a long workday, where there's usually a hot meal and good company waiting—some stability, finally, even though it's happened under strange circumstances. "If I'm working late, she'll call to ask if I'm hungry and whip something up—she's learned a few things over the years," Brian says. "She knows I'll cook anyway but makes me feel like, 'I got this, kick your feet up.'"
They're also preparing to welcome their newest guest, a girl, in May. They hope to move into a house this summer, where Tiffany can create a cozy yet sleek pink floral nursery. "That attention to detail you have in hospitality follows you into your own home," she says, "and just about everything else you do."