A Condensed (and Brutally Honest) History of Creative Loafing
The alternative-weekly paper tackled topics that no other local publication would. But on October 31, the Loaf's owner abruptly shut it down, after 31 years and 1,649 issues. Now its survivors are starting their own shelters from the mainstream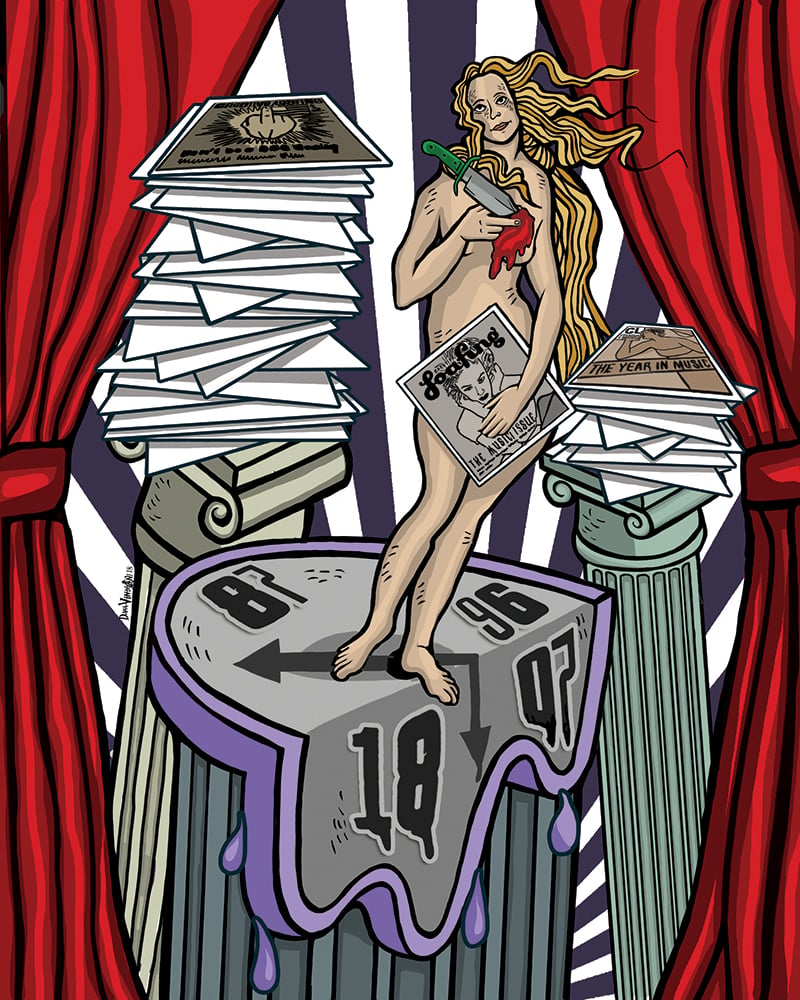 "NOW everyone put up your middle finger."
It's 4 p.m. on a warm Halloween at Solstice Tavern, a NoDa bar that, appropriately enough, is only a few days away from its own sudden death. A group of 10 or so gathers on the back patio, a collection of empty Pabst Blue Ribbon cans growing on the bar top. Just a few hours ago, most members of the crew lost their jobs at the city's only alt-weekly paper, Creative Loafing.
Ryan Pitkin, the paper's last editor-in-chief, totters around the patio, snapping photos with colleagues and friends who showed up to support, and to drink. Every few minutes, Pitkin's phone ka-chings like a register about to devour dollar bills. It's his Venmo account filling up with donations from concerned friends and sympathetic fellow journalists. One writes, "You'll do great things in the future, but tonight, just have a beer." Others consist of simply a beer emoji.
A few feet away, associate editor Courtney Mihocik vents about her recent move to Charlotte three months ago; at 23, she had relocated from Ohio to work at the paper and doesn't know where she'll go from here. Justin LaFrancois, an account executive, seethes as he recounts packing up his office. John Grooms, an original editor and longtime columnist, stops by and gives a speech of thanks as AC/DC's "You Shook Me All Night Long" blares through the cigarette (and e-cigarette) smoke. "It's been nice," he says, and salutes the team.
Four hours earlier, team members had finished their election issue after owner and publisher Charles Womack III told them to hit a strict noon deadline. Minutes later, staffers realized their Gmail accounts weren't working. At 12:05 p.m., Womack showed up unannounced. (He says it was closer to 12:45.)
Womack gathered them in the conference room and told them that, after 31 years of publication, they had just produced their last issue of Creative Loafing. They were fired. Womack gave members of the seven-person staff five minutes to clear out their belongings and leave. "No severance. No nothing," Pitkin tweeted a few minutes later.
A press release appeared—only to disappear hours later—on CL's Twitter page, announcing the sale of the paper to Womack's son, Alex, 28, and his plans to turn it into a digital-only publication.
Womack's release used the word "excited" four times. It made no mention of the seven individuals who had lost their jobs. "We should have waited on that," Womack admits to me during a phone call a couple of weeks later. "It is going to be exciting. I will throw the word out now … I hate that we put that in the release."
So, on the afternoon of their firing, the ex-Loafers assemble at Solstice to do what many do after a layoff: drink. Friends of the paper come to commiserate. At Pitkin's urging, the ex-staffers cluster, face the former editor's phone camera, and replace standard smiles with raised middle fingers.
The group shot—which I accidentally photo-bombed—signifies more than the team members' anger over losing their jobs; it represents the alt-weekly's decades-old attitude toward authority, toward the norm. It was a fuck-the-man approach. "'The shelter from the mainstream' was the motto," Pitkin tells me a few days after the print publication ended. "And I took that seriously every damn time."
Here, in the words of several of the Loaf's former staff members, is a condensed history of the dogged and unflinching publication, and a hint at what's to come for Charlotte's alternative news.
Volume 1 / April 1987
Deborah and Chick Easton quietly published the first Creative Loafing in 1972 out of their Atlanta home. P-s-s-t . . . A Guide to Creative Loafing in Atlanta was the paper's first name; after its trial run, the name was shortened and Creative Loafing, a free weekly publication, was born.
Fifteen years later, CL entered the Charlotte scene a little louder than a p-s-s-t. "HELLO CHARLOTTE!" sprawled across the first cover over an image of the 1987 skyline, much like a postcard. Each section of the first edition was punctuated with more exclamation points: MUSIC! CUISINE! THEATER!
It took time to build that level of excitement with readers. "It built steadily over the first year," says Grooms, who started as associate editor and became editor-in-chief in 1988; he stayed until 2005. He remembers thinking after that first issue, "My God, we're gonna have to do this every week?"
Volume 3 / January 1990
Every publication in town tried to get an exclusive interview with Tom Cruise when he was in town in 1990 filming Days of Thunder at the motor speedway in Concord. One publication got it. CL music editor Fred Mills snuck into the movie's wrap party as a guest of the band, The Belmont Playboys, and asked Cruise one question: "What did you think of the Playboys, Tom?"
"Man, they were rockin'!" Cruise replied.
Grooms remembers the response from the The Charlotte Observer when CL published the single quote. "They got mad as shit about that," he says. "We're at a disadvantage to the big dog for a lot of things, so anytime we could puncture them a little bit with a joke, we would take advantage."
Volume 9 / March 1996
Before 1996, the Charlotte Repertory Theatre had never produced a show as large as Angels in America, both in cost and attention. The Pulitzer Prize-winning epic, which portrayed gay life amid the AIDS epidemic in the '80s, sparked a national conversation on public arts funding when religious leaders and a majority of Mecklenburg County commissioners took issue with the play, in particular a scene with nudity. Commissioners voted to cut more than $2 million from the budget of the Arts & Science Council, the Rep's source of funding.
On the CL cover from March 16, 1996, a chiseled angel floats in front of the stars and stripes, her arms extended and upturned. Perry Tannenbaum's exclusive interview with Tony Kushner, Angels in America's playwright, was inside. So much of CL coverage surrounded the arts that Grooms knew this was their story to tell. "We knew everybody in that community," he says.
In the 1998 election, four of the five commissioners who had pulled funding from the ASC were voted out, and the succeeding board restored ASC funding.
Volume 21 / March 2007
When Carlton Hargro moved to Atlanta in 1994, he found a paper that covered communities in a way he had never seen before. "That was the peak of Creative Loafing," he says. When a position opened up in 2004, he applied and got the job. "It was a dream to work for them."
Two years later, when CL in Charlotte was looking for a new editor-in-chief, it plucked Hargro from its sister paper in Georgia. "It was a pretty white publication, covering mostly white events," says Hargro, who is African-American. "I made it my business (to bring) a lot of voices from people of different races."
Nsenga Burton's first column in a series titled "The N Word" ran in July 2007. She criticized then-Mayor Pat McCrory's letter to the city manager in which he derided young African-Americans for "gangster type of dress, attitude, behavior, and action." His comments came after police arrested 143 people, 122 of them black, during the July 4 celebrations uptown. Burton's column continued to tackle complex discussions about race in the city until she signed off in 2011, the same year Hargro stepped down as EIC.
Hargro's tenure at CL was rocky. The paper went through several owners during that five-year stretch after Ben Eason, the founders' son and current CEO of CL in Atlanta, filed for bankruptcy in 2008, just as the recession hit. Free advertising platforms such as Craigslist and Facebook began taking enormous bites out of the paper's advertising base. Kim Lawson, who worked with Hargro and later served as EIC, remembers, "We had to rally together and figure out how to make the same product with basically no money."
Volume 30 / January 2017
"This," Pitkin remembers Mark Kemp saying as he held a copy of CL's music issue from 2016, with its cover shot of a glaring Gwen Stefani with her head in her hands. "This is what's gonna stop today."
Pitkin tells me about the moment when the paper refocused its arts coverage to be more hyper-local. We're sitting on the back patio at the NoDa Company Store in November, and he starts to clap. "I was just like, 'Yes.'"
Kemp served as EIC of the Loaf on and off from 2005 to 2018—he kept leaving and coming back for assorted professional reasons—and this was how he kicked off his third stint as boss. When the team members started working on the music issue for 2017, they chose to put LeAnna Eden, an African-American musician living in Charlotte, on the cover. "This is why local coverage is so important," Kemp says. "You elevate those people who are super-talented to the cover based on the quality of their work, what kind of work they do, and their stories."
Volume 32 / July 2018
Not everyone grasped the meaning of the 2018 Fourth of July issue. Was the middle finger in front of an American flag? Was the cover anti-patriotic? "It was actually an American flag waving from a flagpole," Pitkin says. "The racism and vitriol and anti-Semitism. That's not what America's about." It was less about what the middle finger stood for and more about what it stood against.
Inside the paper, Pitkin wrote about proper Fourth of July etiquette. "Do not call the police on black people simply for existing," he wrote, referencing a woman who called the police on a group of African-Americans barbecuing in a park in Oakland, California. "You do NOT want to be the next Barbecue Becky."
The piece was a call for activism—"don't leave out immigrants … don't forget to kneel." The cover image garnered hate from those who thought it was a diss on the American flag, but the debate fit the CL mission and voice, the voice that rasped and shouted and taunted the mainstream for over 31 years. And Pitkin is proud of that.
Volume 1 / December 2018
After the last issue was printed on November 1, Pitkin and other ex-Loafers continued to gather as friends, hoping to work together again. They had a good thing going, he reasoned. Why not keep it alive?
Musicians CL had supported in the past rallied around Pitkin, LaFrancois, Aaron Stamey, and other ex-Loafers. They planned a benefit festival in NoDa, not just to help ex-staffers pay bills, but to raise seed money for a new alternative paper: Queen City Nerve.
By the time you read this, Queen City Nerve will have printed its first issue on December 5. While the team is starting at Volume One again, it's gained the support of ex-Loafers and other alternative journalists, and at least one successful model to emulate: Triad City Beat. Brian Clarey, a former editor at Womack-owned Greensboro paper YES! Weekly, launched TCB in the same town after Womack laid him off five years ago. Clarey has passed some of his lessons to the ex-Loafers. John Grooms has never faded from the CL family; he still grabs drinks with them at local dives. Mark Kemp showed up to the benefit in November, supporting his old colleagues and their venture. Many former editors are rooting for them from afar.
Pitkin reminds me that the middle finger on the July cover was intended to do more than just piss folks off. "That middle finger was also to stand up for what America should be about," he says. An alt-weekly like CL wasn't just an unruly teen rebelling against the norm, although it happily was that, too. "My mission," he says, "is to give a voice to people who have been ignored in mainstream news."
The same electricity keeps Loafers swinging away at the commonplace, even in a new era with no Loaf. When Creative Loafing stopped printing, Pitkin and the others could have shrugged and walked away. Instead, they found the nerve to stand up, face their silencers, and flip 'em off.
---
What is an alt-weekly?
In the words of ex-Loafers
Definition: a free alternative, progressive newspaper printed every week. The Village Voice (1955-2018) is considered the first alt-weekly.
"We tried to look for stories that other media wasn't covering … I think the role (of alt-weeklies) can be similar to what it's always been. An alternative voice in the community."
– Ann Wicker, managing editor, 1989-2003
"Now, it means something completely different from what it meant in the early days of alternative journalism. It provided a voice for people who did not have a voice … In the 2000s, new media started coming in … Are alt-weeklies going to survive? It doesn't look good."
– Mark Kemp, EIC, 2005-2006, 2011-2013, 2016-2018
"Honesty. Being frank and very candid. That's what I always liked about it. It's sometimes brash, sometimes offensive, sometimes mean. It's brutally honest."
– Carlton Hargro, EIC, 2006-2011
"The people who work at alt-weeklies, they aren't in it for the money. They aren't in it to get anywhere besides telling great stories and shedding light on places that don't typically get a lot of attention."
– Kim Lawson, EIC, 2013-2015
"I think an alt-weekly's job is to not only cover the news, but also cover the cultural side of a city in some of the ways the mainstream outlets don't."
– Ryan Pitkin, EIC, 2018