A Davidson College Prank Lives Forever on Campus
Remember Bill Edwards? The wild adventures of a long-lost Davidson classmate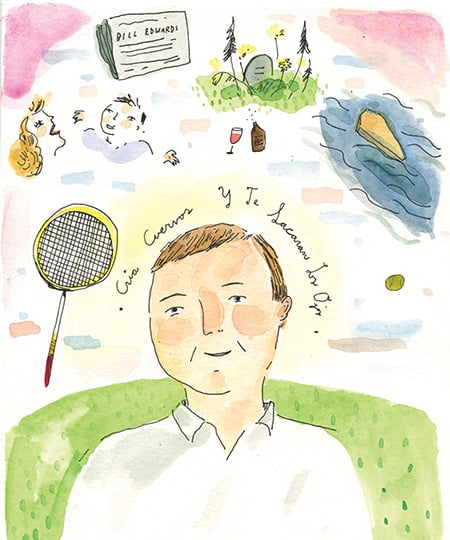 IF YOU KNOW WHERE to look, you can find a grave on Davidson College's grounds. Campus maps don't reveal its location, but here's a tip: Go to Hobart Park, a quiet enclave tucked into trees near the stadium. Look across from the stone fireplace and near the picnic tables. You may have to hunt a bit under trees and clear away leaves, but you'll find it: the tombstone of William Davidson Edwards.
It's a lovely spot for an afternoon of rest, but an unlikely choice for an eternity of it. Then again, everything about Bill Edwards was unexpected.
Davidson College Bulletin, the alumni magazine, reveals Bill's story, update by update, in the class notes. He was a Davidson grad, class of 1953. He became a real estate investor, married a Playboy bunny, sailed the world, and died under mysterious circumstances in China. Something about the drug trade.
Adding to the mystery is this: Bill Edwards isn't buried here. Bill Edwards isn't even dead.
Bill Edwards, after all, never lived.
You can blame Mike Myers for this. Mike was a '53 alum (a real one) with a literary bent. At Davidson, Mike was an English major, the editor of three publications, and a member of the literary society. After graduation, he offered to collect classmates' updates for the Bulletin. They failed to impress Mike, however. Another marriage. Another promotion. Another baby. Typical. Uninspired. Boring. So in October 1963, Mike snuck in an update about a classmate who never existed.
"Remember Bill Edwards?" Mike wrote in that fall's Bulletin. "He writes he's still a bachelor, has just put his savings into a 'valueless chunk of land near the Metuchen, N. J. airport with no roads within three miles.' No reason; he's just always wanted to own some land and this area was 'so noisy it was cheap.'"
Bill Edwards was born.
For 10 years, Mike … er, Bill … entertained classmates with antics in the class notes. Bill had triplets with that Playboy bunny, and even joined the women's liberation movement with her, leading them to "burn bras and carry clever sloganed signs." Bill was elected as a leader in the New Democratic Party in Belgrade, Yugoslavia, in 1969, and then moved to Singapore three years later to research a "zero gravity re-entry platform."
Classmates began to believe in Bill Edwards. At reunions, Mike told old Bill stories, starting with "Remember Bill Edwards?" and reminding peers of the guy who sat behind them in English or some other class. Soon people were saying, "Oh, yeah, I remember Bill Edwards!"
It's not uncommon for stories to improve with time. Stories shared amongst old college friends tend to grow more exciting with each telling. The parties become a little crazier, the escapades more daring. Yet Mike pulled off something special: inserting someone into memories who was never even there.
But Bill's so-called life met tragedy. In 1973, the magazine delivered the news: Bill was dead. The circumstances were uncertain, but linked to a Chinese drug trade investigation.
Bill had the consideration to die shortly before his 20th reunion, providing his class with a fund-raising cause. His peers honored their fallen schoolmate with donations toward the new E. H. Little Library—many still believing that Bill was real—setting a record for a single class contribution to Davidson: $20,000.
Davidson held a ceremony for Bill during the reunion, with many in the audience still remembering Bill Edwards. Mike raised a champagne toast for their dearly departed friend and a music ensemble performed Rock of Ages. Mike unveiled the William Davidson Edwards Commemorative Bookdrop, engraved for its namesake, who encouraged such generosity toward the library.
Dr. Chalmers Davidson, the library's director, who was in on the joke, eulogized Bill during the ceremony. "I do remember Bill Edwards quite well. … He sat right next to Mike Myers by the window, and sometimes you couldn't tell them apart. … Sometimes, when I would slip up on Bill Edwards, I'd find him, and you could tell he was probably thinking more about those triplets he was going to spawn than the books that were in the stacks."
During the ceremony, Mike revealed the prank.
"That's when the cat got out of the bag," says Caroline Myers, Mike's wife, who remembers that classmates took the news in good fun. "But then (the college) said, 'We can't have a book-drop for someone who wasn't a real person.' … Mike said, 'Well, we'll take the money back, then.'"
That's when Davidson remembered Bill Edwards. The college agreed to keep the engraved book-drop on the wall by the library doors. It's still there.
Bill became too beloved to rest in peace. When his classmates returned for their 25th reunion, they held his funeral. They met at Davidson's soda shop, where more than a little drinking took place. A hearse arrived and led a procession of wobbly cars to a burial at sea … er, Lake Norman. In the back of the hearse was a casket, flowers, two costumed Navy sailors, and a woman playing the role of grieving widow. People along the route removed their hats and bowed their heads in respect. At the lake, the sailors pushed the plywood casket into the water, but physics interrupted the grieving. The casket floated. Poor Bill Edwards bobbed atop the water, refusing to disappear and creating a metaphor so obvious that it pains this writer to resist it. According to class lore, classmates responded by filling his casket with gunshots until Bill sunk to his watery grave.
In 1988, they honored Bill Edwards with a stained glass window in a sacred space on campus, the Lula Bell Houston Laundry Building. Laundry is a big deal at Davidson; until 2015, students had laundry services included with tuition. And for 27 years, this laundry was done beneath a stained glass window honoring Bill Edwards. To raise money for the window, Mike sold commemorative porcelain plates with pricing befitting an English major: one for $3 or two for $8. The plate and the window feature the Spanish phrase Cria Cuervos Y Te Sacaran Los Ojos.
Translation: If you raise crows, they'll peck your eyes out.
In the center of the plate and window is a picture of Bill, a handsome prepster wielding a tennis racket and confident grin. But if Bill didn't exist, who's that guy?
"That's where I come in. I'm Bill Edwards. That was my picture," says John Speer. John became close friends with Mike after college, and somehow Mike found an old picture of his friend and noticed a resemblance to Bill. John now lives in West Virginia and still laughs when telling the story about becoming Bill Edwards. "I wasn't in on the joke. Years later, I was at his (Mike's) house and he asked his wife, 'Do you think we ought to tell John about this now?'"
The tributes continued. Kind of. In 1994, the class of '53 announced the William Davidson Edwards Fencing Scholarship.
The scholarship—endowed to honor a freshman who "achieved mediocrity at an early age"—never materialized. Davidson had no varsity fencing program.
Despite its rocky start with their star non-alum, Davidson honored Bill Edwards in 2006. President Robert Vagt had a diploma made with Bill's name on it, and he led an academic procession over to the library to the site of the book-drop. The procession was held with due solemnity: In lieu of a scepter, Vagt made the march holding a plunger.
Perhaps such a prank could happen only at Davidson. The honor code here is sacred; students finish tests in their dorms and take un-proctored final exams. It's just the kind of trust that would allow a fake man, a Playboy bunny, and a drug ring to sneak into the alumni notes of one of the country's most prestigious schools. But a letter from the publications committee in 1984 hints at impatience with Mike's literary contributions to the magazine. It reminded Mike that, "Factual news of classmates and class events is the only appropriate content," and wished he would "enthusiastically support the current policy."
But surely the writer knew whom he or she was up against.
Although lacking in Chinese drug investigations, Mike's life was nearly as full as Bill's. After graduation, Mike served as a lieutenant in the Navy, sailing to the Mediterranean and Caribbean. He returned to Charlotte, got married, and had four children. He ran Central Piedmont Community College's continuing education program and was active in cultural and service groups, such as Friendship Trays, Alexander Children's Center, Mensa, and the Levine Museum of the New South. Davidson College's biggest prankster remained one of its biggest fans. On Davidson game days, he'd rent an old school bus, neighborhood kids would pile in, and he'd drive them up I-77 to cheer on his alma mater.
Mike died in 2006 at age 75. The many accomplishments listed in his obituary include "one of the most infamous pranks in college history."
Davidson has many famous sons. Steph Curry. Anthony Foxx. Dean Rusk. Yet the only one who has a porcelain plate, stained glass window, and campus grave is one who never walked here. When you read the final line on that grave in Hobart Park, you feel Mike winking back at you over what he pulled off: "With Hubris — Class of 1953."