A Food Tour of Waxhaw, N.C.
The dining scene here just might be the tipping point to something big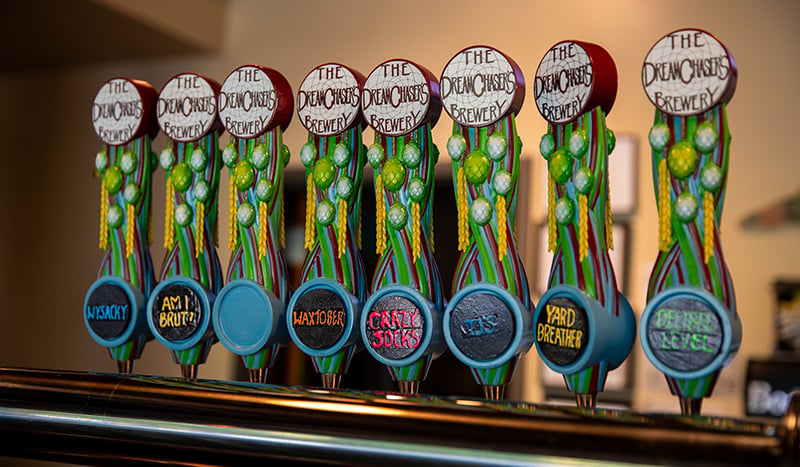 TEENAGERS SQUEEZE TOGETHER on benches eating sundaes from Waxhaw Creamery. Two doors down, friends meet for drinks at Dreamchaser's Brewery. Across Main Street and over the railroad tracks, families wait for a table at Maxwell's Tavern, and just a few blocks south, inside Emmet's Social Table, every table and barstool is taken. Welcome to Waxhaw.
This scene, on a Wednesday evening in June, is far from what the sleepy town looked like 12 years ago when I moved to Union County. A decade ago, you could drive through Main Street and, if you weren't careful, miss it. Other than a bike depot, antique store, coffee shop, tack exchange, and a restaurant or two, there wasn't much more to the historic town. But now, with the emergence of new restaurants, a local specialty food market, brewery, wine shop and tasting room, a creamery, and more, Waxhaw is reinventing itself as a dining destination.
From 2000 to 2010, the population within a five-mile radius of downtown Waxhaw increased a staggering 124 percent. (That growth is expected to go up another 21 percent by 2022.) As more people moved in, the demand for restaurants and retail locations grew, and the city took note. "Six years ago, the planning was put into motion for the things you see now," explains Curt White, downtown development manager for the town.
Patrick Garrivier, co-owner of Aix en Provence in Myers Park, saw an opportunity to expand. "People living here are tired of traveling all the way uptown for a good meal," he explains, "so we are bringing a great restaurant to them." Garrivier opened Le Cochon d'Or in early 2018, taking over the former Heritage restaurant space on South Main Street. Its intimate dining room is romantic, and the menu includes dishes such as Boudin Blanc and fried East Coast oysters.
Just a few blocks away on South Main Street, a historic cotton mill with oversized windows and exposed wood beams has been transformed into the town's hottest restaurant. Dan Giroux and his partner opened Emmet's Social Table in the 19th century mill, featuring Southern-inspired small plates. Dollops of cheddar cheese grits are paired with tender sautéed blackened shrimp in one dish, while another features sweet bourbon-glazed pork belly topped with grilled mango and jalapeño slices.
The growth has been something residents have craved for years, and it's also the draw for many newcomers. "It's created a food and beverage destination that rivals many of Charlotte's coolest neighborhoods while preserving the small-town charm and history of Waxhaw," says Scott Sawicki, a Cleveland transplant who moved to Waxhaw with his family in 2016.
The town's walkability and historic appeal, coupled with new and old popular spots, has added to the charm of this one-time sleepy town. Along the two prominent main streets, which run parallel to the iconic railroad tracks, is where most of the restaurants and bars are. Most of the eateries are housed in historic buildings, many of which boast their original redbrick facades and 19th century architectural details. The wooden pedestrian bridge connects the two streets, making it easy to get from one side to the other.
For White, it's no surprise that Waxhaw has developed like it has with dining. "It's been the perfect storm," he says of all factors lining up to make Waxhaw an area destination. "We planned for this, and now it's come to fruition. And it's only about to get better."