A Great Starting Point
In Davidson, a couple and their designer use neutral tones and personal mementos to create a comfortable space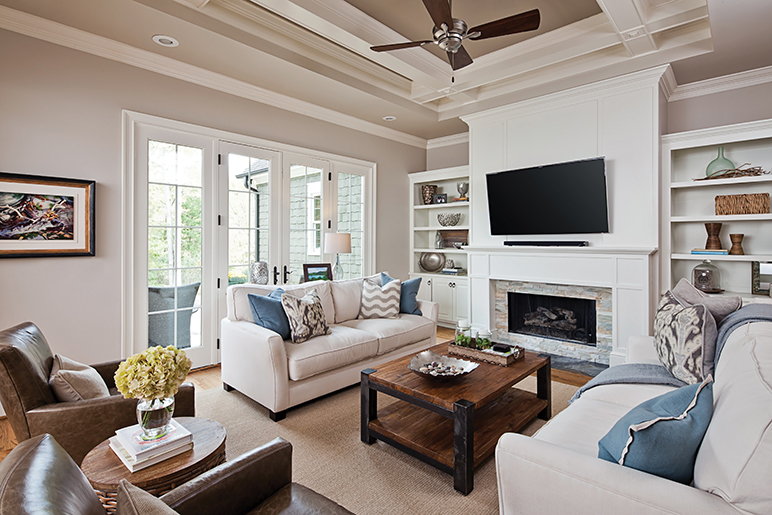 The design problem with Amy and Scott Gollinger's house started in the great room. The sofa was uncomfortable, and the room was dark. Instead of watching TV there, Scott often went upstairs to his man cave. Amy didn't blame him. She wasn't crazy about the great room either.
Amy, a doctor at CMC-NorthEast, and Scott, an administrator there, moved into the cottage-style home in Davidson in 2010. Their issues with the great room extended into the remainder of the first floor. There wasn't anything wrong with any of it, exactly. It was just too boring, too stuffy, too traditional, and perhaps worst of all, not welcoming enough. They love to entertain, but if the hosts didn't like sitting in their own great room, how could they expect anybody else to enjoy it?
They decided their four-bedroom house needed an overhaul and hired Ally Whalen of Ally Whalen Design-Simplicity Interiors in Cornelius to steer them through it. Whalen focuses on her clients' personal tastes to create homes that are both stylish and livable. For the Gollingers' redesign, that meant making the home comfortable and inviting while reflecting a love of the outdoors and an active lifestyle. Whalen's goal was to establish a transitional feel with an eclectic mix of styles and textures.
Sometimes Whalen redecorates a home and never sees the clients. But she and the Gollingers got to know each other well. Listening to the three of them now—after they've worked together for more than eight months—they sound like old friends.
Everything started with the fireplace in the great room and radiated from there. They worked with Cabinets Plus to surround the fireplace with stacked stone. They replaced dark, wooden shelves with white shelves with glass inserts. Where there was once a mirror above the fireplace, now there's a TV. It's a change Amy is surprised she likes, even when Scott's beloved Green Bay Packers are on the display. Comfortable white sofas from Whalen's furniture line, Ally Whalen Simplicity, run parallel to each other and perpendicular to the fireplace. A weathered two-tiered coffee table by Classic Home sits between them.
Whalen suggested removing all the blinds on the sides and back of the house. The unobstructed windows now fill the great room and adjoining kitchen and breakfast nook with soft light, which is pleasant particularly in the mornings. Whalen picked out neutrals, such as Sherwin Williams Accessible Beige and Tony Taupe, for colors. Toning down the paint had a striking effect.
"When I first came and saw the paint done, I was like, 'Ahh, oh my gosh,'" Whalen says. "It's beautiful. I see paint done all the time, but it was such a huge transformation."
The new colors bring out details the old ones hid. "Just the contoured ceiling alone," Whalen says, "before, you didn't even know that was up there."
The transitional feel created in the great room spills into the dining room. Getting the dining room exactly right was important to Amy. She asked Whalen to create a place where people will enjoy being, not just a place to eat and then leave as soon as the meal is finished.
"I wanted something where I could imagine having people over for dinner, just sitting here and talking, drinking wine, playing games for several hours after dinner, not having to move because the chairs weren't comfortable," Amy says.
To create such a dining room, they chose a rectangular gray table from Vanguard Furniture to replace a round, dark, wooden one. They surrounded it with six white Vanguard chairs. Two more white chairs stand against the wall, sandwiching a glass cabinet full of Amy's china. The small, subtle piece replaces a massive china cabinet. A Currey & Company chandelier made of antlers hangs above the table. It was one of the first items Whalen chose for the home.
"When I saw that, I thought of you guys," she tells the Gollingers on a tour of the home. "You love the outdoors, and you're very active people. It's rustic, but it has a shimmer and a glamor to it."
Once they made the broad decisions about the great room, dining room, kitchen, and breakfast nook, Whalen and the Gollingers turned to the details.
The revamp required Amy to change her decorating philosophy. She once filled her shelves with decorative accessories and collectibles. Now she embraces an edited style, similar to how Scott approaches a space.
"This was a good push to try to organize and 'declutter,' get rid of a lot of accessories, things I had been moving from place to place but hadn't used in ages," Amy says.
The items that remain are significant. For example, Amy used to store her cookbook collection on a bookshelf in the breakfast nook. She ditched the bookshelf and many of the cookbooks. But she kept her favorites, and Whalen stacked and spaced a few of them on the shelves in the great room.
They look great, and Amy pulls one down from time to time to find a recipe.
A greeting card, made of bark and filled with beautiful calligraphy, sits on a shelf by the fireplace. A friend in Tennessee made it for Amy. "It's one of the most special gifts I've ever received, so I always try to take good care of it," she says.
The office sits to the right of the front door, across from the dining room. Scott loves music, and he spends a lot of time in the office listening to his collection—which is so vast that if he wanted to listen to all if it and started now he'd still be listening at this time next year.
When he and Amy moved in, they put in a desk that was too big for the space. The new Hekman desk fits, but it's too small for his speakers. The speakers now sit atop a separate console.
That small change gives Scott a new way to enjoy the records he has been collecting since he was 12. He pulls out several sets of headphones from his desk drawer and looks up with a grin. "It was an excuse for me to buy more audio equipment and change the way I listen to music," he says.
Because the office is primarily Scott's space, Whalen gave him a homework assignment: Decide what should hang on its walls, for which she selected Sherwin Williams Intellectual Gray. He wants to buy a print of a painting by a musician and ticks off names he has considered—Joni Mitchell, Bob Dylan, David Bowie, Paul McCartney, John Lennon. So far, he hasn't found what he wants in his price range. If he never does, he'll choose a picture of his native Michigan, taking something from his old home to make his new home complete.