A Grill for Any Occasion
Whether you're tailgating or hosting a block party, there's a grill for that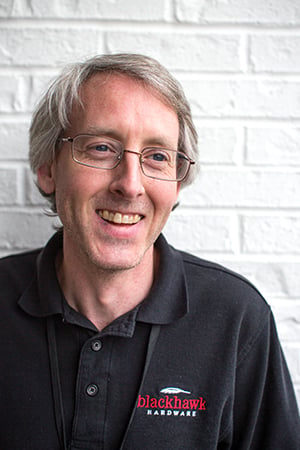 Chris Snodgrass is the proud owner of a small grill, an 18-inch kettle, the kind you buy before you have a big yard or a large family to feed. "I don't have a ton of space, so the 18-inch is perfect for me," he says. But he dreams of buying a Big Green Egg. It's a top-of-the-line cooker, shaped as the name suggests, large enough for a 20-pound turkey or seven racks of ribs. You can smoke pork shoulder on it or use it as an outdoor oven. When Snodgrass talks about the Big Green Egg, he starts to smile.
He sells a lot of Eggs in his job as one of four grill experts at Blackhawk Hardware in Park Road Shopping Center, but he knows not everyone is ready to spend a thousand dollars for a cookout. Here are three options to consider, whether you only grill wings on game day or aim to be a backyard chef.
For the Tailgater
Weber One-Touch Silver
18.5-Inch, $79.99
Even if you've never touched a grill, you can handle this charcoal kettle. Ideal for porch cookouts, tailgating, and camping, Snodgrass says the high-quality steel and heavy coated enamel are designed to last.
Photo courtesy of Weber
For the Backyard Burger Master
Weber Spirit E-310 LP
Black, $499.99
Snodgrass calls this an "entry-level" gas grill. It has three stainless steel burners and doesn't overwhelm you with gadgets. The 310 model comes with "Flavorizer" bars that imitate a smoker by capturing the juices that fall through the grill and converting them to smoke.
Photo courtesy of Weber
For the Block-Party Host
Big Green Egg, Size Large
(with Rolling Nest), $999.99
Snodgrass's dream grill is solid ceramic and can be used to grill burgers or hot dogs; as an oven; or as a low-heat, indirect, full-day smoker. It's fueled by "natural lump" charcoal, which burns much longer than the charcoal briquettes that would be used for a Weber Kettle.
"I have seen Eggs that are closing in on 25 years old, so they're built for a lifetime," Snodgrass says. "This will probably be the last grill of this style you would ever buy."
Photo courtesy of Big Green Egg
***
Four More Places to Buy a Grill
Charlotte Grill Company
327-G W. Tremont Ave.
704-332-8447
charlottegrillco.com
The Fire House Casual
Living Store
6620 West W.T. Harris Blvd.
704-598-8787
10216 Johnston Rd.
704-541-7900
patiosusa.com
Oasis Pools Plus Outdoor Living Showplace
11729 Carolina Place Pkwy.,
Pineville
704-542-5300
oasispoolsplus.com
Today's Outdoor Living
Blakeney Crossing Shopping Center
9815 Rea Rd., Ste. D
704-847-1133
todaysoutdoorliving.com