A Guide to #DesignGoals Dining in Charlotte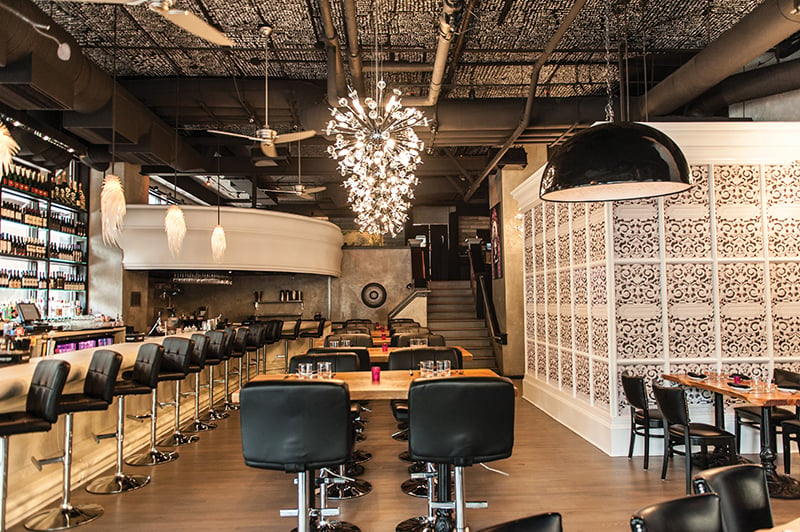 DINERS TODAY aren't concerned only with food. Instagram-snapping foodies flock to restaurants for their artful culinary creations and unbeatable atmospheres. These Charlotte restaurants have us looking up from our plates for inspiration, and they deserve to be trending under #DesignGoals.
5Church
With various funky light fixtures (some are feathered masterpieces) and the entirety of Sun Tzu's The Art of War hand-painted on the ceiling, it'd be a shame to look down in this uptown haunt. Designed by one of 5Church's partners, cofounder Mills Howell, and local design firm Reaching Quiet Design with Eric Boyd, this swanky space begs for endless interior snaps amid its cozy leather booths and chic black seating.
---
Sophia's Lounge
Next door to 5Church, inside The Ivey's Hotel, Sophia's Lounge exudes opulence with vintage touches, thanks to its luxe velvet couches, historical artwork, and glimmering chandeliers. Fashionably moody and fit for Queen Sophia Charlotte (it's named after her), this cocktail-sipping spot has a giant painting of King George lll that practically commands selfies.
---
Suffolk Punch
This South End café, coffee bar, fermentation lab, and taphouse looks as though it was created from the visions of an urban trendsetter's dreams—just peek at the live plants hanging from the ceiling and trailing behind the bar. Hip, industrial booths and exposed brick walls anchor the space, while natural light oozes through the windows.
---
Kindred
Step through this Davidson favorite's teal doors on Main Street, and expect the stylish charm to continue in what used to be the town's pharmacy. Brimming with brightness, the airy atmosphere features simple, rustic décor implemented by co-owner Katy Kindred. Though the structure was built in 1914, trendy touches such as exposed brick walls and air ducts, a marble-topped bar with a piece of the pharmacy built in, and greenery galore provide plenty of eye candy. The bar's tufted brown leather chairs and vintage mirrors call for extra attention.