A Lakefront Party House
It's no wonder guests linger at this modern oasis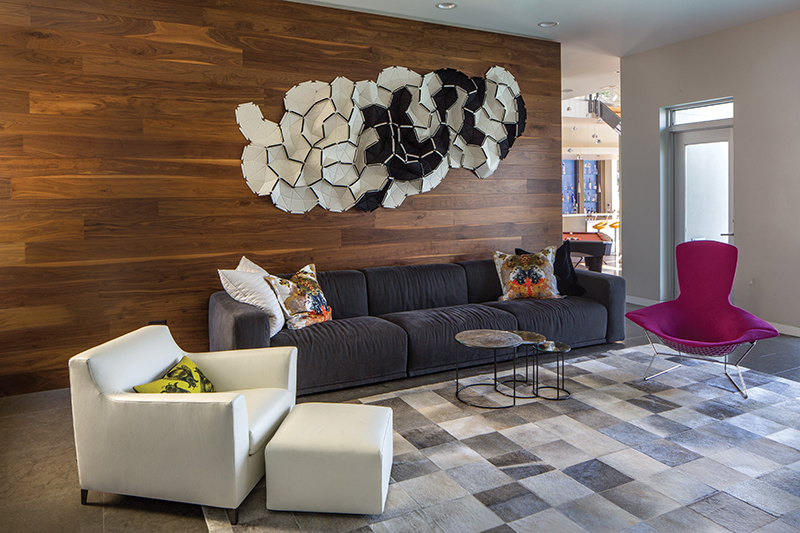 BOB VAUGHAN was zipping across Lake Norman on his WaveRunner when he first noticed a small plot of land with a private beach and a trailer plopped in the middle. He wasted no time and called his realtor right then. More than ten years later, Vaughan's plot of land along one of the lake's many alcoves is now home to a sprawling modern lake house mansion that's half Gatsby-like party pad, half family house, and completely right for him.
At three stories and built almost entirely out of concrete, it's a hard building to miss. As guests walk in, a cobalt blue door swings open, exposing a hallway flooded with light and lined with contemporary art and Vaughan, with a beaming smile smattered across his face. He is a dentist after all.
By day, Vaughan runs his own practice, Birkdale DDS, just a mile from his home. By night, he's a dad of two and an occasional party host. His home reflects this balance with spaces designed for the kids, such as the loft areas connected to their respective bedroom, and spaces with adults in mind, such as Vaughan's fully stocked bar.
"Depending on where you're standing, you can see the lake from every window in the house," Vaughan says, pointing out the wall-sized windows in his living room. He wanted his home to be an extension of the lake, a home with no shortage of natural light and great views.
Counter to the massive windows overlooking the lake, Vaughan designed a cozy and contemporary living room complete with bright pink Poliform chairs that resemble the shape of lips, a cowhide patch rug, and three-dimensional felt wall art from Ligne Roset in classic black and white that he designed himself. The main act, though, is a glass crystal fireplace built out of custom concrete and a slate tile.
Next to the living room is Vaughan's dining room. It's raised on a concrete stage and surrounded by modern art, including a gold diamond dust print from Shepard Fairey at the foot of the table.
With the help of Paige Brice from PB Interior Design, Vaughan picked out Italian dining room furniture that offers clean lines and classic colors. A deep brown dining room table and six upholstered grey chairs contrast with two hot pink stools that match the pink living room chairs.
Vaughan loves color and funky shapes, and he jokes, "It's just the hippie in me." Above the table are three metallic lighting fixtures from Modern Lighting Design of Dilworth that reflect this. Hanging at varying heights, the fixtures emphasize the room's tall ceilings and open feel.
Walking through Vaughan's house, it's clear he loves to entertain. He installed speakers in every room with touch-screen remotes on the walls so that you're never without a good tune—yes, even in the bathrooms.
The bar is built out of concrete with a deep blue acrylic backsplash. Glass shelves hold dozens of drink options for guests. Out the window, there's a pool, a private beach, a dock with a speed boat, and, of course, his WaveRunners. At night though, the pad really comes to life, he says, with ever-changing colorful pool lights.
But it's not all about parties at the Vaughan household. Upstairs, he designed a space for his son and daughter equipped with a loft playroom that's accessible by ladder plus a separate playroom just down the hall. Outside, there's a full playground and swing set.
Vaughan is constantly surrounded by people—his clients, his kids, and friends, so in this home, it was important for him to create a space for just himself.
"This," Vaughan points to a textured onyx tub resting underneath a stream of water coming from the ceiling of his master bathroom. "This is what inspired it all."
The Stone Forest soaking tub weighs approximately 700 pounds, poised like a royal throne underneath a huge window. This carved-out solid slab of granite is what inspired the whole vibe of the house, he says. It's contemporary, yet earthy and comfortable. Most of all, and staying in character with the rest of his house, it's not your average tub.
On the other side of Vaughan's master bath is a waterfall shower that has a lot of personality. Water pours from the ceiling glowing like a rainbow and trickles onto the floor as upbeat music blares. Forget the full bar or the huge pool or even the WaveRunners, even showering is a party at Vaughan's.