A Local Nut Butter, a Childhood Memory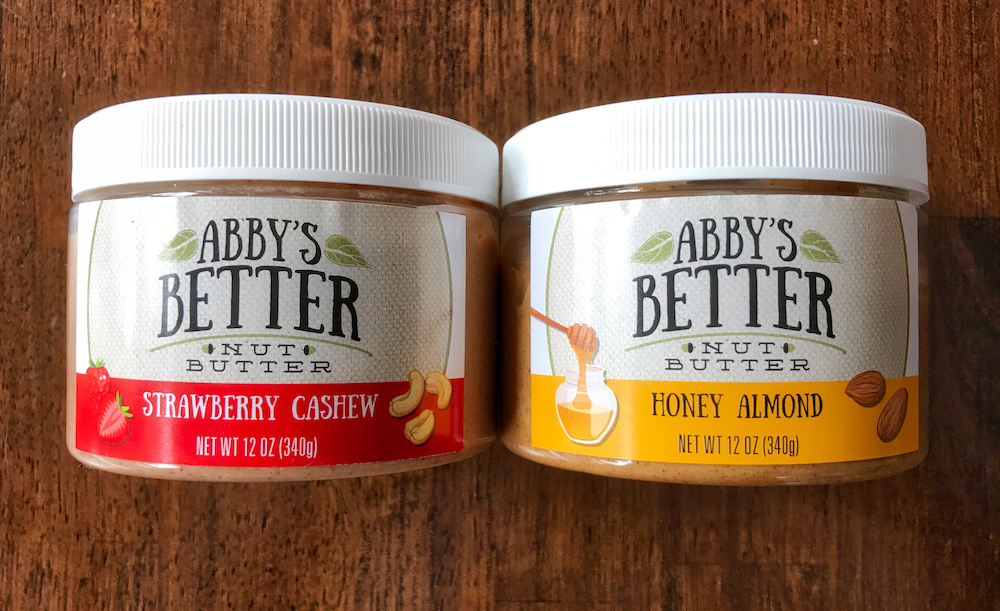 I'm always on the hunt for interesting nut butters. I love sunflower butter because it tastes like a handful of roasted sunflower seeds right at the end of each bite. I like Justin's maple almond butter because it's not cloyingly sweet and it's good enough to eat straight from the packet.
The list goes on: almond-ginger from Big Spoon Roasters in Durham; chocolate hazelnut from Rapunzel, a worthy (and organic) opponent to the more popular Nutella; Mama Young's crunchy peanut butter from Mooresville, made with coconut oil and local honey. That last one needs a good, strong stir and might go unnoticed because of its relatively demure label. I thank Common Market in South End for introducing me to it a while back.
Another locally-produced nut butter brand worth trying: Abby's Better Nut Butter. As the label on the lid will tell you, this line of butters is the brainchild of a teenager named Abby Kircher. At age fourteen she made a commitment to eating more nutritious foods. At fifteen, she was stuck at home one day with no driver's license and an intense snack craving. She hauled out the food processor and some nuts and natural sweeteners from the pantry, and started to experiment.
This experiment turned into a business that now has her selling five kinds of nut butters online and in retail outlets across North Carolina and Tennessee. Last December, she found her way onto a short list of talented teenagers cited by Saveur magazine as Gen Z-ers who helped "change American eating" in 2016. That list included 18-year-old phenom Chef Flynn McGarry and 11-year-old entrepreneur Mikaila Ulmer, who has taken the concept of the lemonade stand to a whole new level.
Kircher's butters definitely fall under the category of interesting for several reasons. According to the company website, none of them are made with peanuts or are made in a facility where peanuts are processed. All of them are made using organic coconut oil and sweeteners like dates and honey. The flavors range from a more basic honey almond to more intriguing combinations such as coffee almond and coconut cashew.
It is the strawberry cashew one, however, that has me standing at the kitchen counter with a box of crackers and a spoon after work. These days, it's because I just can't stop eating it. At first, though, I was trying to solve the riddle of what this mix of dried strawberries, roasted cashews, Himalayan sea salt, and coconut oil reminded me of.
Strawberry Nesquik. Remember that?
I had a strong affinity for strawberry milk growing up, in part because I didn't like regular milk all that much. Maybe it also just felt cool to be drinking something else from time to time besides the more predictable chocolate milk. Maybe it's just because it turned the milk a rosy pink. Maybe it was the friendly cartoon rabbit on the container.
Whatever the reason, eating this nut butter for a snack is like being a kid again for a few minutes. I shared it with some friends recently. Without any hints from me, one of them immediately said it tasted like Strawberry Nesquik. I think we're onto something. So is Abby Kircher.