A Look Inside the New Customshop
The popular Elizabeth restaurant gets a makeover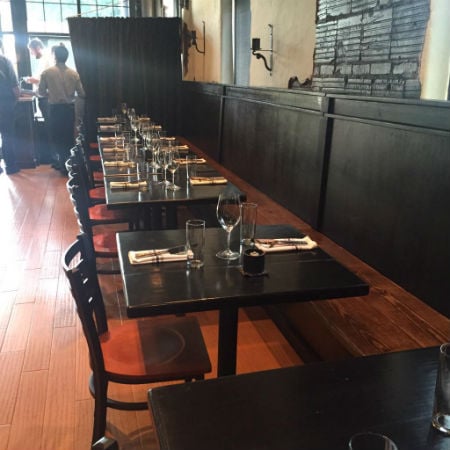 Customshop's food has always stood out as fresh, flavorful, and generally fantastic. The restaurant's interior, though, wasn't quite as memorable, with its dark color palette and somewhat standard features that hadn't been changed since the restaurant opened in 2007.
"It's been eight-and-a-half years, so we just wanted to upgrade and make it a little more local," owner and executive chef Trey Wilson explained. "It's more handcrafted."
When the restaurant closed for renovations on Monday and Tuesday, everything standard was taken out of the restaurant—including the former mass-produced booths, which Wilson says he's always disliked. They were simply what he could afford when he opened Customshop. In place of the old booths are custom-made wooden ones, and iron sconces and decor by Cesar Vinalay of Art In Metal adorn the walls. The natural materials and finishes pair well with Customshop's vibe of serving quality, local foods (the restaurant's full name is Customshop Handcrafted Food).
"They go in hand-in-hand," Wilson says of the design and his menu. "They have to match, or they just don't click."
Over the last several months, business at the restaurant has picked up. That allowed Wilson to pay for the expensive task of refitting the dining room with custom pieces. He found a picture of wooden seating he liked on Pinterest, and asked a local carpenter, Andy Anderson, if he could make them. Anderson said he could, and went to work with help from his wife and two kids. Three months later, after Wilson and Anderson each stored several finished booths (pictured, left) in their homes for weeks, the new pieces were ready to go into the restaurant.
Staff came in to help Wilson with the changes. The ceilings were painted darker—so that they "disappear" in the evening, Wilson says—and the walls lighter to help show off the brickwork in the 115-year-old building. The bar was also extended, partially to pair with the restaurant's expanding whiskey offerings. Wilson's favorite change, though, is the U-shaped bench that sits against the far wall, looking into the dining room. If you're ever seated at that table, know that you're kindof a big deal.
"It was the rock star (table)," he says. "Now it's really the rock star dining."
Even the outdoor seating has been upgraded. Gone are the outdoor dining tables. They've been replaced by lower tables, creating a lounge area for diners to enjoy a cocktail and appetizer while waiting for a table, or a spot for those who have eaten dinner and aren't ready for the evening to end. Even the cushions outside were made locally, by Reaching Quiet interior design in Plaza Midwood. This round of changes should last for a while, Wilson says, but he'll be finding new uses for the space in the coming months (stay tuned for more on that).
"You have to reinvent yourself every so often, and it was time to just really do a deep clean and polish it up a little bit," he says.
1601 Elizabeth Ave., 704-333-3396, customshopfood.com.