A Merry Manor
Brittany and Steve Clyne want their guests to feel cozy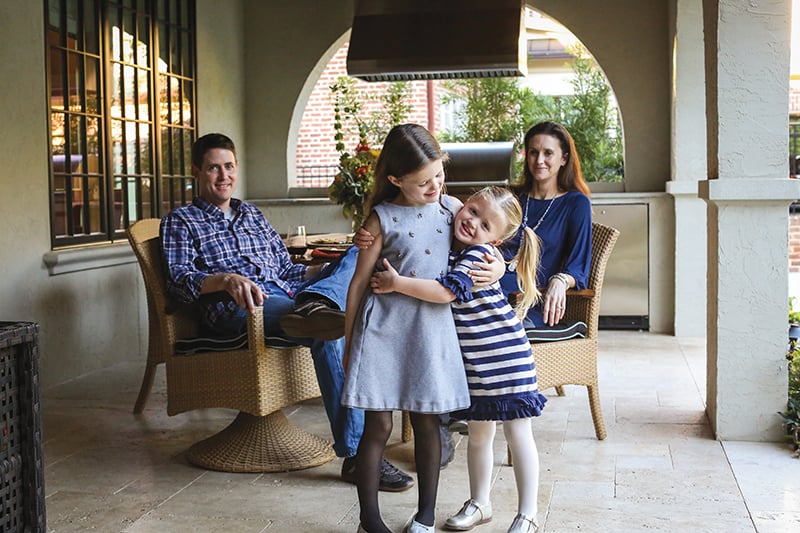 IT ALL BEGAN with basketball.
Growing up in Greensboro, Brittany and Steve Clyne played the game in their respective backyards. Though they didn't meet until they were undergrads at Duke University, their fond memories of shooting hoops until the stars came out stayed with them. So when the time came to custom-build their dream home in Myers Park, it was imperative that they give their daughters, Camryn, five, and Hannah, three, the same opportunity.
When the couple discovered a flat lot on a quiet street, they opted to tear down the existing structure to create a home that would grow with their family, as well as provide endless games of pickup. They enlisted residential designer Christopher Phelps, Bryan Gerrard of Gerrard Builders, and their longtime interior designer, Tom Holley of Crazy Jane's, to help execute their game plan.
Holley, who the Clynes' daughters refer to as "Uncle Tom," was in on everything from the beginning.
"Honestly, I think from looking at things and being with Tom for as long as I have, I knew that he understood what we wanted. We're not frilly. We're very linear, but comfortable and soft," explains Brittany, a physician with Southeast Anesthesiology Consultants. "I think working with someone who knows you very well definitely helps."
As the Clynes sit with Holley on their back portico, facing a basketball hoop and a lush green yard, it's obvious that they indeed know each other very well. Memorable stories accompany almost every design decision they've made together. "I think we scared the painters when we bickered over paint colors," recalls Brittany with a laugh. Water Chestnut, by Benjamin Moore, won for the living room walls, by the way.
It's no surprise that Holley, who worked on the Clynes' former residence (also in Myers Park), remembers where everything was placed in that home, as well as where everything is in their new, 5,500-square-foot modern English manor. For example, the teak dining table that they're sitting at resided in the backyard of their other house. Holley had the table refinished to give it new life, and now the family eats on it most every evening.
"My number one criteria was having a nice outdoor living space where we could entertain, cook out," says Steve, a physician with Charlotte Eye Ear Nose & Throat Associates, P.A. "We'll have people out here at night, put a fire on, and play Catch Phrase out here on the back patio. We watch all the Panthers games out here."
Part of what makes outdoor living so easy in their home is that the open living room and kitchen freely flow to the outdoor space. One minute you can be relaxing alongside the outdoor fireplace, and the next, you're standing at a large kitchen island sipping a LaCroix. The fluidity of the space is by design.
The same goes for the kitchen, where Brittany gave a lot of thought to its timeless finishes. "I didn't want a kitchen where you could look at it five years out and know exactly when somebody built it," she explains. Custom rosewood cabinets by Distinctive Cabinets, partnered with quartz countertops and a Moroccan-inspired porcelain tile backsplash, accomplished the different look she wanted. As a result, the space was featured on the Symphony Guild of Charlotte's Heart of the Home Kitchen Tour this past October. Proceeds from the tour support the Charlotte Symphony Orchestra and its youth orchestras, as well as its youth educational initiatives.
The living room invites more congregating, with its extra-long sofa upholstered in a kid-friendly, chocolate chenille. Behind it sits a reclaimed feed trough Holley found at a market. "It was just a trough on the ground, and so we made it into a table, because it's a fabulous trough," says Holley. "It really is a focal point."
In the center of the room, a large teal custom ottoman accented with cigar leather offers plenty of space to put your feet up, and two cigar leather chairs with cowhide exteriors punctuate the space. "It's a Camryn original," says Steve, pointing to one of the chairs that their five-year-old drew on. "It looks like a brand, so it's not worth trying to take off."
Other original pieces of art can be found throughout the home, as Brittany enjoys browsing street fairs when she travels abroad. A favorite piece hangs in the downstairs hallway. It's a version of Gustav Klimt's The Kiss recreated in boiled wool. She scored it at an art fair in the Republic of Georgia.
"That's my favorite thing when we travel," says Brittany. "I'm able to find some artwork or something that reminds me of my travels … I like when you look at something, and it has another story behind it."
The story behind having a master suite on each floor of their home involves accommodating the stages of their family. "When we moved in here, our kids were three and one," recalls Steve. "We knew we wanted to be on the same floor as them, because they would come to our room a lot."
While they hope to eventually move downstairs (Brittany loves the extra closet space in the downstairs master), they're happy in the upstairs master, with its gray Ralph Lauren Forde Abbey walls and its bed made from Brazilian Peroba and mahogany wood.
"We joke that we never want to move downstairs, because we love this room," says Brittany. "It's like a cocoon. I relax in this room."
And that's the feeling that she and Steve want their guests to have when they visit their home. Sure, it's the house they've always wanted, but the best part is being able to enjoy it with family and friends.
"I want you to walk in my house and feel comfortable, take your shoes off, and sit and burrow up in the couch and just feel like you're at home," Brittany says. "Our house is for our family, and we definitely have a lot of family here all the time."