A New England Home in North Carolina
The Moffett family recreates the serenity of seaside life in their home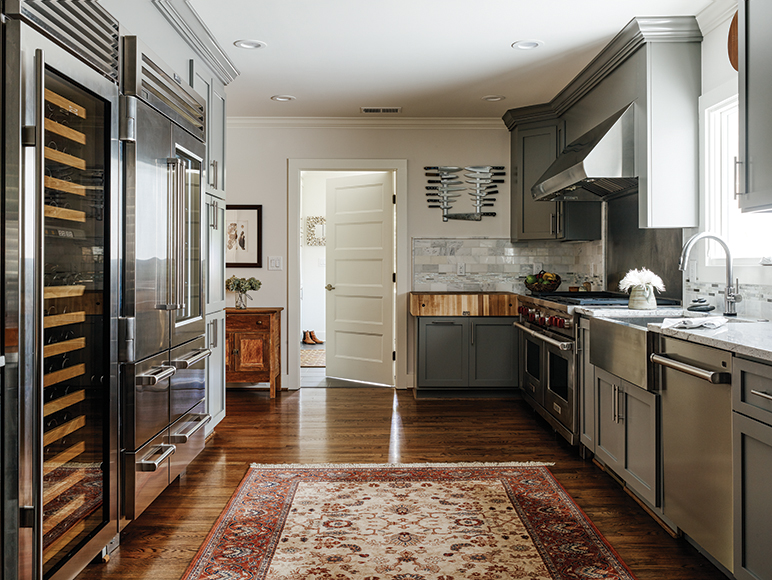 BRUCE MOFFETT named his first restaurant Barrington's, after his hometown of Barrington, Rhode Island. Along the walls of Barrington's are photographs taken by his wife, Katrina, of family trips back to New England. The 45-seat space in SouthPark feels serene and inviting, and when you leave, you nearly expect to hear the whisper of the ocean you see in the photos. The restaurant is a reflection of what the Moffetts love. After renovating a home in Barclay Downs earlier this year, their new residence, full of heritage and history, elicits the same emotions as the restaurant.
It wasn't easy to get the home to that point. Bruce and Katrina were living in Ballantyne with their six-year-old son, Daniel—the location was a short drive to Barrington's, and in the direction of Katrina's job at Laura Ashley in Fort Mill. It was a longer drive to Good Food on Montford, Moffett's second restaurant near Park Road Shopping Center. But when Moffett opened his third restaurant, Stagioni, closer to uptown on Providence Road, living in Ballantyne became less convenient.
One night, Bruce's 30-minute drive home from Stagioni was made longer by a police checkpoint. When he finally arrived, he brought an idea to his wife.
"I got home and I was like, 'You know what, if I didn't have to do this commute anymore, I'd be all set'—thinking she would say, 'You're crazy, it's halfway between my work and your work,' " he recalls. "Little did I know, one day later the entire table was littered with MLS listings."
They'd already lived in two houses together, including the one in Ballantyne, which they'd done a lot of work on. They had the home they wanted in mind, but couldn't quite find it.
"My attitude was, I've worked ridiculous hours for the last 12 years to establish myself," Bruce says. "At this point, I kind of wanted what I wanted. I didn't want to walk in to someone else's house."
They toured a few houses with their contractor, Jim Morrissey of Morrissey Custom Contracting & Homes, to see if he could turn one of them into the home they were searching for.
"He walked into this one, he's like, 'It's built like a fortress, we can do it,'" Katrina says. "And then immediately, we were signing paperwork on our realtor's [car] trunk."
Over 10 months, they worked with Morrissey to transform the home. It was torn down to the studs, with only the brick front and sides still intact.
Bruce would pop in to check on things nearly every day, since the home was on the path of his evening visits between Barrington's, Stagioni, and Good Food on Montford.
"If it wasn't, I made it on my route," he jokes.
Because the couple had such a clear idea of what they wanted, the construction and interior selections were easy. Bruce focused on the bigger pieces, such as the layout of the home. They wanted more distinct rooms, in contrast to the open floor plan many seek today.
"It gives people more chances to go have conversations, whereas the open concept for us, for how we entertain, is a little less appealing," Katrina says.
The first room you see from the foyer is a large dining room with a wall of shelving that holds family memorabilia. The dining room table was meant for Stagioni, but once it was fitted with a metal edge, the table outgrew the restaurant. It sat in storage for months before Bruce realized it was an ideal size for their new dining room. Ten chairs, with linen seats and cane backs joined by a dark brown wood, fit comfortably around it.
In the connecting kitchen, a large gas range and rows of knives held to the wall by magnets make it clear this is a chef 's kitchen. Bruce had a John Boos butcher block custom made, and the three-by-two-foot piece weighed nearly 200 pounds. His other chef 's requirement was a room off their master bedroom where he can relax and wind down from work without bothering anyone else in the house with noise or light.
The family room serves as a comfortable space for the family to relax in the evenings, with seating arranged around the fireplace, and an entertaining space, which opens out to the patio.
In each room, the new walls and fixtures take on a sense of history. In the dining room hangs a portrait of Bruce's great-great-grandmother, Mary Morris Brush. Her husband, Charles F. Brush, was an inventor who did research on electricity at the same time as Thomas Edison. The Brush Electric Company was purchased and would eventually be folded into what we now know as General Electric. Charles F. Brush's portrait, the companion to the one in the Moffett's dining room, has a home at the Smithsonian. Across from the portrait in the house, pieces of Rhode Island pottery and artwork by Bruce's grandmother, Betty Perkins, a portrait photographer, adorn shelves. Pieces of furniture originally belonging to Perkins, including kitchen chairs and the baby chair Bruce's father used as a kid, blend in with the more modern furniture they bought for the home.
Images of oyster shells and sea shells make the ranch-style home something that you might find in Barrington, Rhode Island. And while it may not be a typical style for the Barclay Downs neighborhood, the home is unmistakably the Moffetts'.
"Everyone kept asking us, who are you going to hire for the designer? What are you going to do? You can't do that by yourself," Katrina says. "And we were like, you know, we know what we want. And we've been through so many things together, we just want somewhere where all of our family stuff and our memories and our travels and journeys come together. It reflects us."