A Picture Is Worth … 100 Words?
A new festival challenges filmmakers to choose their words wisely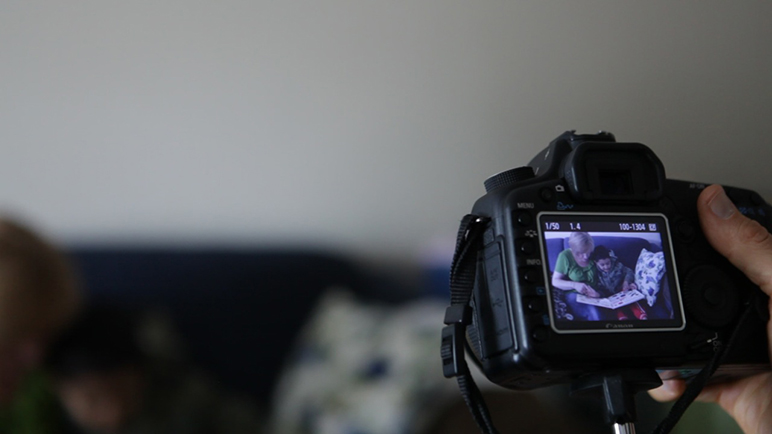 SCOTT GALLOWAY'S KIDS were watching YouTube videos when he noticed they were doing something strange. Twenty seconds into a clip, they would move the cursor at the bottom of the screen to see how much time was left.
Galloway, founder of Susie Films in South End, figured his children weren't the only viewers with short attention spans. He created a concept, "100 Words On," that could be applied to everything from ads to motivational videos. In each clip, the narrator—Guy Fieri talking about food, or a young girl talking about seeing a play at the Blumenthal Performing Arts Center— speaks for only 100 words. A pop-up counter in one corner of the screen tells the viewer exactly how many words are left. In focus groups, Galloway noticed that viewers responded well to this approach. "People stuck around to see how it would end," he says. "They were compelled to see it through."
That idea spawned another: Challenge local filmmakers to create their own 100-word masterpieces.
The inaugural 100 Words Film Festival, on November 22 at McGlohon Theater, will include dramatic films and documentaries by professionals and students. For young artists working in advertising, journalism, and feature films, the contest is an opportunity to flex their creative muscles, Galloway says. "I would have loved something like this when I was just starting out."
By September, the festival had received several entries of various lengths, including documentaries, comedies, a horror film, and a few dramas.
Emmy-winning local filmmaker Linda Midgett says it isn't easy to tell a story in this format. Earlier this year, she produced a documentary, The Stranger, that was 45 minutes long and used tens of thousand of words to explore the intersection of faith, immigration, and the U.S. economy. Even the film's trailer, which is about four minutes long, wouldn't make the cut for the festival.
To meet the contest requirements, Midgett focused her film on immigration but had to convey her message in an entirely different way. "Boiling it down to its essence was very challenging," she says. "It's not only difficult; it's a discipline. You have to be able to do this with your stories."