A Survey of the Charlotte Area's Romantic Restaurants
Ideal spots for you and your sweetheart this Valentine's Day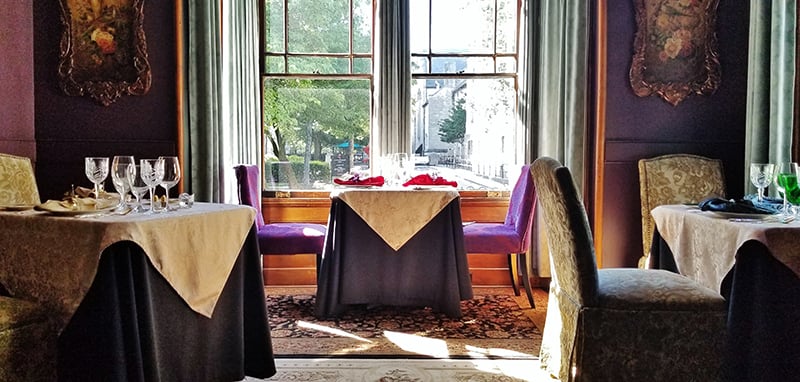 February's the month of love, which means it's a great time to splurge on an intimate dinner at one of Charlotte's most romantic restaurants. Whether you want a multicourse tasting menu with white tablecloths and candles or a pink cocktail and heart-shaped dessert at a trendy rooftop bar, we've got your date night covered.
McNINCH HOUSE
511 N. Church St.
704-332-6159
The restaurant has a longstanding reputation for its five-course tasting menu and award-winning wine pairings, but it's also the most popular place for marriage proposals in Charlotte. Maybe it's the antique silver and fine china on each table, or the edible flowers that adorn your poached pear salad. Whatever the reason, this restored Victorian-era house sees someone on bended knee 40 to 50 times a year.
CUSTOMSHOP
1601 Elizabeth Ave.
704-333-3396
Owner and Executive Chef Trey Wilson uses top-notch, seasonal ingredients to create fresh takes on American cuisine in a hip, rustic atmosphere.
THE FIG TREE RESTAURANT
1601 E. 7th St.
704-332-3322
Feast on elk chops and lobster tail paired with award-winning wines in a 1913 bungalow.
DOT DOT DOT
4237 Park Road, Ste. B
704-817-3710
Stefan Huebner's creative cocktails may be the main attraction at this members-only speakeasy, but the saffron risotto with foraged mushrooms will convince you to stay for dinner.
KINDRED
131 N. Main St., Davidson
980-231-5000
Chef Joe Kindred, a James Beard Award semifinalist, serves homemade pasta dishes and creative small plates in historic downtown Davidson.
BARCELONA WINE BAR
101 W. Worthington Ave., Ste. 110
704-741-0300
Choose from more than 400 wines, and nosh on Spanish- and Mediterranean-inspired tapas and charcuterie boards.
VANA
1440 S. Tryon St., Ste. 100
980-819-5913
Chef Michael Noll serves a blend of tapas and shareable plates in this open-kitchen spot with a wood-fired theme.
BAR MARCEL
3920 Sharon Road, Ste. 160
980-237-1919
Share a plate of beef carpaccio or truffle and herb frites—but order a flatbread for yourself.
DOGWOOD SOUTHERN TABLE + BAR
4905 Ashley Park Lane, Ste. D
704-910-4919
Get a table for two and sip a cocktail in the dimly lit dining room, or have a seat at the chef's counter and watch them prepare your meal.
GOOD FOOD ON MONTFORD
1701 Montford Drive
704-525-0881
Bruce Moffett's small-plates bistro unites a variety of influences and flavors on one menu, and each dish is worth ordering.
PEPPERVINE
4620 Piedmont Row Drive, Ste. 170B
980-283-2333
Chef Bill Greene serves a rotation of artistic small plates with unexpected pairings, like Thai Pork Spare Ribs and tuna tartare with yuzu.
FAHRENHEIT
222 S. Caldwell St.
980-237-6718
Located on the 21st floor of Skye Condos, Chef Rocco Whalen's restaurant is the place to sip cocktails, eat oysters, and see the city twinkle.
FIN & FINO
135 Levine Avenue of the Arts, Ste. 100
704-800-5680
Come for the raw bar but stay for bartender Brittany Kellum's drinks—then splurge on a slice of cheesecake.
LA BELLE HELENE
300 S. Tryon St., Ste 100
980-209-0941
The uptown restaurant is modeled after a French brasserie, and Top Chef alum Jamie Lynch serves French classics like Steak Tartare, Crispy Duck Confit, and Boeuf Bourguignon.
SEA LEVEL NC
129 E. 5th St.
704-412-2616
Sip a romantic libation like the Strawberries and Cream cocktail, and order a tray of raw oysters for a little aphrodisiac.